Skip to content
Skip to navigation menu
You have setup the following Repeat Order: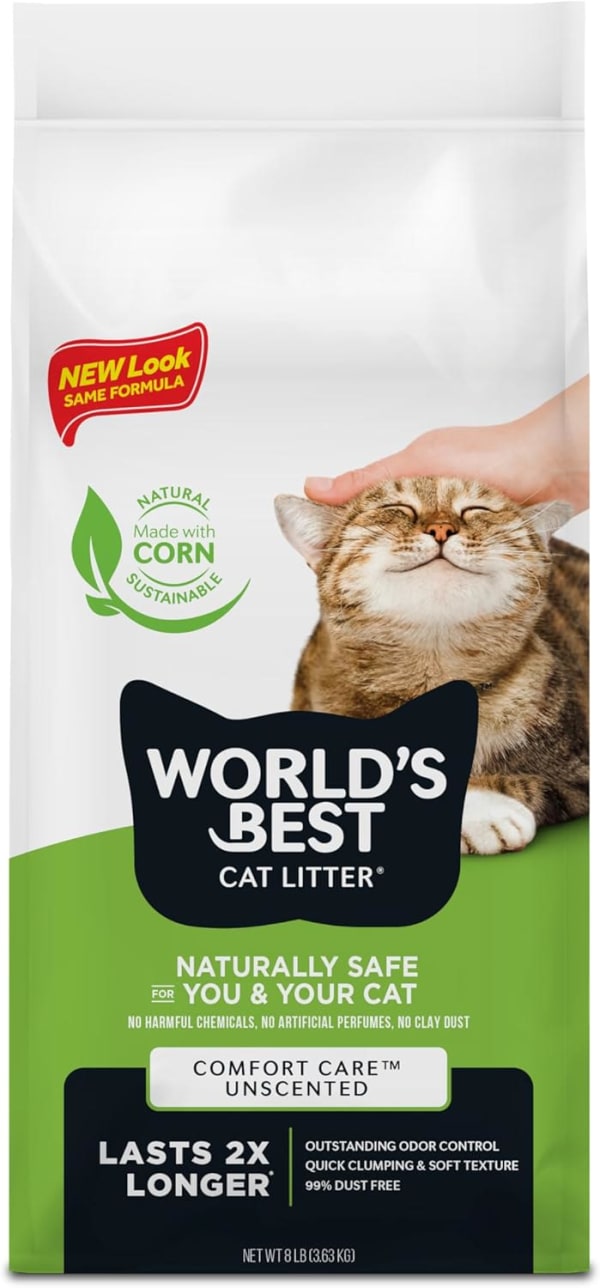 Worlds Best Quick Clumping Cat Litter
Worlds Best Quick Clumping Cat Litter
Worlds Best Quick Clumping Cat Litter
Back in stock notification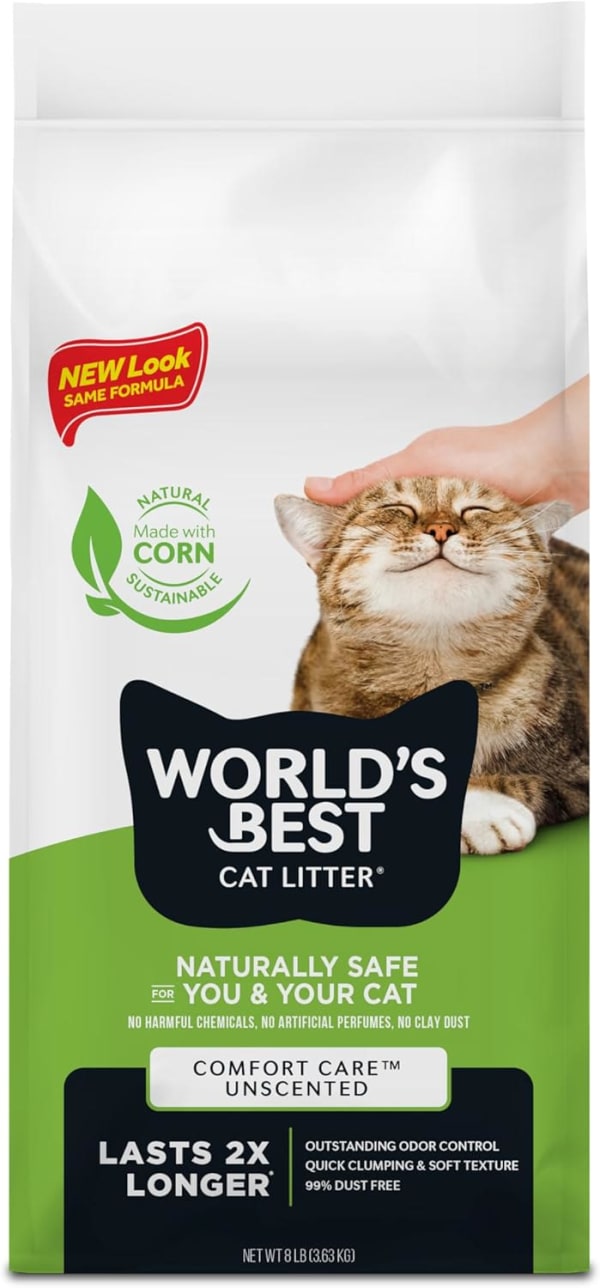 Worlds Best Quick Clumping Cat Litter
Worlds Best Quick Clumping Cat Litter
Enter your name and email address below then select which items you would like to be notified of when available.
Product details
Made from all-natural whole kernel corn, Worlds Best Cat Litter is a non-septic, flushable litter designed to keep smells in your home to a minimum.
How it works
Worlds Best Cat Litter, made from lightweight corn kernels, has been designed to clump fast when it comes into contact with moisture. The biodegradable clumps are strong yet soluble, so can be flushed down the toilet without causing blockages. As your cat's urine is absorbed quickly, bad odours don't get the chance to linger or spread, even if your cat enjoys scratching and digging in their litter.
These litter granules are especially soft and gentle on your cat's paws, as they're chemical- and dust-free. Not only are they 100% natural, your cat won't be able to pick up pieces and drag them around the house, keeping your kitty's toilet habits confined to one place.
Key benefits
made from 100% natural materials
99% dust-free
odour neutral
soluble clumps that can be flushed down the toilet
can be used by cats with allergies
available in four different sizes
When to use it
Worlds Best Cat Litter can replace your cat's regular tray filler, as long as you introduce it slowly so as not to upset their routine. To use, simply fill your cat's clean litter box with a flat layer of the granules.
It's important to practice good hygiene for your cat by regularly disposing of their litter and replacing it with fresh granules, as moggies are fussy creatures that don't do well in dirty spaces. Between changes, clumps and other residue should be scooped up daily and flushed down the toilet. As the litter is made from all-natural products and is environmentally friendly, the clumps will dissolve in water without releasing any toxins into the system.
Customer reviews
Product reviews are filtered by language.
The following reviews are available in English.
Best cat litter

This is by far the best cat litter I have ever used. Although a bit pricey it cuts out the smell and is easy to clean.

Very clean and no odours

Tried a small bag to start with. Very happy with this cat litter because not only is It odourless but has smallish kernels . This allows the solids to be picked out without taking a large amount of litter with it. Have used it ever since and have no need to try anything else. The delivery is always very quick too. Very happy.

Cat litter

Excellent product, fair price and prompt delivery

Excellent litter

Previously I've used Best Original and was happy enough with that although it tracked more than I'd like. I thought I'd give this a try and I'm sold on it. Far less tracking, no wastage and fully flushable. Definitely worth the money as it lasts much longer than cheaper stuff.

It IS the best

Worlds Best Cat Litter is the perfect description. Although more expensive, it works out more economical in the long run. I always buy it from Pet Supermarket in bulk. Always delivered quickly and the delivery driver always brings the heavy package up all the flights of stairs to my flat for me. Can't fault the product or the service.