Skip to content
Skip to navigation menu
You have setup the following Repeat Order: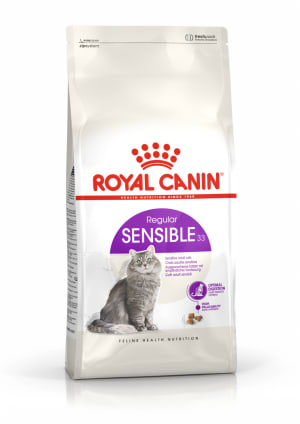 Royal Canin Sensible 33 Adult Dry Cat Food
Product details
AWAITING REPLENISHMENT. ALTERNATIVES CLICK HERE
Royal Canin Feline Sensible 33 is a complete cat food created to support the needs of adult cats with digestive sensitivity.
This food is made with high quality, highly digestible proteins such as L.I.P to ease the strain on your cat's digestive system and help them digest their food without any unpleasant symptoms. Fibres including beet pulp work to keep food moving through your cat's intestine, and stimulate the growth of beneficial gut bacteria. As well as contributing to preventing your cat from suffering symptoms such as vomiting and diarrhoea, this recipe helps to strengthen and maintain their digestive system. A high rice content helps promote a healthy intestine, cleaning the intestinal walls of
The food is formulated to be a complete diet, containing all the nutrients your cat needs to stay healthy. This means that it is suitable for feeding on a permanent basis to your sensitive cat, letting them stay with a food they can comfortably digest.
Key features:
high quality, highly digestible protein for easy digestion
stimulates the growth of beneficial gut bacteria
alleviates symptoms and maintains healthy digestion.
Ingredients
Feeding Guide
Customer reviews
Product reviews are filtered by language.
The following reviews are available in English.
My cats love this

Alway buy a large bag and it lasts a decent length of time so good value.

Perfect for cats with sensitive digestion/diarrhea

I bought this as my Bengal cat has a sensitive stomach. I read many reviews by other cat owners, on lots of sites about which cat food best suited cats who suffered from diarrhea ( No illness or infection- but due to an intolerance etc) I have to say after two days, my beautiful Bengal was no longer suffering with diarrhea. I'd tried other equally expensive brands. But this is perfect.

All my felines love it.

Have given RC Sensible 33 to my cats for many years. I first tried it as one of my cats has a sensitive tum. She & all my others love it, it's one they never seem to get fed up with. Royal Canin may not be cheap but the quality is excellent.

If you have Ragdolls, this food is essential!!!

After years of complications, visits to the vets, numerous bouts of medication and physical and mental distress, Royal Canin Sensible 33 totally transformed my two Ragdolls' health, wellbeing and lives about five years ago... and they haven't had any problems since. Here is my story. It is commonly known that Ragdolls have very sensitive digestive systems which can lead to many health problems throughout their lives. I know this to be true because when I first got my two guys nine years back, I spent a lot of time looking online and speaking to various vets to better understand why they kept exhibiting diarrhea which after a few days resulted in a small amount of blood in their waste. I spoke to a vet who advised that this was due to inflammation in their large intestine (because the blood was red and not black); he suggested a dose of anti-inflammatory medication together with a one off steroid injection to calm it down... it worked, but only for a very short time as after a month, it came back. Each time I visited the vet, I kept getting the same stock answer - "medicate now, medicate for the rest of their lives - oh, and medicate their food too". I honestly couldn't understand why this was the case. I remember thinking "how is it that these two cats are suffering from the same problems and both need to be medicated for the rest of their lives?? surely there is a more logical answer that is less distressing for them?!" Now I have to admit, I was somewhat sceptical because the cat's can't tell me what is wrong with them (well not in English anyway) and the only person who can, seems to be lined up to make an additional pension from selling expensive, and rather unappetising medicated food (bland chicken and rice?! since when does a cat eat rice anyway?!). I changed my vet time and time again to get different opinions and experimented with different types of wet food, dry food and treats with mixed results... until I visited a new veterinary surgery and my Ragdolls' lives were transformed! The most amazing thing is that I didn't even get to speak to the vet; I spoke with the receptionist. She asked me what the problems were with the cats and I explained the story I have just shared with you. Her answer was logical "I have Ragdoll cats and have been through the exact same problem; they have very sensitive digestive systems, so you need to be careful with what you feed them. Try this food (she points to Royal Canin Sensible 33) because it is designed to be easier on their system than other foods out there." It was the first time that I had received a sensible answer to this issue (pun intended!), so I gave it a chance. As I said, my cats' lives were totally transformed from that week five years back. They have not had any problems since then (fingers crossed!), have very healthy coats and loads of energy. Its not cheap, but it last ages. My two take about six months to work their way through the 10KG bag which works out at less than £1 a week each... not a bad deal for health, happiness and no trips to the vet if you ask me! If you have Ragdoll cats, buy them this food.

Great for picky cats

This is the only thing my cat will eat and agrees with her sensitive stomach