Skip to content
Skip to navigation menu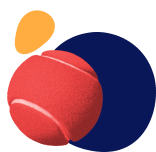 Search for food, toys, supplements, etc.
We've got everything you need for a healthy, enthusiastic cat or dog!
You have setup the following Repeat Order: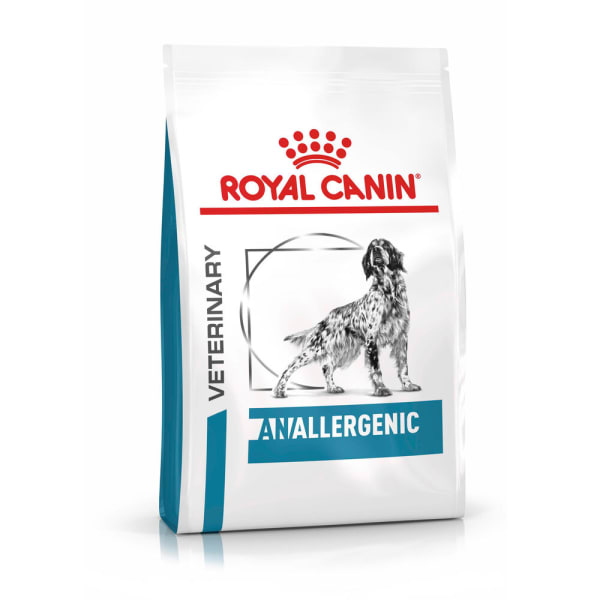 Royal Canin Anallergenic Adult Dry Dog Food
Royal Canin Anallergenic Adult Dry Dog Food
Royal Canin Canine Anallergenic is designed to help reduce and prevent the effects of food allergies in your dog, so they can enjoy life to the full. How it works It uses hydrolysed...
Read more
Royal Canin Anallergenic Adult Dry Dog Food
Back in stock notification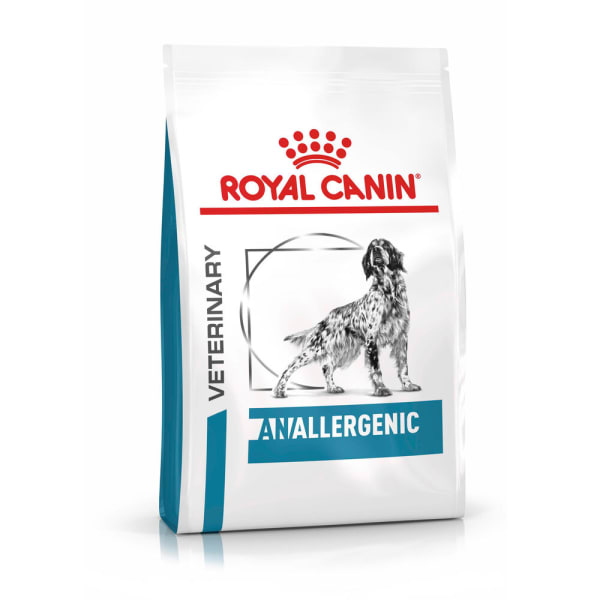 Royal Canin Anallergenic Adult Dry Dog Food
Royal Canin Anallergenic Adult Dry Dog Food
Enter your name and email address below then select which items you would like to be notified of when available.
Product details
Royal Canin Canine Anallergenic is designed to help reduce and prevent the effects of food allergies in your dog, so they can enjoy life to the full.
How it works
It uses hydrolysed proteins to promote easy digestion. These are proteins broken down into smaller parts, and this makes them much easier for your dog to absorb. The inclusion of low molecular weight peptides also helps the digestion process as the smaller the proteins and peptides, the less likely they are to cause an allergic reaction in your dog.
Ingredients include soya, minerals, vegetable fibres, and fish oil. These ingredients are chosen to ensure a balanced diet while also avoiding sources that commonly cause allergic reactions. The production process of the food itself is also highly monitored to ensure that potential allergens are not included anywhere in the mix.
It is also rich in antioxidants, and this means your dog may benefit from a boosted immune system. Antioxidants reduce the number of free radicals, which can cause potentially dangerous levels of damage to your dog's healthy cells, leading to diseases ranging from kidney problems to poor bone health.
Key benefits
hydrolysed proteins are easy to digest, and help to avoid allergic reactions
low molecular weight peptides help to reduce the chance of allergic reactions
monitored production process to prevent allergen sources entering the food
balanced nutrition from natural ingredients including soya proteins, fish oils, and minerals
antioxidants contribute to your dog's immune system while fighting off free radicals.
When to use it
There are a number of symptoms that your dog might exhibit if they're allergic or intolerant to certain food. The most obvious sign of a food intolerance is vomiting or diarrhoea after eating. Symptoms of food allergy, on the other hand, can include irritated areas of skin or red patches. Keep an eye on your dog. If they are biting, scratching, or licking the same parts of their body repeatedly, check for signs of inflammation. It is important to note that these symptoms can also indicate other conditions, so speaking to your vet to isolate the problem before taking further action is recommended.
Because veterinary diets are formulated for the nutritional support of pets with specific clinical conditions, we recommend that you only use them under professional advice. For more information on feeding Royal Canin Canine Anallergenic to your dog, please consult your veterinary surgeon.
Ingredients
COMPOSITION: maize starch, feather hydrolysate with low molecular weight (source of L amino acids and oligopeptides), copra oil, soya oil, minerals, vegetable fibres, chicory pulp, fructo-oligo-saccharides, fish oil, mono- and diglycerides of fatty acids esterified with citric acid, animal fat, marigold extract (source of lutein).
ADDITIVES (per kg): Nutritional additives: Vitamin A: 30600 IU, Vitamin D3: 800 IU, E1 (Iron): 42 mg, E2 (Iodine): 3.7 mg, E4 (Copper): 13 mg, E5 (Manganese): 55 mg, E6 (Zinc): 198 mg, E8 (Selenium): 0.1 mg - Preservatives - Antioxidants.
ANALYTICAL CONSTITUENTS: Protein: 18% - Fat content: 16.5% - Crude ash: 8.8% - Crude fibres: 2.2% - Essential fatty acids: 41.8 g/kg
| | |
| --- | --- |
| Minerals | Amount |
| Chloride (%) | 1.04 |
| Copper (mg/kg) | 15.0 |
| Iodine (mg/kg) | 3.7 |
| Iron (mg/kg) | 222.0 |
| Manganese (mg/kg) | 61.0 |
| Potassium (%) | 1.2 |
| Sodium (%) | 1.0 |
| Zinc (mg/kg) | 208.0 |
Feeding Guide
Weight (kg)
Lean
Normal
Overweight
(g / day)
Cup/ day
(g / day)
Cup/ day
(g / day)
Cup/ day
2
41
4/8 cup
48
4/8 cup
54
5/8 cup
5
82
7/8 cup
95
1 cup
108
1 cup + 1/8 cup
10
138
1 cup + 4/8 cup
159
1 cup + 6/8 cup
181
2 cup
15
186
2 cup
216
2 cup + 3/8 cup
245
2 cup + 5/8 cup
20
231
2 cup + 4/8 cup
268
3 cup
304
3 cup + 3/8 cup
30
314
3 cup + 4/8 cup
363
4 cup
413
4 cup + 4/8 cup
40
389
4 cup + 2/8 cup
450
4 cup + 7/8 cup
512
5 cup + 5/8 cup
Customer reviews
Product reviews are filtered by language.
The following reviews are available in English.
Good quality products

Super quick delivery even over the Christmas period thanks

Great product

Recommend by the Vets some years ago, great for sensitive stomachs.

Great product

Swapped to this food on Vet's advice and so glad that I did. Our golden retriever had stomach problems for months which have now stopped and he has so much more energy. He's a happy dog again.

Brilliant for delicate digestion

I fed my dog Royal Canin Sensitivity Control for years with great success....until he started to react to it constantly. After multiple monthly colitis flare ups and antibiotic prescriptions a vet suggested I try this food and it's been good. I have also had a lot of success since adding a pre&probiotic powder which also contains digestive enzymes. Strangers still insist on feeding him treats without asking me first(not done with any malice I know but it's BEYOND infuriating...it doesn't matter how small it was, it will cause a problem!) However this food combined with the powder means my boy has only needed antibiotics once since last October - that's really good going!

Royal Canin Anallergenic Adult Dry Dog Food

Was advised by Vet to try this food and I've seen a big improvement in my dog's digestion within a couple of weeks. He is now so much better and also has more energy.