Skip to content
Skip to navigation menu
You have setup the following Repeat Order: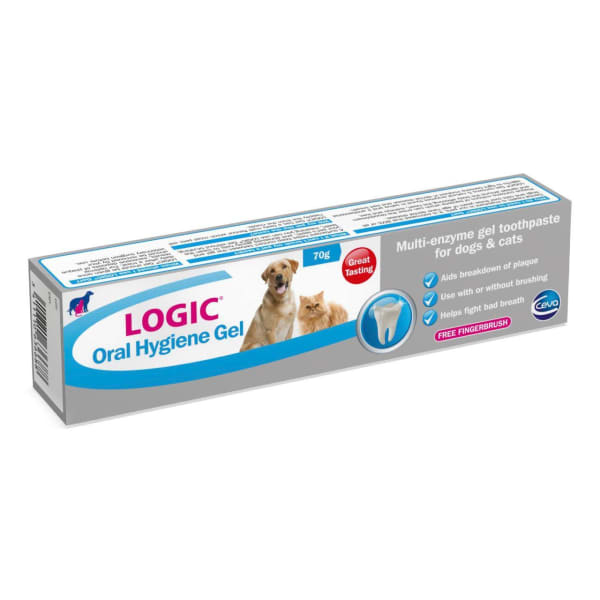 Logic Oral Hygiene Gel Toothpaste for Dog & Cat
Logic Oral Hygiene Gel Toothpaste for Dog & Cat
Logic Oral Hygiene Gel Toothpaste for Dog & Cat
Back in stock notification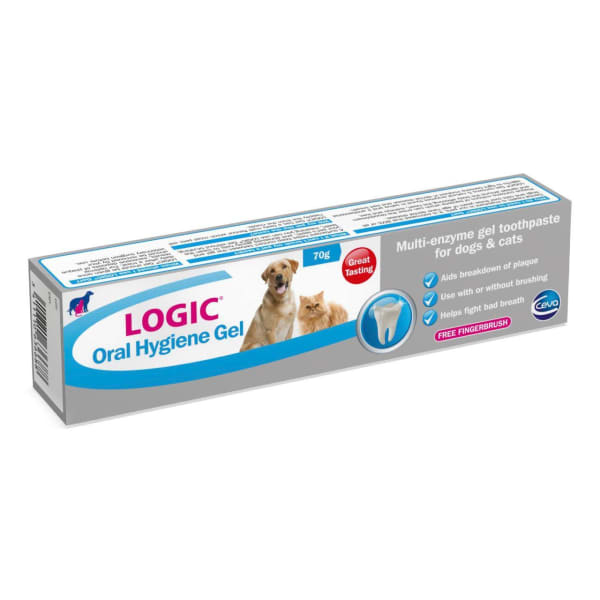 Logic Oral Hygiene Gel Toothpaste for Dog & Cat
Logic Oral Hygiene Gel Toothpaste for Dog & Cat
Enter your name and email address below then select which items you would like to be notified of when available.
Product details
Logic Oral Hygiene Gel uses a patented complex of naturally occurring enzymes to boost your pet's defenses against plaque, tartar and oral bacteria.
How it works
The six enzymes used in the formula increase and supplement the natural saliva enzymes produced by your pet. It also contains two antibacterial agents to fight the bacteria that can cause bad breath and tooth decay. The gel has been formulated to have a sticky consistency, keeping the active enzymes and antibacterial agents in contact with the teeth for longer. The product is also mildly abrasive to scrape away any plaque or tartar already on the teeth.
Key benefits
six enzymes boost natural saliva enzymes
two antibacterial agents fight oral bacteria
sticky formula keeps active ingredients in contact with teeth and gums, maximising their effects
mildly abrasive to break down existing plaque and tartar whilst slowing down the formation of new plaque
malty flavour tastes great
can be used with or without a toothbrush
suitable for dogs and cats.
When to use it
As well as reducing bad breath and unpleasant staining of the teeth, good oral hygiene can reduce the chances of painful swollen gums and toothache. If left untreated, plaque and tartar can cause infections, which can spread to your pet's vital organs.
Regular brushing with a product like our Dual End Toothbrush helps to reduce plaque and tartar build-up, keeping your pet's teeth clean and healthy and their breath fresh.
Ingredients
Ingredients: Enzyme Complex (Amylase, Glucose Oxidase, Potassium Thiocyanatem Kactoferrine, Lactoperoxydase, Iysozyme, Superoxide, Dismutase) Mild Avrasives, Non Ionic Surfactant, Flavouring
Dosage


Directions:
Apply once or twice a day
Cats & Small Dogs - 1cm Gel
Dogs less than 20kg - 2cm Gel
Dogs more than 20kg - 5cm Gel


Customer reviews
Product reviews are filtered by language.
The following reviews are available in English.
Works for us

My border collie does not like her teeth brushed but she was getting very smelly breath and her teeth were not a nice colour. My vet didn't think her teeth were bad enough to warrant sedation for a dental check or clean, I did some research and I read one of your reviews which gave me an option for getting her teeth cleaner, she loves her dental chews so I tried putting logic oral hygiene gel along the ridge of the dental chew which she quite happily ate. Have been using it in this way for some time now about 6 months and although she still has a little bad breath it is no way as bad as it was and her teeth look a lot whiter. So thank you Leon June 27 2019, for your review it was very helpful and saved me a lot of worry and money.

Good approach to dog teeth

We've had many dogs. When we had our second cocker we were advised to use this product. Our first and other dogs had many problems with teeth. This cocker lived for 14 years with no problem at all in her teeth. We also use the Logic chews and Hill's TD as a breakfast "package". Our current cocker follows the same regime as we have confidence that this approach works. Our current dog doesn't much like the taste but now politely submits

Brilliant toothpaste,dog loves it.

When ever my dog see's this toothpaste in my hand he comes straight to me to have his teeth done, he loves the flavour.

Probably saved me a fortune!

My JRx had plaque and bad breath. Instead of having an operation, he had Logic Oral Hygiene Gel, administered by squeezing some onto one ridge of a dental chew. The combination has worked like a charm.

Brilliant toothpaste,dog loves it.

Bought this product a number of times because the dog really likes the taste, he looks forward to having his teeth cleaned, as soon as he sees me go to his cupboard he comes to me ready to have them done.