Skip to content
Skip to navigation menu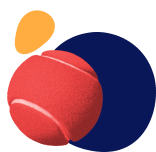 Search for food, toys, supplements, etc.
We've got everything you need for a healthy, enthusiastic cat or dog!
Life cycle of cats and dogs
Humans like to think of themselves as a special bunch, but it turns out there are a lot of similarities with other animals. Below, you will find an infographic explaining the differences and similarities between pets and humans during the 3 stages of life: young, adult and senior age.
Cats and Dogs can often live longer when cared for by an educated owner. For example, a pets dietary requirements change as they get older. A senior pet is less likely to be as active as an adult and will benefit from having a special diet to reduce weight gain.
Infant
It is important to remember that an infant pet requires as much attention and sleep as a baby would. Vaccinations will protect puppies and kittens from harmful health issues during the early months. Owning a pet is a lifelong responsibility so its recommended to take out quality pet insurance to cover yourself financially from infancy all the way through to their senior years.
Adult
As adults, we know that a balanced diet can help us to avoid common health issues, but over 49% of UK dogs fall into the obese category. This can cause joint issues, diabetes or heart problems in their later life. If you feel your pet is overweight we recommend consulting your vet as soon as you can for advice. A number of brands offer diet dog food and diet cat food (often with a reduced fat content) to help manage calorie consumption. Regular exercise, toys and interactive play will also go a long way towards keeping your pet healthy and happy.
Senior
Both dogs and cats face similar issues in their later years. A range of senior dog foods and senior cat foods have been developed to provide the right balance in their diets. Feeding guides can help to ensure the right daily intake of calories for your type and size of senior pet.
See below our infographic about the life cycle of dogs and cats vs humans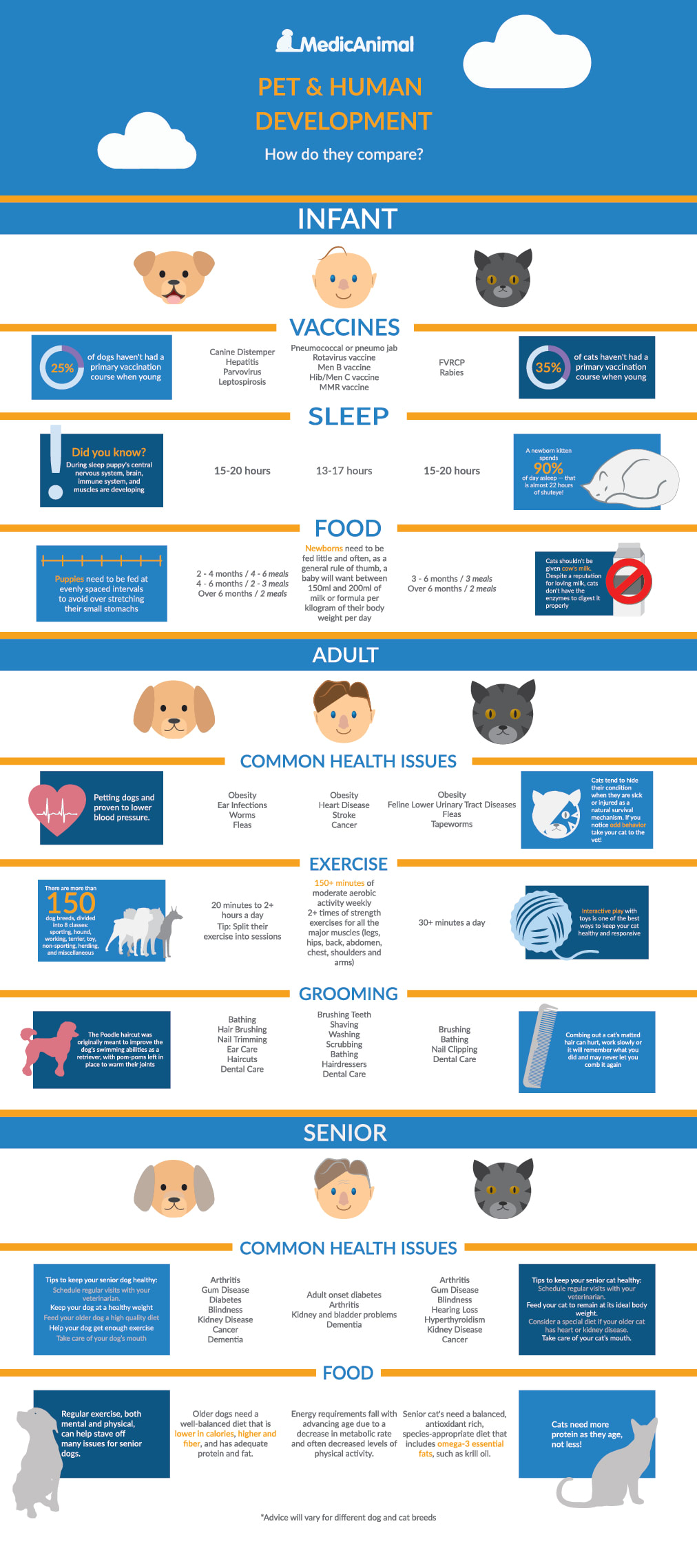 Source
http://www.akc.org/
https://www.cesarsway.com/
http://dogtime.com/
http://www.petmd.com/
http://www.vetstreet.com/
http://www.webhealthcentre.com/
https://catwisdom101.com/
https://lifehacker.com/
https://pets.webmd.com/
https://vcahospitals.com/
https://www.babycentre.co.uk/
http://dogtime.com/
https://www.parentgiving.com/
https://www.pdsa.org.uk/
https://www.petcha.com/
https://www.thekennelclub.org.uk/
https://www.thespruce.com/
https://www.cesarsway.com/
https://www.vetbabble.com/
https://www.webmd.com/