Skip to content
Skip to navigation menu
You have setup the following Repeat Order: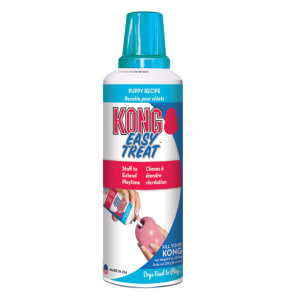 Kong Easy Treat for Puppies - Chicken Liver
Product details
Put Kong Stuff'n'Paste Liver Treat on to your dog's favourite treat toy to make it extra exciting. This tasty, nutritious paste will keep them entertained for many licks, as well as sorting out their bad breath.
How it works
Simply spray this paste onto the grooves inside your dog's Kong – or similar –treat toy. You can even add training treats for little crunchy surprises. Dogs love the aroma and taste of liver, so a toy filled with this delicious paste will have them pawing and licking until it's empty. They'll get a physical and mental workout as they chase down their tumbling Kong toy and find the best angle to get that last lick.
Liver is great for your dog, too – it's full of natural vitamins, minerals and antioxidants which help boost their immune system. It's also rich in omega-3 and -6 oils, essential amino acids which nourish your pet's skin and coat, as well as helping them to maintain healthy muscles and supple joints.
Key benefits
tasty paste that's easy to spray into your dog's favourite toy
encourages them to play which stimulates mind and body
keeps your dog entertained while you're busy
full of essential amino acids for a healthy skin and coat
contains ingredients which help to fight bad breath
When to use it
If you have a Kong original rubber red dog chew, or another treat dispensing toy, filling it with this liver spray will keep your dog entertained for ages. You can use it as a reward for your pet to encourage good behaviour, or to treat yourself to a rest while they try to get the last lick of paste.
If your dog's breath tends to knock you out, you can use this Kong Stuff'n'Paste Liver Treat to help them freshen up. Try adding it to their toothbrush to clean their teeth and gums, too.
Ingredients
Liver
Composition
Milk and dairy products, oils and fats, various sugars, vegetable by-products, meat and animal by-products (2% chicken liver)
Analytical components
Crude protein 4%, crude fat 20%, crude fiber 1%, moisture 54%, raw ash 5%
Additives
Preservatives

Chicken (for puppies)
Composition
Milk and dairy products, oils and fats, sugar, vegetable by-products (1.5% pectin), meat and animal by-products (4% chicken liver), minerals
Analytical components
Crude protein 4%, crude fat 20%, crude fiber 1%, moisture 54%, crude ash 6%
Additives
Preservatives