Skip to content
Skip to navigation menu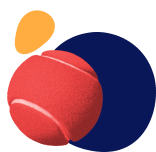 Search for food, toys, supplements, etc.
We've got everything you need for a healthy, enthusiastic cat or dog!
Can your pet get fleas in winter?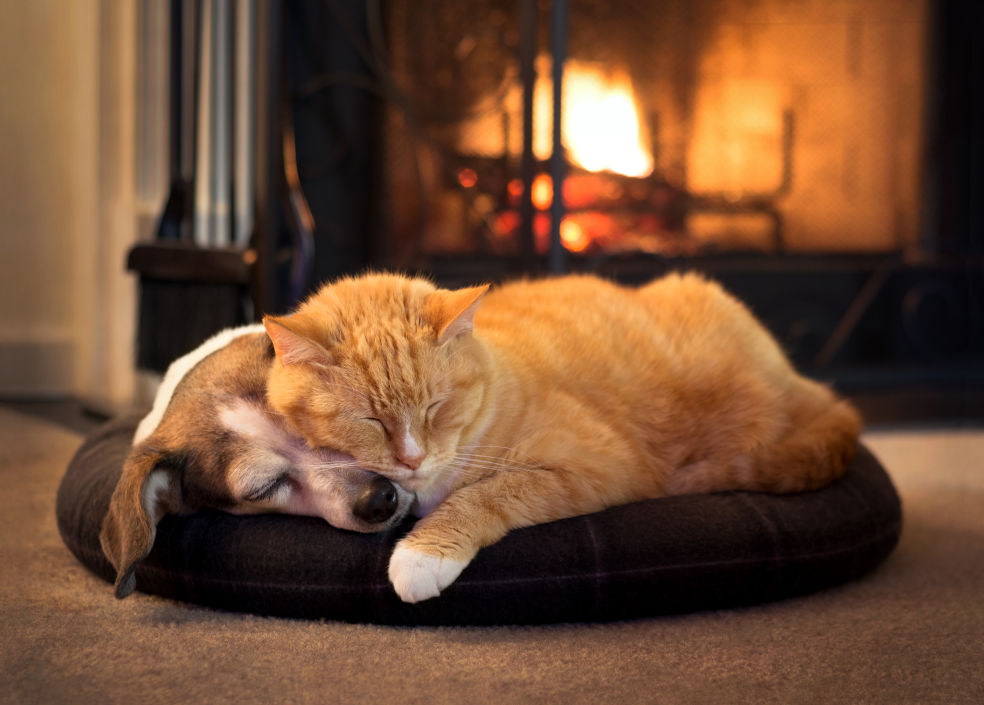 In a natural setting, a dog or cat would be less likely to contract a flea infestation in winter as the cold weather causes the fleas to lay dormant, but in the UK most pets are kept indoors in an artificial environment where the use of central heating allows the fleas to breed all year round.
PDSA statistics show that there is a 20% drop in the sale of flea treatments during the winter months. Vets believe this is because many owners simply do not realise that fleas are just as active in the winter as the summer months.
Artificial environments and the use of central heating
Contrary to popular belief, fleas do survive during the winter months, especially indoors; our warm houses provide the perfect breeding ground for fleas as they thrive in a warm and humid environment. People turn up the central heating to keep their homes warm, but this means that fleas are attracted to the home. Pet owners should take effective steps to rid their pets, and their homes, of these parasites and minimize the risk of infestation by carrying out continuous year-round treatment, even in the winter months.
To combat fleas during the winter, it is important to address both the pet and the environment, since fleas live a large part of their life cycle off of the pet and in the environment (house, bed, garden etc). Fleas need warm temperatures to survive. The inside of your home provides a warm environment to allow fleas to thrive year-round regardless of seasons.
Treating pets in winter
Treating your pet is only part of the solution as you will have to treat your home and any other pets within your household too. Everything the dog or cat comes into contact with should be treated with a product recommended by your vet; otherwise, it is inevitable that the fleas will come back.
Fleas can cause very serious health problems. They are one of the most common causes of distressing skin problems in dogs and cats and in severe cases smaller animals, particularly kittens, can die from anemia due to blood loss from the feeding fleas.
Direct Pet treatment
The most effective way to control flea infestations is to treat the pet directly all year round. Prescription and non-prescription direct treatments in the form of topical applications, flea shampoo's, tablets and sprays are all products that can be obtained to effectively treat fleas on your pet. Combing the pet with a flea removal comb will help to remove adults and destroy eggs.

Spot-on Flea Treatments - Spot-on flea products are applied to the pet. The liquid is applied to the scruff of the neck, directly on the skin with the fur parted. Most spot-on products contain adulticides designed to eliminate adult fleas from the pet within 24 hours of application.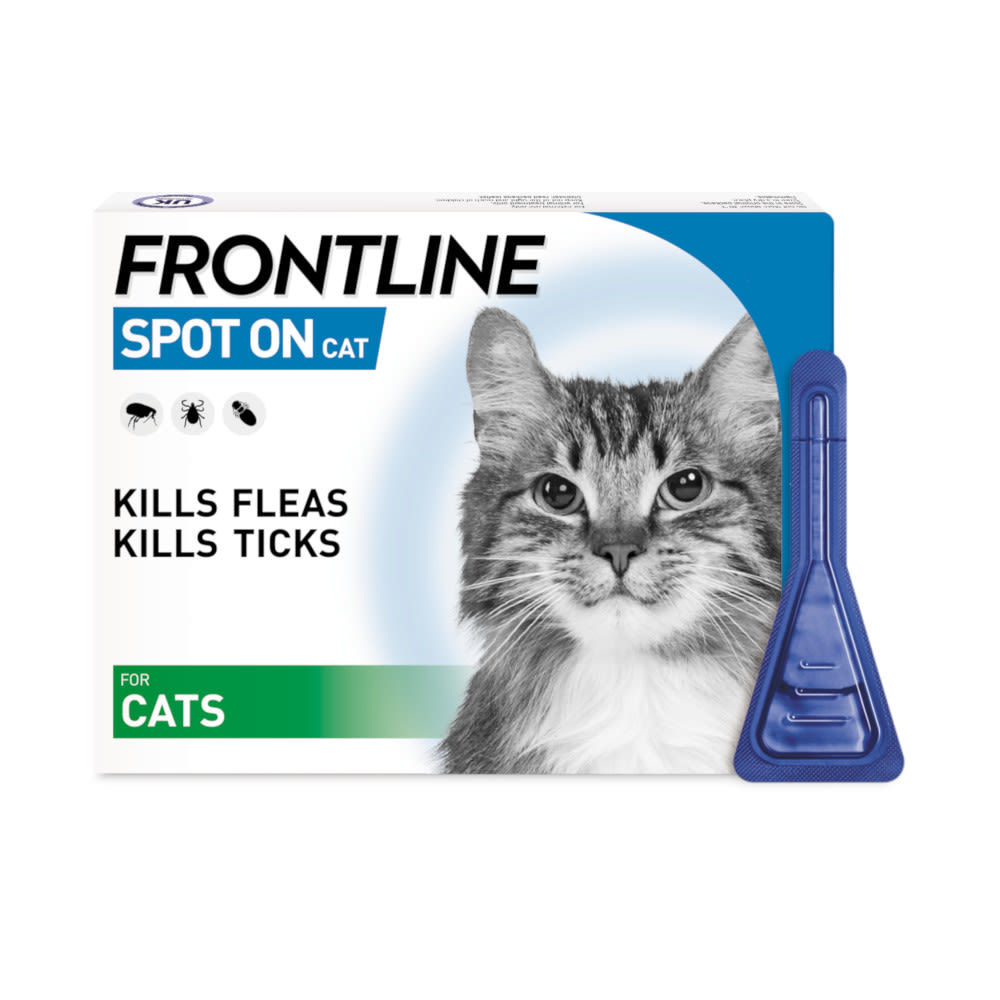 Frontline Spot-On For Cats & Dogs
Kills fleas within 24 hours and ticks within 48
Protects from flea re-infestation for up to 8 weeks in dog and 5 weeks in cats (apply every 4 weeks during peak season)
Prevents re-infestation of ticks for 1 month
Can be used during pregnancy and lactation
Suitable for Kittens 8 weeks old and over, weighing 1kg +
Suitable for Puppies 8 weeks old and over, weighing 2kg +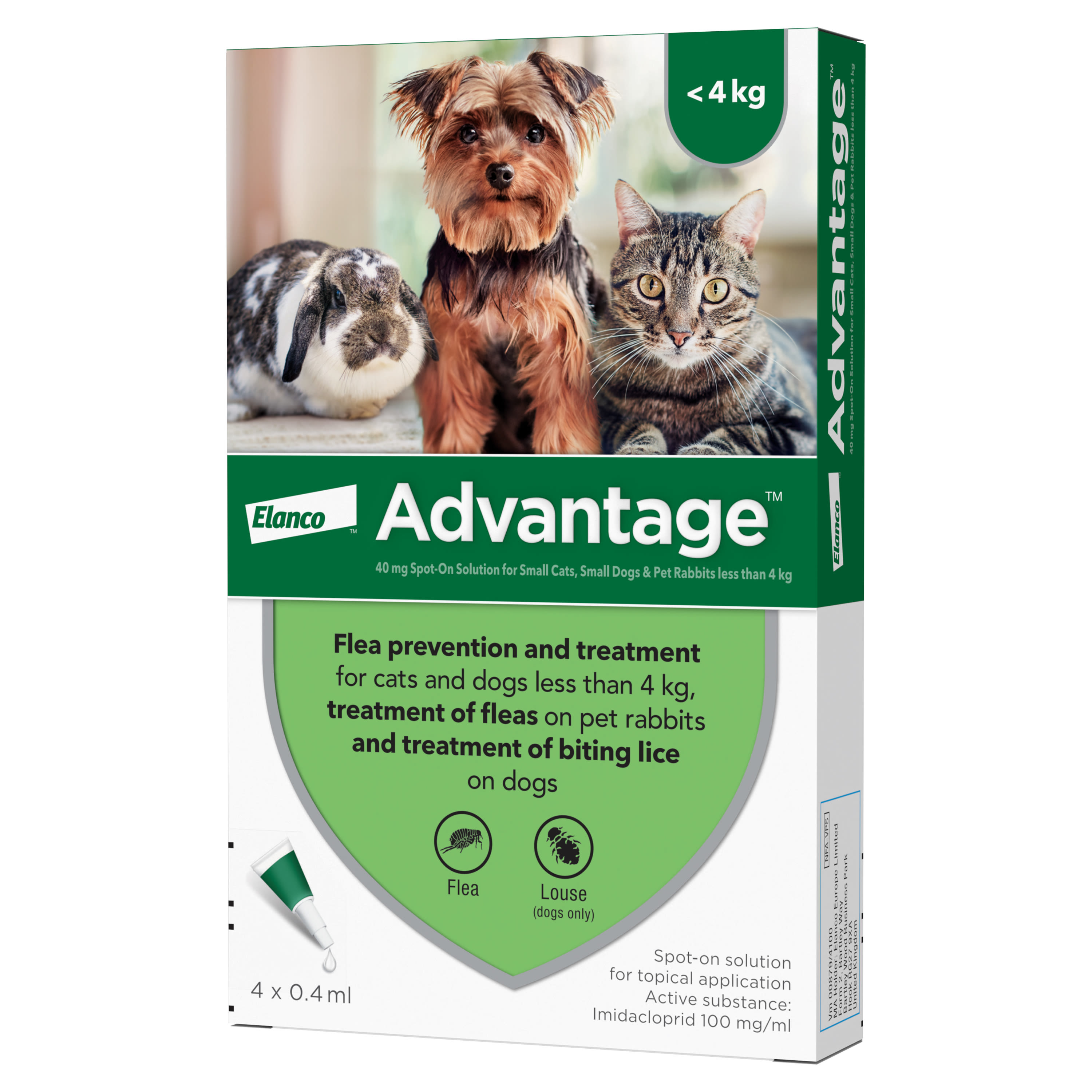 Advantage For Cats, Dog & Rabbits
Rapid Onset - Stops flea biting within 5 minutes around the application area
Quick - Knock out adult fleas within one hour after application
Durable - Up to a month of reliable flea control and protection
Safe for use in kittens/puppies over 8 weeks old, safe during lactation & pregnancy
Advance Formulation - Waterfast or Water Proof
Oral Flea Treatments - there is an increasing number of oral flea treatments for dogs and cats that kill the adult fleas on your pet.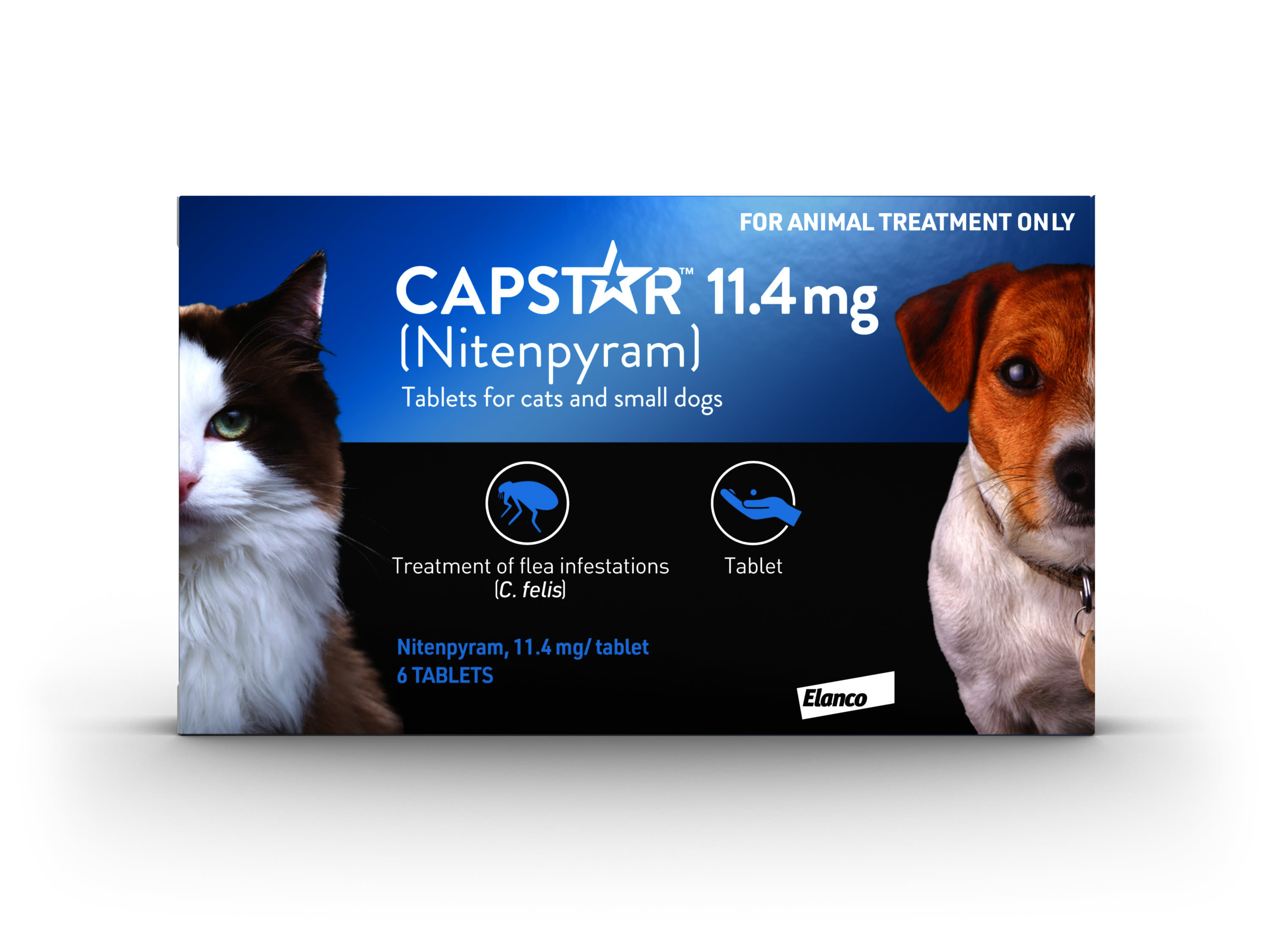 Capstar Flea Treatment For Cats & Dogs

Orally administered treatment
Adult fleas begin to be killed after just 15 minutes
100% of fleas removed from a pet in 24 hours
Safe to give more than one treatment, but not on the same day
Insect Growth Regulators - When a pet is treated with an oral insect growth regulator, it circulates in the animal's bloodstream. Then, if a flea bites the pet, it ingests the insect growth regulator and passes it on to its eggs, rendering them unable to hatch. They are given in food once a month.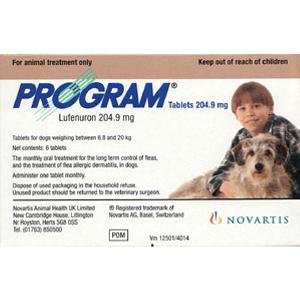 Program is for the prevention and lasting control of flea infestations.
It is available as an easy to give tablet.
Program works by preventing flea eggs from developing and hatching. This breaks the life cycle and prevents a flea infestation in your home.
Program should be used monthly alongside a treatment which kills adults fleas.(Capstar, Frontline spot-on)
A Suspension liquid formula is available for cats - Program Suspension for cats

Integrated Flea Control - uses a combination of 2 different types of insecticide which target the different stages of the flea life cycle: an adulticide to kill the adult fleas you can see on the pet, and an insect growth regulator to deal with the eggs they lay around your house.
Frontline Plus Flea & Tick Dog/Cat

Kills fleas on your pet within 24 hours, prevents reinfestation for 8 weeks
Kills ticks on your pet within 48 hours, prevents reinfestation for 4 weeks
Kills biting lice
Inhibits the development of eggs and larvae
Protects your pet and the home

Injectable Flea Control - An injectable flea control product is available for cats. It contains an insect growth regulator which prevents fleas from being able to lay viable eggs around your home for a full six months.
This product must be administered by a veterinary surgeon.
If you treat the pets correctly, you are less likely to need to spray the house because all fleas will jump on your cat or dog as part of their life cycle. So if you have treated the cat or dog, the fleas will die out when they come into contact with the animal.
Home Management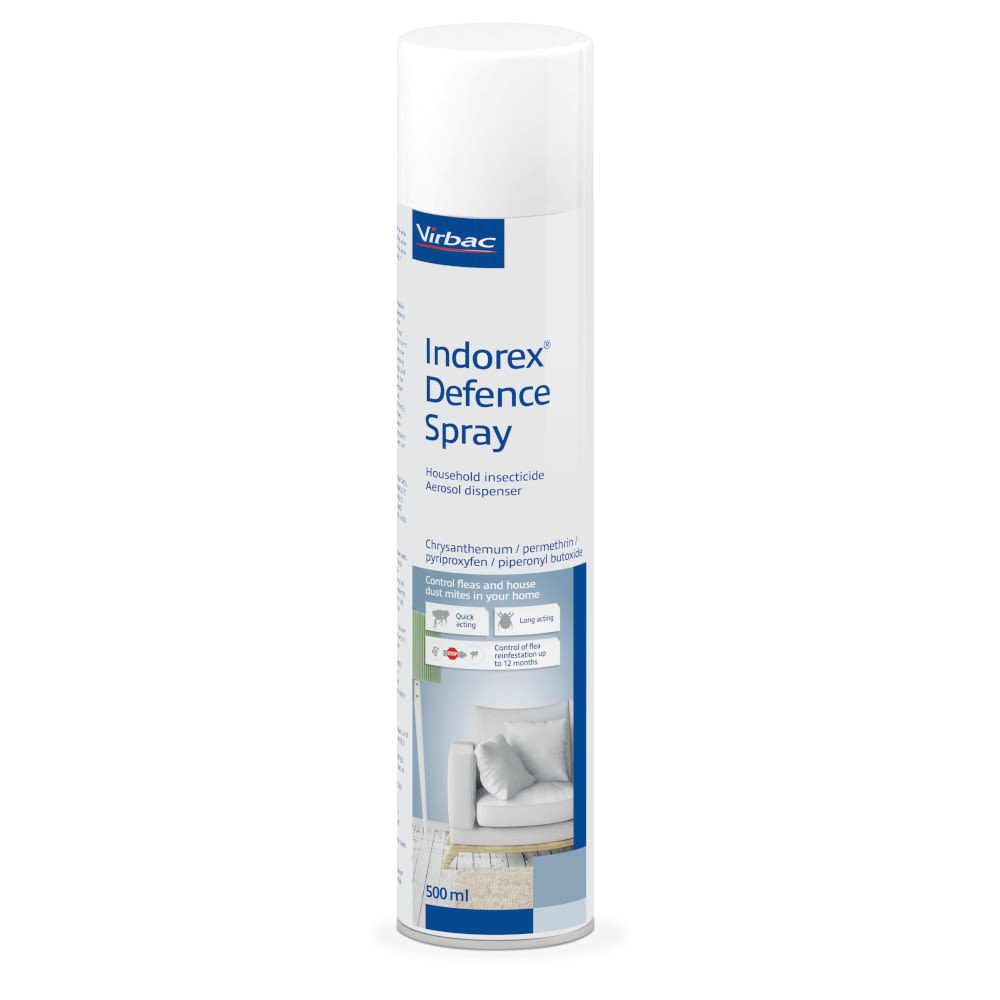 Hoovering the carpets and furniture will pick up eggs, this is especially important if your pets are allowed to sleep or climb on sofa, bed, etc. Cleaning the area where the pet's favourite sleeping place is will remove significant numbers of eggs and larvae, if you use a basket any bedding should be washed in the washing machine (eggs, larvae and adults will not survive this).
It is possible especially when the infestation is light, for do it yourself pest control to be effective. Many products can be used to spray your house against fleas. Products have been designed to allow a low concentration of insecticide to be used by untrained homeowners in their own homes. In light infestation type situations these can be quite effective. Most of these products have a low concentration of insecticide and in some cases a growth regulator. As with all products of this type, you must adhere to the direction as to its use, especially in relation to application rates.
Professional pest control
It is not possible for untrained individuals to access high concentration insecticides. These are a professional pest control product, and can only be used safely by suitably trained and qualified professionals. If you feel that your efforts have not been effective, contact a professional. Don't go out and buy multiple tins of insecticide and fill your house with fumes and insecticide, as this is without doubt not safe for you or your pet. Also, bear in mind that once a flea infestation takes hold it can take a few months to get on top of it due to the pupal stage of the flea life-cycle, which is very resistant to being killed. The pupae must hatch into an adult flea before it can be killed by any flea treatments applied.
Please feel free to contact one of our Animal Health Advisors (SQP's) who are on hand to advise a suitable treatment program for your pet. Call us on 0203 675 0780 (Mon-Fri)