Skip to content
Skip to navigation menu
You have setup the following Repeat Order: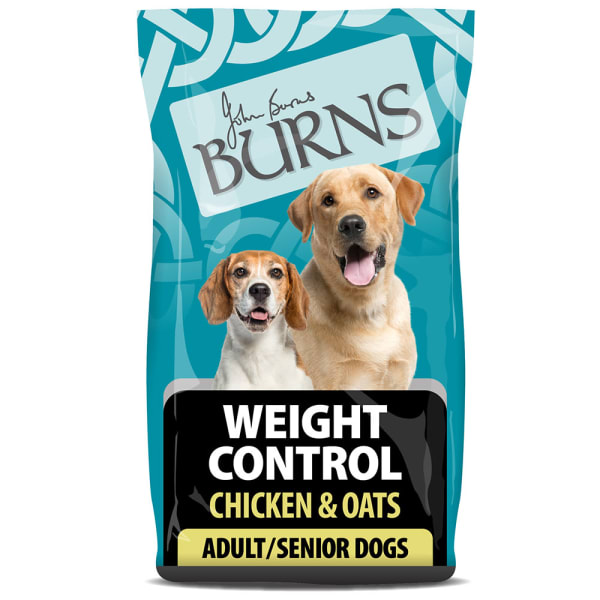 Burns Weight Control Adult/Senior Dry Dog Food - Chicken & Oats
Burns Weight Control Adult/Senior Dry Dog Food - Chicken & Oats
Burns Weight Control Adult/Senior Dry Dog Food - Chicken & Oats
Back in stock notification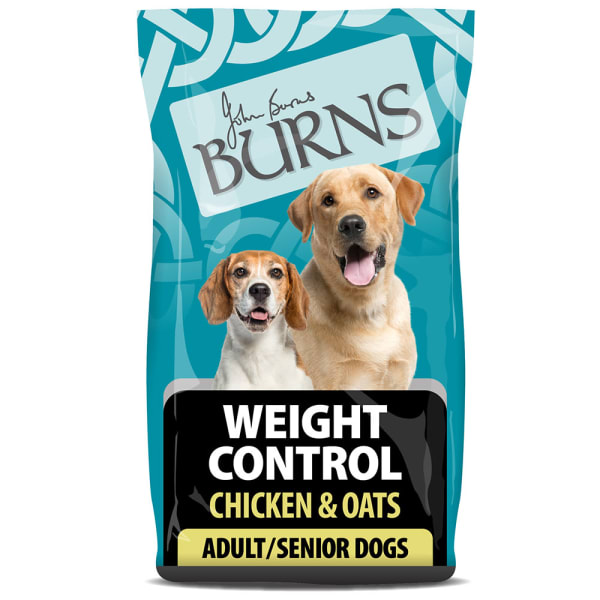 Burns Weight Control Adult/Senior Dry Dog Food - Chicken & Oats
Burns Weight Control Adult/Senior Dry Dog Food - Chicken & Oats
Enter your name and email address below then select which items you would like to be notified of when available.
Product details
Burns weight control+ with chicken helps you keep your adult dog at a healthy weight.
How it works
Burns weight control+ contains all the nutrients your dog needs to stay healthy, while reducing the amount of fat and carbohydrates they eat to help control their weight. This recipe is hypoallergenic, meaning it's free from ingredients which commonly cause allergic reactions, such as beef, dairy and wheat, so it's safe for most pets with sensitive stomachs.
Lean chicken and fibre rich oats make for a tasty recipe that your dog will enjoy, even if they're eating less than they're used to. It's designed specifically to help overweight dogs to lose some weight and keep it off healthily, as well as to help diabetic dogs stay in top condition. The low level of complex carbohydrates means the release of glucose into their bloodstream is slow and controlled, reducing the risk of their blood sugar spiking.
Key benefits
complete dog food containing all the nutrients most dogs need
hypoallergenic free from ingredients that commonly cause allergic reactions
doesn't contain artificial colours, flavours or preservatives
low-fat recipe with chicken as a lean source of protein
contains high-fibre wholegrain oats as a source of soluble fibre
specially designed for overweight and diabetic dogs
different sizes available.
When to use it
Dogs often don't stop eating when they're full and it can be easy for them to gain a lot of weight even if they're very active. If you can't feel their ribs or see a waist if you look at them from above, this could be a sign that they're an unhealthy size. A heavy frame can put your dog at risk of heart and joint problems. It's always advisable to speak to your vet if you're concerned. A more restricted diet and plenty of exercise can be effective first steps to a fitter life.
Ingredients
Composition:

Oats (55%), Brown Rice (18%), Chicken Meal (17%), Peas, Chicken Oil, Seaweed, Vitamins & Minerals.

Nutritional additives:

Vitamin A 25,000 iu/kg, Vitamin D3 2,000 iu/Kg, Vitamin E 100 iu/Kg, Calcium Iodate Anhydrous 1.5mg/kg, Cupric Sulphate Pentahydrate 55mg/kg, Sodium Selenite 0.6 mg/kg, Ferrous Sulphate Monohydrate 160mg/kg, Manganous Sulphate Monohydrate 100mg/kg, Zinc Sulphate Monohydrate 130mg/kg
Feeding Guide
Burns Dog Food Daily Feeding Amount
Feeding Guide for Adult Foods
| Weight of dog | g/day | oz/day |
| --- | --- | --- |
| 1-5 kg | 25-50 | 1-2 |
| 5-10 kg | 50-100 | 2-4 |
| 10-20 kg | 100-200 | 4-8 |
| 20-30 kg | 200-300 | 8-12 |
| 30-40 kg | 300-400 | 12-16 |
| 40-50 kg | 400-450 | 16-18 |
Feeding The Correct AmountFeeding Guide - Puppies & Growing Dogs:
| Weight of dog | g/day | oz/day |
| --- | --- | --- |
| 1-5 kg | 50-100 | 1-2 |
| 5-10 kg | 100-200 | 2-4 |
| 10-20 kg | 200-300 | 4-8 |
| 20-30 kg | 300-400 | 8-12 |
Mini Bites - Toy Breed Adults
| Weight of dog | g/day | oz/day |
| --- | --- | --- |
| 1-5 kg | 50-100 | 1-2 |
| 5-10 kg | 100-200 | 2-4 |
It is important to remember however that these figures are guidelines only, and there are several factors to be taken into account when assessing your pet's nutritional requirements:
Activity level
Temperament (stressed animals burn off more calories than relaxed ones)
Metabolism (every animal is an individual with his or her own speed of metabolism; this means that 2 dogs of the same age, breed and weight could have different daily calorie requirements)
In order to provide the correct portions when feeding your dog or cat, it is also helpful to assess your pet's appetite, visual appearance and stools. Whilst poo watching does not sound particularly pleasant, it is one of the best indicators of health. Increased frequency of passing faeces, production of large quantities of stools of loose motions are often frequent signs that an animal is receiving more food than he or she requires.
It is important to obtain an accurate weight for your cat or dog, and also to weigh out the food. Guessing on both accounts gives a large margin of error.
Changing Food Brands
For a successful diet change, we recommend following the feeding pattern below. The daily feeding amount should be split into two equal amounts and the proportions of new food increased over the first week as illustrated.

TOP TIPS: For those dogs who do not make eating a priority, here are some additional points:
- Reduce the number of tit-bits given during the introductory period
- If your dog has been used to eating wet food, moisten with warm water.
DAY 1-2
75% Original Diet
25% New Food
DAY 3-4
50% Original Diet
50% New Food
DAY 5-6
25% Original Diet
75% New Food
DAY 7
100% New Food
Customer reviews
Product reviews are filtered by language.
The following reviews are available in English.
Burns is Brilliant

We feed it to our Labrador and Cavalier and they both throve on this product. Medicanimal delivery this very efficiently to our door - class A service - thank you

Burns is Best

Have given Burns Weight Control to my two Cavaliers for many years. They love it and it keeps them trim. Excellent delivery service from Pet Supermarket makes this a definite no-brainier.

Great product

We use this for one of our dogs who gains weight very easily. He lost his excess weight and has maintained it on this product. As it doesn't weigh a lot he gets a decent amount to eat unlike some products. He looks good on it and has plenty of energy. Unfortunately due to dreadful service from pet supermarket I shall be purchasing elsewhere next time

BURNS WEIGHT CONTROL

hAVE USED THIS PRODUCT FOR 9 YEARS.IT IS EXCELLENT AND DOES EXACTLY AS THE LABEL SAYS.

Excellent product

My two rescue Labradors love this food, it doesn't upset sensitive tummies and it keeps them satisfied to control their weight. Deliveries are always speedy and reliable from pedmeds - win, win all round.