Skip to content
Skip to navigation menu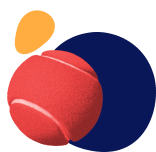 Search for food, toys, supplements, etc.
We've got everything you need for a healthy, enthusiastic cat or dog!
7 FAQs about flea and tick collars for dogs
How do dog flea collars work?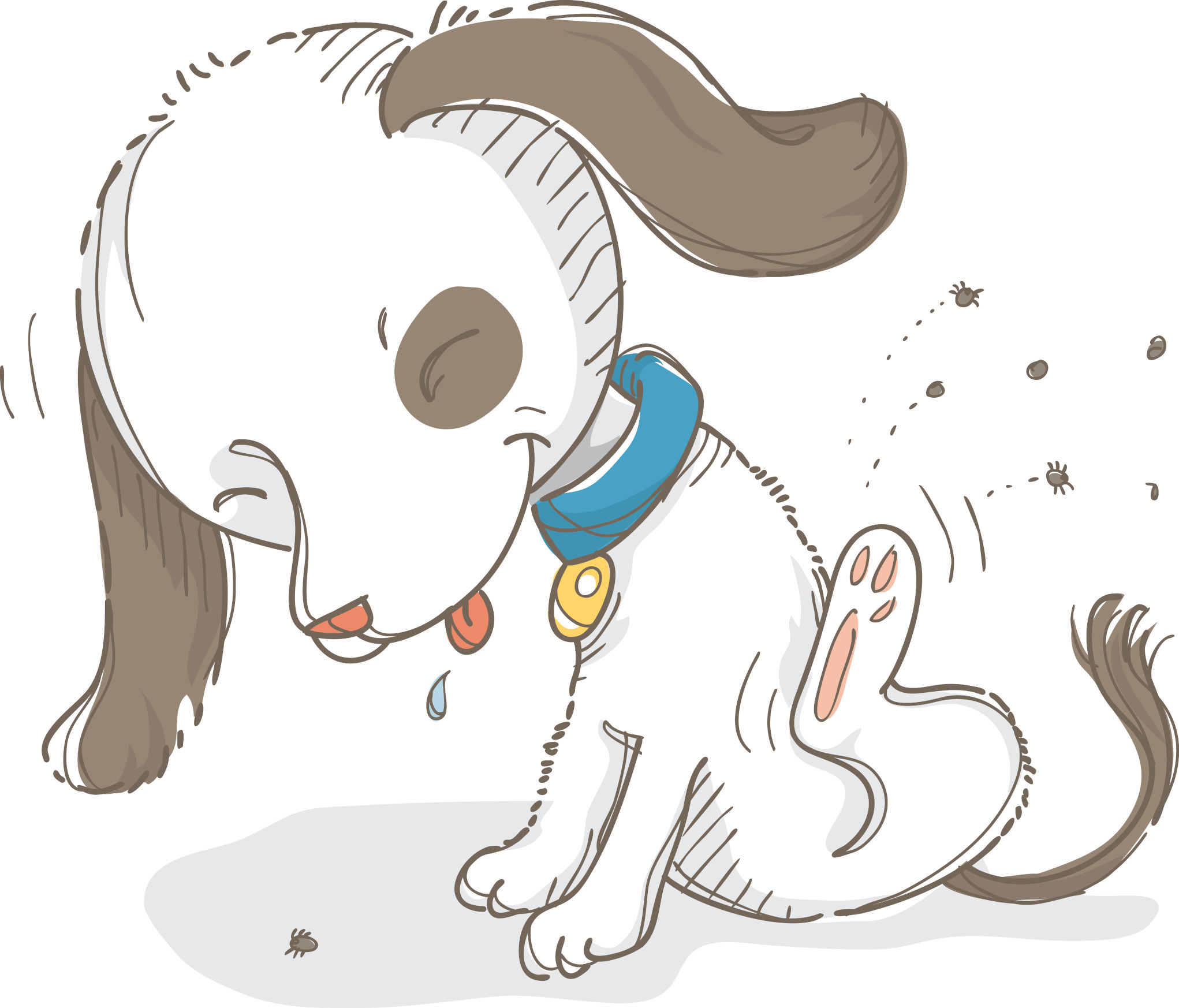 Older style collars usually work by emitting the toxin as a gas, therefore, they will only kill fleas in close proximity to the collar. The newer collars contain flea and tick repellent chemicals that are continuously released from the flea collar and spread over the pet via the natural oils of the hair, coat and skin. These flea killing chemicals then adhere to the hair and skin and provide continuous protection.
There's a range of different flea collars for dogs available of variable effectiveness. The older types of collar contain organophosphates, which can cause toxic reactions in dogs, cats, and possibly people if exposure is prolonged. Permethrin collars are also popular and low cost but can be very harmful to cats. Newer and further advanced collars tend to be more effective and safer to use. Any flea collar can be problematic if there are other pets' in the household and they lick or chew each other's collars.
Why should I use a flea collar for my dog?
Dog flea collars can be useful as a preventative tool in the fight against fleas and ticks. However, they're not appropriate for every pet in every situation. There are times when flea and tick collars for dogs can be a very valuable tool, especially for pets spending most of their time outdoors. They are not the best form of protection alone but can be beneficial when used in conjunction with other flea control products, especially in areas of high parasite challenge. As with any insecticidal product, adverse drug interactions can occur, although this is unlikely. Flea and tick control collars are becoming safer and more advanced in protecting your pet against these pesky parasites.
Seresto Collar (previously only available from the vet) Is now available to pet owners to purchase from MedicAnimal.
For further information please contact one of our qualified SQPs on 0203 6750870.
Seresto Flea and Tick Control Collar
Provides long-lasting protection against flea, tick and lice infestations for up to 8 months.
Works by releasing its active ingredients from its unique collar matrix in controlled, low doses giving long-lasting protection.
Works by killing and repelling parasites before they bite and feed, therefore, eliminating the risk of disease.
Easy-to-apply, odourless and water-resistant.
Can flea collars be worn by all dogs?
Many flea and tick collars are not suitable for senior, pregnant, nursing bitches or very young puppies. It is essential to refer to your vet or one of our Animal Health Advisors prior to treating your pet for parasites. This will ensure the best treatment for your dog is being given. Always read the datasheet before use to ensure the product you have is appropriate for the animal you intend to treat.
Is it dangerous to have the chemical exposed to my home and family?
Essentially the poison in the product is located directly on the dog flea collar and therefore can rub off on anything it comes into contact with including small children, other animals and your home environment. It is important to always wash your hands after touching the dog on every occasion. If you have animals or children that are always in close contact with each other, a different form of flea treatment may be more appropriate.
Can I leave my dog's flea and tick collar on when I take him swimming?
Flea and tick collars are often water-resistant, however, they are seldom actually waterproof and should be removed for bathing and may not last as long on dogs frequently in the water as it may decrease the integrity of the product. Some collars should not be worn in waterways as they are toxic to the fish and wildlife – check the datasheet.
How should the collar be worn?
It is always best to follow the manufacturer's guidelines for the specific product you are using. The flea collar should fit snugly around the dog's neck in order to make skin contact and to ensure that your dog cannot remove it. Generally, you should be able to place two fingers under the collar. Any additional length should be cut off and disposed of. Do not allow dogs or children to play with cut-off pieces. Re-check the fit of the collar frequently, especially in growing puppies, to make sure the collar has not become too tight. Collars don't last forever, and the effectiveness will be reduced if the collar gets wet. Remove and replace flea collars as necessary, and monitor your pet for irritation or hair loss around the neck.
When should I change the collar?
Always change the flea collar according to the manufacturer's directions to ensure consistent protection.
What Other Flea Treatment Options Are Available?
In today's world, there are many flea treatment options available to suit all dogs, from tablets to spot-ons and sprays. However, the quality and effectiveness can differ, especially with lower-cost products. It is advisable to seek advice from your vet or one of our SQP's in regards to your situation to determine the best treatment option for your pet.
Spot-on Flea Treatments - Spot-on flea products are applied to the pet. The liquid is applied to the scruff of the neck, directly on the skin with the fur parted. Most spot-on products contain adulticides designed to eliminate adult fleas from the pet within 24 hours of application.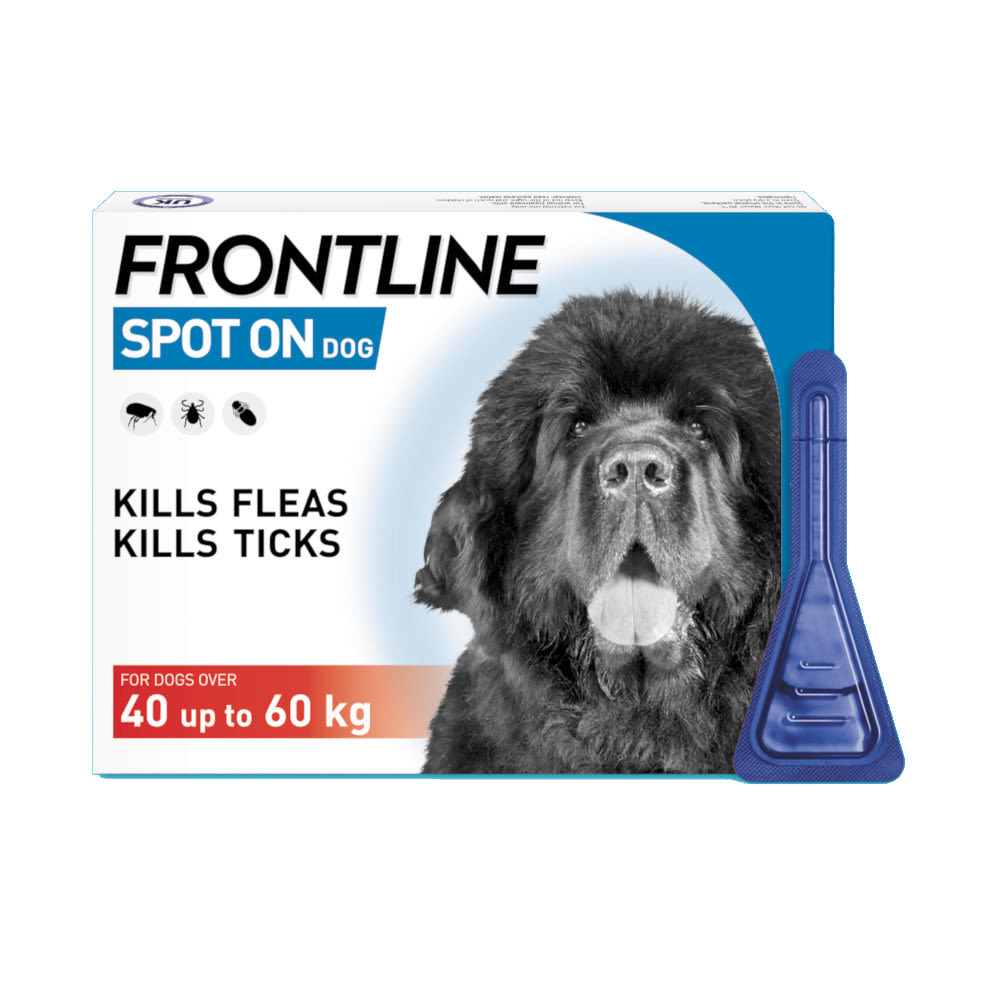 Kills fleas within 24 hours and ticks within 48
Protects from flea re-infestation for up to 8 weeks in dog and 5 weeks in cats (apply every 4 weeks during peak season)
Prevents re-infestation of ticks for 1 month
Can be used during pregnancy and lactation
Suitable for Puppies 8 weeks old and over, weighing 2kg +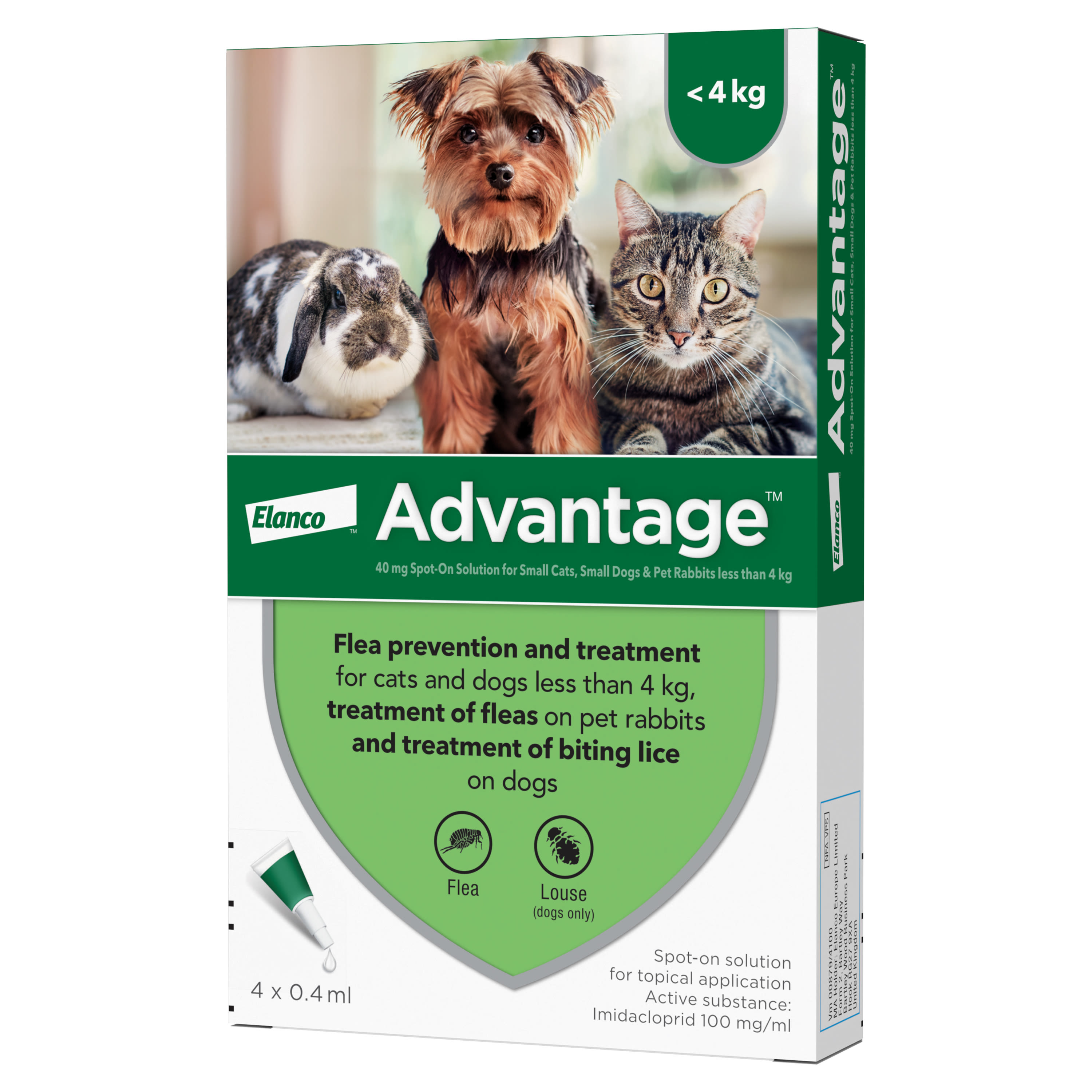 Advantage For Cats, Dog & Rabbits
Rapid Onset - Stops flea biting within 5 minutes around the application area
Quick - Knock out adult fleas within one hour after application
Durable - Up to a month of reliable flea control and protection
Safe for use in puppies over 8 weeks old, safe during lactation & pregnancy
Advance Formulation - Waterfast or Water Proof
Oral Flea Treatments - there is an increasing number of oral flea treatments for dogs and cats that kill the adult fleas on your pet.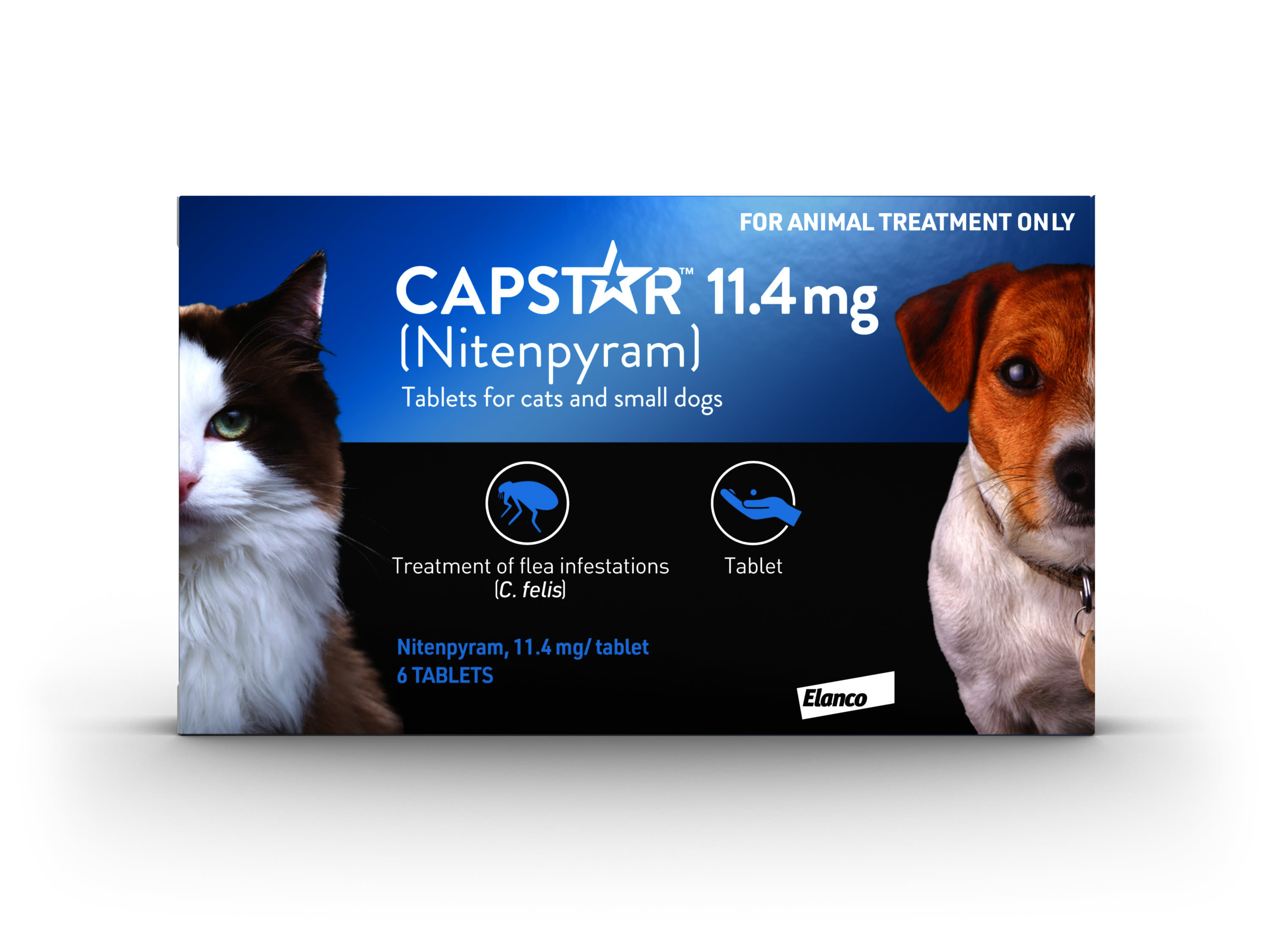 Capstar Flea Treatment For Cats & Dogs

Orally administered treatment
Adult fleas begin to be killed after just 15 minutes
100% of fleas removed from a pet in 24 hours
Safe to give more than one treatment, but not on the same day
Insect Growth Regulators - When a pet is treated with an oral insect growth regulator, it circulates in the animal's bloodstream. Then, if a flea bites the pet, it ingests the insect growth regulator and passes it on to its eggs, rendering them unable to hatch. They are given in food once a month.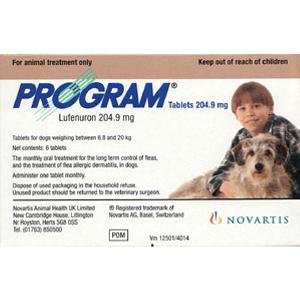 Program is for the prevention and lasting control of flea infestations.
It is available as an easy to give tablet.
Program works by preventing flea eggs from developing and hatching. This breaks the life cycle and prevents a flea infestation in your home.
Program should be used monthly alongside a treatment which kills adults fleas.(Capstar, Frontline spot-on)

Integrated Flea Control - uses a combination of 2 different types of insecticide which target the different stages of the flea life cycle: an adulticide to kill the adult fleas you can see on the pet, and an insect growth regulator to deal with the eggs they lay around your house.
Frontline Plus Flea & Tick Dog

Kills fleas on your pet within 24 hours, prevents reinfestation for 8 weeks
Kills ticks on your pet within 48 hours, prevents reinfestation for 4 weeks
Kills biting lice
Inhibits the development of eggs and larvae
Protects your pet and the home

It is essential to remember that in all cases prevention is better than cure, so treatment should be carried out regularly all year round.
Home Management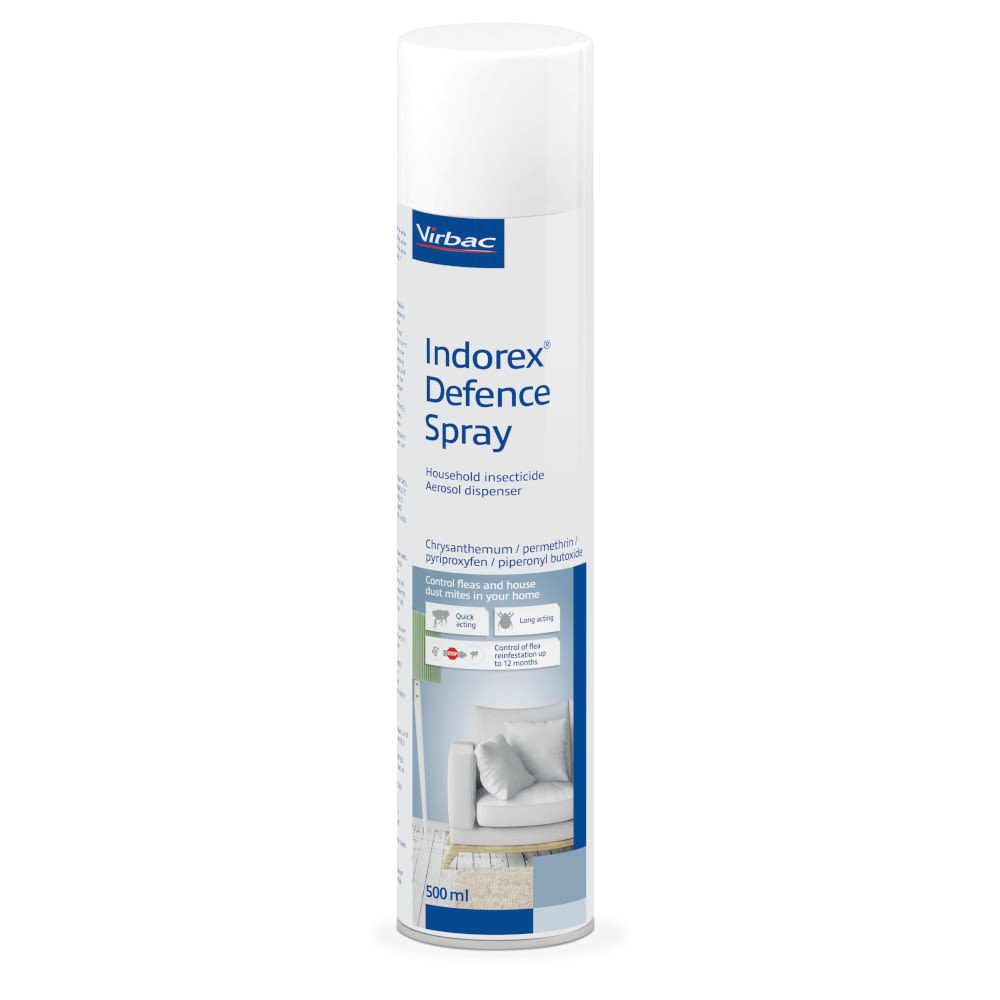 Hoovering the carpets and furniture will pick up eggs, this is especially important if your pets are allowed to sleep or climb on sofa, bed, etc. Cleaning the area where the pet's favourite sleeping place is will remove significant numbers of eggs and larvae, if you use a basket any bedding should be washed in the washing machine (eggs, larvae and adults will not survive this).
It is possible especially when the infestation is light, for do it yourself pest control to be effective. Many products can be used to spray your house against fleas. Products have been designed to allow a low concentration of insecticide to be used by untrained homeowners in their own homes. In light infestation type situations these can be quite effective. Most of these products have a low concentration of insecticide and in some cases a growth regulator. As with all products of this type, you must adhere to the direction as to its use, especially in relation to application rates.

It is advisable to seek advice from your vet or one of our SQP's in regards to your situation to determine the best treatment option for your pet.