Skip to content
Skip to navigation menu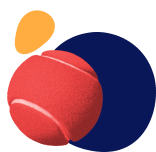 Search for food, toys, supplements, etc.
We've got everything you need for a healthy, enthusiastic cat or dog!
How to care for a senior pet
As cats and dogs enter their senior years, you may notice changes in their energy levels and habits. While factors like breed, nutrition and environment will determine the speed at which your furry friend ages, most cats and dogs are considered senior from about the age of seven.
But seeing your friend get old needn't be sad or scary! As pet food and medicine evolve (and pet parents become more informed), many elderly pets can enjoy long, happy lives.
Vet visits
Your vet will recommend how often you should visit. Once or twice a year is generally enough, but if you notice any drastic changes in behaviour (loss of appetite, difficulty walking, weight loss, excessive thirst, etc.), always book an appointment.
Diet
Choose a high-quality food and consider a veterinary diet if your pet suffers from a medical condition. Senior formulas, for example, are great since they contain a balanced amount of nutrients for this particular life stage, have fewer calories and include beneficial ingredients like antioxidants and Omega-3 fats.
Oral health
Dental care is vital to prevent plaque formation, gum disease and loss of teeth – especially in older pets. Some people find the idea of brushing their pet's teeth ridiculous, but getting them used to this habit from the time they're little is hugely beneficial! Chew toys and dental snacks can also help maintain their teeth healthy.
Mobility
As your pet's metabolism slows down, you'll notice they are less active. And though it's important to be mindful of your pet's limits, finding an exercise routine that works for them is key to support muscle and joint health. Two or three daily sessions of play or exercise of about 20 minutes will keep them in top shape, both physically and mentally!
Your home
Are there any other ways you can make your companion's life easier? It may be as simple as providing softer bedding, throwing a few rugs over hard floors and adding steps/ramps to places like that much-loved couch.
There's nothing like the bond and understanding you reach with an elderly pet. Here's to many more years together!