Skip to content
Skip to navigation menu
Specific Feline FRD Weight Reduction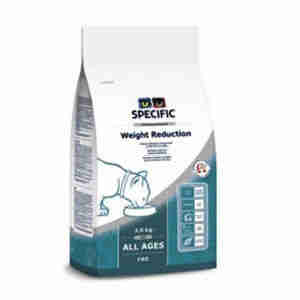 Product details
SPECIFIC Feline FRD Weight Reduction has a low content of fat and high content of fibre result in a low energy density. Even during a period of weight reduction this will enable the owner to feed a considerable amount of food, ensuring that the cat's appetite has been sated.

Key Benefits:
Urine control: A urine pH below 6.4 prevents precipitation of struvite crystals.
L-carnitine & high protein: The relatively high protein content ensures maintenance of muscles and ensures that the cat's appetite is sated during the weight reduction period. L-carnitine transports fatty acids into the mitochondria and stimulates oxidation of fat and preservation of muscles.
Skin, coat & joint: Omega-3 fatty acids support healthy skin and coat. Omega-3 fatty acids also help to maintain normal mobility in joints of obese cats.
Diabetes mellitus: The content of complex carbohydrates and the high level of fibre promote a gradual release of glucose from the diet, which makes it suitable for patients with diabetes mellitus.

Customer reviews
Product reviews are filtered by language.
The following reviews are available in English.
Cat's Whhiskers!

My lovely Missy- 95% housecat - was officially diagnosed as being clinically obese and the Vet Nurse put her on a strict diet of this. I have to say - in 4/5 months she has reduced from 5.8kg to 5.2 kgs which is pretty good and her belly no longer drags on the floor. We are hoping to eventually to get her down to the 4kg mark - but already her coat is silkier and she is much more alert. With spring now upon us,she is outside more exploring her close to the house territory and getting a little more exercise. This Specific is working for my cat and is cheaper to buy here than at the Vets. On behalf of my moggy, I would highly recommend it.