Skip to content
Skip to navigation menu
Zylkene for Dogs & Cats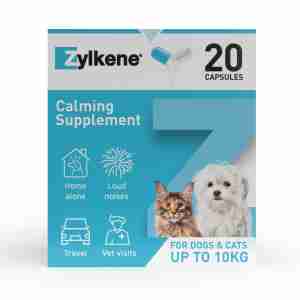 Rollover image to zoom
Product details
Zylkene is a natural product given in capsule form to relieve stress in dogs and cats.
How it works
Zylkene contains a natural product derived from a protein found in milk, and works to support your pet when they are feeling stressed or vulnerable. It comes in powder form, packaged in capsules which can either be fed whole or opened up to mix with your pet's food. It is designed to be fed to your pet once a day with a meal or treat. The ingredients have a positive impact on the brain receptors, helping to soothe your pet.
Since Zylkene is a natural product that has little to no known side effects, you will generally be able to feed it to your pet for as long as they need it. This makes it an effective solution to your pet's stress, whether this is related to a short-term change such as a house move or unfamiliar visitors, or more permanent circumstances like being left alone during the day.
Key benefits
created from a natural product found in milk protein
can be mixed with your pet's food for easy feeding
designed to be given once a day either short or long-term
few side effects.
When to use it
Animals react to stress in different ways, so it's important to learn to recognise the signs in your pet. You might find that your pet becomes withdrawn and hides when faced with something frightening or unfamiliar; other pets can become aggressive or engage in destructive behaviour. If the cause of stress is temporary, your pet will often return to normal once the source is removed. However, permanent changes such as a shift in routine or a new pet in the house might need you to take further action to reassure your pet.
Dosage
Zylkene 75mg

Up to 5kg

1 Capsule a day

5 - 10kg

2 Capsules a day

Zylkene 225mg

10 - 15kg

1 Capsule a day

15 - 30kg

2 Capsules a day

Zylkene 450mg

15 - 30kg

1 Capsule a day

30 - 60kg

2 Capsules a day
Customer reviews
Product reviews are filtered by language.
The following reviews are available in English.
Works for us

It's not made my crazy cockers into super saints, nor did I expect it to,but it has calmed them down,and made my youngest less fearful and stressed about things that 'may get him' like traffic cones hiding in long grass, he is so weird bless him.

Sadly didn't work at all for my dog

Bought for my elderly labradorX who gets very stressed when travelling. Persevered for a month to give it a fair trial but no effect whatsoever. Easy to use. Tried a number of other products but without success.

It's working for us!

My 14 year old neutered Tom, started spraying indoors recently. I aslo have 2 spayed females. As you can imagine, it's been a nightmare! The vet said it could be anxiety and prescribed Zylkene and said it works for some cats. Well it's worked for my boy, thank goodness and I'm now buying it online for convenience. Between Zylkene and a lot more cuddles and attention from me, my boy is now fine. Highly recommend!

Good value

Much cheaper & easier to buy these online here compared to at the Vets. Delivery is also free, quick & reliable.

Itchy cat

Tilly is not stressed just very itchy, fleas or ticks ? She has a long silky coat, is very small, hates being groomed but loves everyone. I worry because she scratches a much