Skip to content
Skip to navigation menu
Zentonil Advanced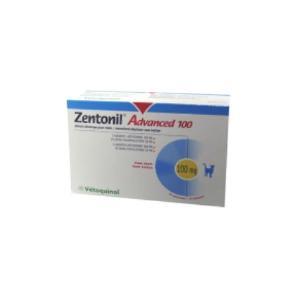 Product details
Zentonil Advanced 100mg Tablets can be used in cats for all cases when the liver is known or is expected to require support. Zentonil Advanced Tablets contain the pure ingredient, SAMe, with the additional benefit of Silybin in a palatable, easily divided tablet formulation.

The healthy liver produces an abundance of antioxidants to help preserve normal function. The major antioxidant is glutathione but unfortunately glutathione production is decreased in liver problems when the need for production is even greater. Zentonil contains SAMe, a molecule essential for glutathione production. Silybin (milk thistle) additionally supports glutathione production and also helps liver regeneration.

Dosage

Zentonil Advanced 100 Tablets - 1 tablet per 5kg bodyweight daily
Tablets are scored for division into two parts but can be divided further if required
Tablets should be given on any empty stomach at least one hour before or two hours after feeding for optimum effectiveness.