Skip to content
Skip to navigation menu
YuMOVE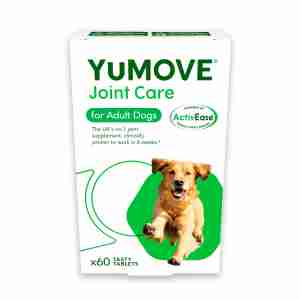 Rollover image to zoom
Product details
Make walkies and playtime easier on your dog's joints with YuMOVE.
This all-in-one pill works in just six weeks – proven by the Royal Veterinary College – to get your pet fighting fit again.
What it's for
Are you noticing your dog limping, moving jerkily or standing for shorter and shorter periods of time? While older dogs are bound to slow down a bit, YuMOVE can help ease the pain in their backs, elbows and hips and get them moving again. Younger dogs can also suffer from issues like arthritis, especially if their breed is particularly vulnerable to joint problems.
Key benefits
Give YuMOVE to them regularly or just as needed
Helps joints stay healthy with plenty of glucosamine, hyaluronic acid, omega-3 and manganese
How it works
The ingredients in YuMOVE get to work quickly on your dog's stiff joints. Omega-3 fatty acids ease sore and swollen joints, while hyaluronic acid provides some grease so that joints don't rub together when they move. The hyaluronic acid, the connective tissue that binds the joint together, helps cartilage to grow.
You can either use this supplement as part of your dog's care routine or give it them as often as you or your vet think it's needed. The simple and natural formula also means that you can add a tablet to their food before they start to have issues with movement. This means you can get ahead of the problem before it starts to really hurt your pet.
Ingredients
VitaEase, Glucosamine HCI, Manganese, Vitamins C & E, Hyaluronic Acid.
Feeding Guide
Feeding Guide:
| | |
| --- | --- |
| Small Breeds | (up to 15kg) 1 Tablet |
| Medium Breeds | (16-30kg) 2 Tablets |
| Large Breeds | (31-45kg) 3 Tablets |
| Very Large Breeds | (Over 45kg) 4 Tablets |
This can be given as a treat or simply added to their food daily. Double the daily recommendation for the first 4-6 weeks.
Customer reviews
Product reviews are filtered by language.
The following reviews are available in English.
Yumove works

Yumove tablets help to keep my arthritic 12 year old Golden Retriever mobile. She has 2 tabs twice a day..& they are the only tablets that I don't need to disguise..she loves to chew them. I tell her they are her sweeties!!

Can't believe the results

Our 16 yo JRT has suffered from arthritus in legs and spine for 12 months but has got worse in recent months and the vet suggested steroids which had minor results. A neighbour suggested Yumove so we bought some. After 4 weeks on 2 tablets a day the results are amazing. We no longer need to take his buggy for when he gets tired. Just done a two mile walk with our other two younger dogs and it was if he was a teenager again. We opened the front door when we got home and he charged out into the back garden to start playing with the other two instead of collapsing on his bed as he has been doing in recent months. He has got his old mojo back.We are totally amazed by the results and joke that we wouldn't mind some ourselves ;both pensioners. If your best friend is struggling they are certainly worth tryimg.

Believe the reviews!!

I bought these for my 10year old rescue dog after she started to become lame from her longer walks, she would be stiff and was really struggling and limping. I reduced her walks and got her a months supply just giving her two a day - 4 weeks later, first long walk and omg she appears to be pain free, no limping, no stiffness on her first long walk hill walking, bit of a splash, a couple of hours - sascha had a ball, highly recommended.

Elderly dog with joint stiffness

You over dog has really helped my dogs mobility, she can now manage stairs much more easily. Im very pleased. She likes the tablets so it's very easy to administer them!

Great product

Umove was recommended by our vets over 3 years ago for our border collie whose joints were getting quite stiff and she was struggling to jump onto her chair. 3 years later she is running much better and can now still enjoy jumping on her chair.