Skip to content
Skip to navigation menu
Add to an existing repeat order
Add to an existing repeat order
Licensed item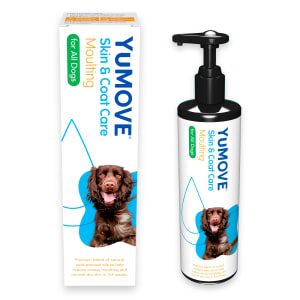 This is a licensed item so for regulatory reasons and to ensure we are providing the best product for the health of your pet, we need to ask you to confirm a few details.
Please confirm the type of animal you will be giving this licensed product to:
I am aware of the relevant safety precautions relating to the licensed products.
I will read the packaging and product literature before using any licensed products, and will use all licensed products according to the manufacturer's datasheet
I am not buying for resale and I am happy to be contacted if required
I confirm that the animal the licensed products will be given to is in general good health
I confirm that the animal the licensed products will be given to is NOT pregnant or lactating
Add to an existing repeat order
Licensed item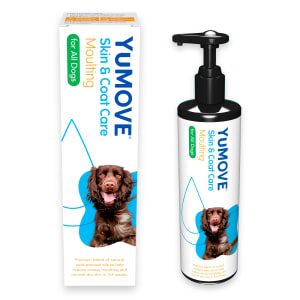 This is a licensed item so for regulatory reasons and to ensure we are providing the best product for the health of your pet, please read and confirm the details below:
By purchasing this product, you confirm your pet has been examined by a vet who has recommended the use of this food on the basis of examination and diagnosis.
You understand it is recommended while your pet is being fed this product, you seek veterinary advice at least every 12 months regarding the usage of this food and the on-going care of your pet.
Should your pet's condition deteriorate in any way while using this product, seek immediate veterinary advice.
Add to an existing repeat order
You are adding: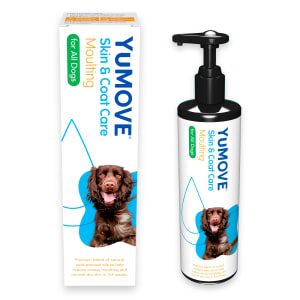 To the following repeat order:
Next order due on:


Delivered every
ending
Add to an existing repeat order
Thank you, we have updated your order. Your order is due on
You're setting up the following repeat order: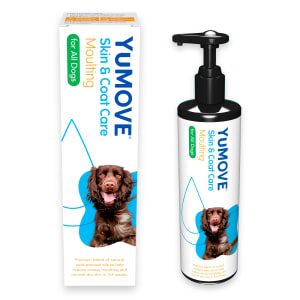 Product details
YuDERM Moulting Dog, previously YuMEGA Dog, is a premium quality coat and skin supplement that's full of natural essential Omega 3 and 6 oils.

YuDERM Moulting Dog's premium cold-pressed Golden Flax and Starflower (Borage) oils help reduce moulting and support healthy skin. It helps to boost coat growth and condition to reduce moulting. Our premium cold-pressed oils are recommended by vets to soothe itches and calm sensitive skin. Now available in a convenient pump bottle for easy administration - just pump it onto your dog's food and see the difference in as little as 4-6 weeks.
Ingredients
Golden Flax, Borage oil, Vitamin E
Dosage
Feeding Guide:
| | |
| --- | --- |
| SMALL DOGS | (Up to 10kg) 2.5ml |
| MEDIUM DOGS | (11-20kg) 5-7.5ml |
| LARGE DOGS | (21-30kg) 7.5-10ml |
| VERY LARGE DOGS | (Over 30kg) 10-15ml |
Customer reviews
Product reviews are filtered by language.
The following reviews are available in English.
It works!

I have been using this for weeks now and there is an improvement. Not so much shedding also my dogs fur is in better condition. Will buy again.

Less hair

Only been using this for four weeks so can't give accurate review. Having said that I have seen a difference in my Labs coat . He is shedding less hair. My Border Collies coat which is black is getting glosssier. Noticed they have a bigger size now so will try that as with two dogs I use a lot.

Customer Service

I can't review the item yet as it takes time to work but have been told by others, it's good for dogs coats and to stop skin irritation. So fingers crossed! I had a problem with Delivery but I can't recommend this company enough, the customer service was fantastic! I WILL BE BACK!

yumega oil

I have a siberian husky, aged 5, and have been using yumega oil to help reduce her shedding and to improve her coat. After the first 6-8 weeks i could notice a dramatic difference in the amount she shed (sometimes it was none at all, no seriously) and how soft, silky, and shiny her coat is. Been using it for over a year now and will continue using it. I have found that after 2-3 months of daily use, its good to stop giving it for 2-3 weeks, as like vitamins in humans, their bodies get used to it and becomes less affective. Dont get me wrong, a husky will always shed, but its no where near the amount she used to!

I had an itchy, scratch Border Collie with bald elbows and rough dry skin, constantly scratching. After only two doses of Yumega administered the difference was noticeable and is now part of her daily diet. Her skin and coat are now very much improved!