Skip to content
Skip to navigation menu
YuCARE Toothcleaner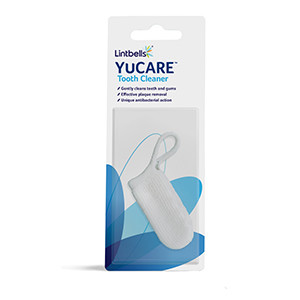 Product details
Keep your dog's teeth bright and clean with the Lintbells microfibre tooth cleaner.
How it works
Using this tooth cleaner daily can remove plaque and tartar buildups on your pet's teeth. There are over 12,000 more fibres on this cleaner than you'll find on a standard toothbrush, which makes for effective and lasting results.
The fibres are also coated in special antibacterial silver ions, which kill bacteria on contact. These fibres last for up to six weeks when used every day and can help your pet avoid oral health problems like tooth loss and gum disease. It works best when used alongside YuCARE toothcleaner.
Key benefits
keeps teeth clean and freshens breath
kills bacteria on contact
breaks down tartar and plaque
ideal for use with YuCARE Tooth Polish
lasts for four to six weeks
12,000 more fibres than a standard toothbrush
When to use it
Oral hygiene is important to your dog's health and happiness. If left unchecked, tartar and plaque can build up on their teeth and gums, which can lead to dental problems. Tooth and gum pain or inflammation make it hard for them to eat and excess bacteria can travel down into their digestive system, which can cause stomach pain and sickness.
If your pet seems to have lost their appetite or only seems to want to eat soft foods, it might be down to oral pain. Look for red or swollen areas around their teeth and gums. The best course of action is preventative, with lots of brushing and chew toys, though it's best to take your pet to the vet as soon as possible if you spot these symptoms, as they can advise you on the best course of action.
Customer reviews
Product reviews are filtered by language.
The following reviews are available in English.
Tooth cleaner

Very good to use when your dog Won't allow a brush in their mouth.

Toth cleaner

My little Yorkie does not like having his teeth cleaned and will not allow a brush or other types of cleaners near his mouth. He is however, used to me touching his face so the finger cleaner works for us. I spray it with cleaner or use the doggy toothpaste. As his teeth and mouth are so small this works well.

I've tried a lot of tooth care products. This is one of the easiest and both my dogs are now letting me clean every tooth. Really struggled with other products especially witb back teeth. You can see the plaque on the microfibre. I use a toothpaste too. Excellent product and well recommended.

my dog hates being touched and hates being cleaned but this he seems to enjoy... and i can feel what im doing unlike with other products ive used in the past highly recommend 5 stars

I bought this for my daughter's Yorkshire terrier. He actually likes it, enjoys having his teeth cleaned this this way. It is very good thank you!!