Skip to content
Skip to navigation menu
YuCARE Eye Spray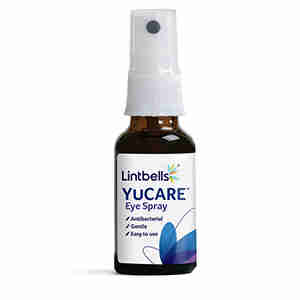 Product details
YuCARE Eye Spray is an effective way to clean and protect the eyes. Used daily it will help to reduce tear staining.
It can be used to reduce the irritation caused by insect bites due to the anti bacterial and soothing action. If your dog or cat is prone to eye problems, clean them every day as a hygiene measure. Use the Lintbells Microfibre Eye & Ear Cleaner cloth to remove all debris and thoroughly clean the eye to prevent further infections.
Key Benefits:
Unique antibacterial action
Gently cleans eye area
Gets rid of tear staining
Reduces eye irritation
Non-sting and easy to use


Customer reviews
We're sorry but there are no reviews of this product in English.