Skip to content
Skip to navigation menu
YuCALM Cat Capsules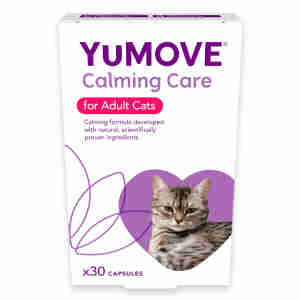 Rollover image to zoom
Product details
YuCALM Cat's natural, scientifically proven ingredients help your cat cope with stress. It's ideal for pets who are fearful of other cats, strangers, new family members, visits to the vet, new situations and car travel. Suitable for long term and short term use.
Key features:
Safe and all-natural ingredients
Helps reduce stress
Supports calm behaviour
Eases anxiety
Results within a week and 3 to 8 weeks to see full benefits.
Ingredients
L-Tryptophan, L-Theanine,Fish protein hydrolysate, Lemon Balm, B vitamins
Dosage
YuCALM Cat is easy to feed, simply twist and pull the capsule to open it and sprinkle and mix with your cat's food.
If your cat is taking more than 1 YuCALM Cat capsule a day we would recommend spreading the daily recommendation throughout the day.
1/2 capsule/day for cats under 4kg
1 capsule/day for a 4-5kg cat
2 capsules/day for a cats over 5kg