Skip to content
Skip to navigation menu
You're setting up the following repeat order: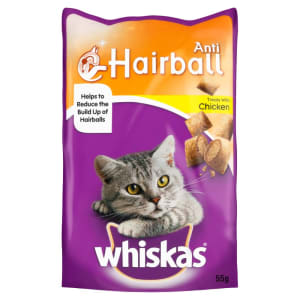 Whiskas Anti Hairball Cat Treats with Chicken
Product details
Whiskas anti hairball cat treats are a tasty snack that can help to eliminate hairballs from your cat's system.
How it works
Hairballs are messy, unpleasant and can cause your cat serious discomfort if left untreated.
Whiskas anti hairball cat treats are specially formulated to help prevent hairballs, packed with ingredients that help to move hair along inside the intestine. These biscuits are crunchy on the outside and temptingly soft on the inside, encouraging your cat to snack. They're made with high-quality chicken pieces, so are super tasty too. At less than 2 Kcal per biscuit, these treats can be enjoyed as part of a balanced diet.
Anti hairball cat treats use a special blend of fibres to reduce the buildup of hairballs by up to 66%. They're enriched with vitamins and minerals to support your cat's immune system – keeping them healthy and happy.
Key benefits
can reduce hairballs by up to 66%
crunchy outside and soft inside
made with quality chicken
tasty flavour
less then 2 Kcal per biscuit.
When to use it
Hairballs in cats are extremely common – it's likely that if you own a cat, you'll experience these slimy things at some point. When your cat grooms themselves, they collect loose hairs on their tongue. These hairs form balls that can't be digested before they reach the gut, meaning they stick in the digestive tract, causing discomfort.
If your cat wretches a lot or vomits bile, it could be a sign that they have a hairball. Treating your cat to around ten pieces of this snack daily can help to reduce the amount of hairballs that get stuck in their system.
As it's totally normal for cats to get hairballs, they will usually pass naturally (though with some discomfort). If your cat is struggling or you're worried, seek advice from the vet.
Ingredients
Cereals, Meat and Animal Derivatives (including 4% Chicken),Oils and Fats,Derivatives of Vegetable Origin,Minerals, Milk and Milk Derivatives
Feeding Guide
Recommended quantity/day:
Feed up to 10 pieces per day. Use within 4 weeks of opening.
Fresh drinking water should always be available.
Customer reviews
Product reviews are filtered by language.
The following reviews are available in English.
hairbal

my cat is now eating much better thank you

I had real problems with hairball problems until I found these. My fussy Ragdoll has 8 each day, and while we still have the occasional problem these have made a real difference to his life.

Owned by two rather finicky nearly eight month old fluffits, I didn't think they would like these. However can't keep the little devils away from the packs. Like Helen I have had to resort to a kitty proof (I hope) container before they scoff the lot.

I ordered these hairball treats thinking my cats would probably turn their noses up at them. Gobsmacked is the only word I can think of to descibe what happened when I opened them. My 13yr old and 4yr old cats wont eat anything that is good for them dentabits by whiskas no chance but these hairball treats they love them I had to put them in a sealed container as they were working as a team to get them open I have never seen my cats go so mad for anything TRY them out on your little kitties highly reccomend