Skip to content
Skip to navigation menu
You have setup the following Repeat Order: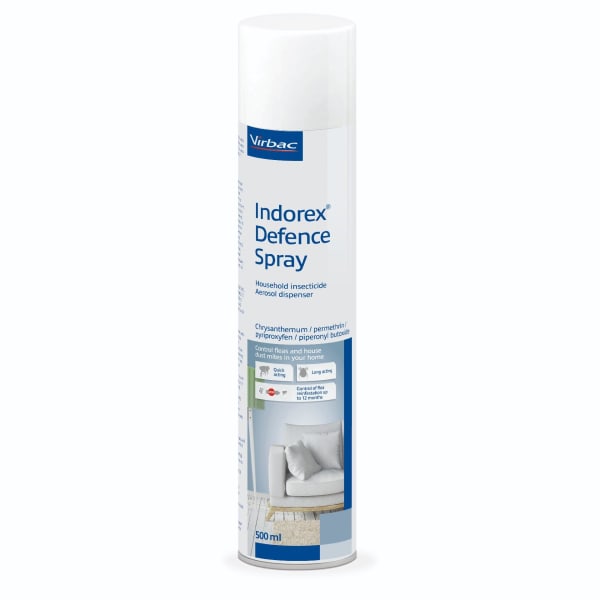 Virbac Indorex Household Flea Spray
Virbac Indorex Household Flea Spray
Virbac Indorex Household Flea Spray
Back in stock notification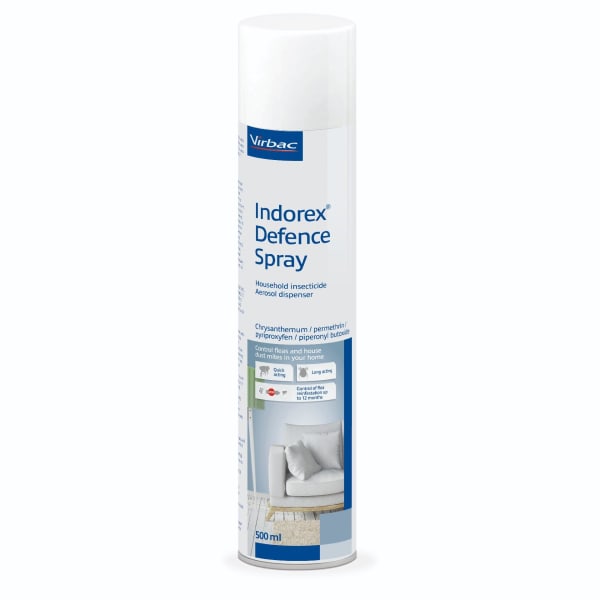 Virbac Indorex Household Flea Spray
Virbac Indorex Household Flea Spray
Enter your name and email address below then select which items you would like to be notified of when available.
Product details
Indorex Household Flea Spray has been designed to keep your house flea-free for up to 12 months.
How it works
Indorex is an effective treatment for ridding your house of fleas. As fleas spend most of their time in your pet's surroundings and not actually on your pet, treating your home is as important as treating your animals.
The active ingredients of the product are Chrysanthemum cinerariaefolium, Pyripoxyfen and Piperonyl Butoxide. Between them, these three substances kill adult fleas and stop the development of eggs and larvae of fleas and house dust mites. Due to its effectiveness in killing dust mites, the product can also greatly alleviate the symptoms of allergies in both you and your and pets.
One can of Indorex should be enough to cover an average three bedroom house and provides protection for up to one year.
Key benefits
effective at ridding your home of fleas for up to 12 months
contains ingredients to kill adult fleas, eggs, larvae, and dust mites
only one can needed to treat an average three bedroom house.
When to use it
If your pet has fleas, you'll notice them scratching and biting at themselves more than usual and you might see small red bumps under their fur. Since fleas will also bite humans who are in close range of them, the first sign of their presence you see might even be on your own skin.
If you suspect that your pet does have fleas, you'll want to treat them with your usual flea treatment straight away. Fleas can transmit tapeworms, so it's also important to worm your pet regularly to guard against this. By treating your house with a product such as Indorex, can break the flea lifecycle and give your pet some added environmental protection.
Customer reviews
Product reviews are filtered by language.
The following reviews are available in English.
First time used

My feral cat was sleeping in my summerhouse on a cushion which ended up full of fleas. One spray and they're gone completely. Cats not scratching either. Was amazed at how well it worked. That was may 2020. He's no longer feral as managed to gain his trust. And my summerhouse is flea free. Big bonus.

Worked where other failed abysmally

Used 2 other well known products but the little blighters refused to go. Bought 3 cans of this and after vacuuming the hell out of the house we sprayed Indorex Defence liberally on carpets, hard floors, skirting boards edges and every nook and cranny we could think of. It's now day three after spraying and there are no fleas anywhere. Not one has been sighted in our washing up liquid water traps where we had many the previous days. Wonderful stuff but you need at least 3 cans for a 3 bed house.

Best flea treatment

Not a lot to say about this product other than it is the best I have ever used. Much better than a lot of the more expensive items we have used in the past. Cannot recommend this highly enough excellent quality product at a good price.

Indorex

Great product in our defence against fleas, have used it a few years now and only need use it once a year. good price too!

Indorex Defence Spray

This is a defence against fleas. It is easy is easy to use and very affective. I found it more powerful than leading brands that you find in pet stores. It is a little more expensive, but it is worth paying the extra for a product that works.