Skip to content
Skip to navigation menu
You have setup the following Repeat Order: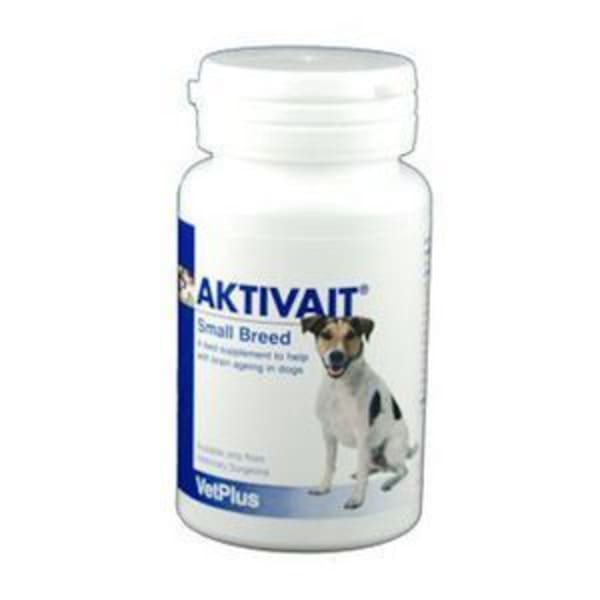 VetPlus Aktivait Capsules for Small Dog
VetPlus Aktivait Capsules for Small Dog
VetPlus Aktivait Capsules for Small Dog
Back in stock notification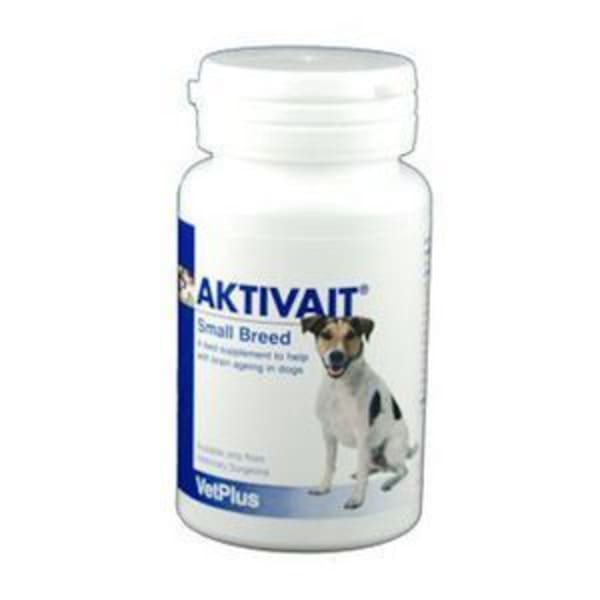 VetPlus Aktivait Capsules for Small Dog
VetPlus Aktivait Capsules for Small Dog
Enter your name and email address below then select which items you would like to be notified of when available.
Product details
Aktivait is the first supplement to combine all the nutrients necessary that may help to sustain optimum function. It contains a complex mix of antioxidants (Vitamins C, E, CoQ10, alpha lipoic acid and N-acetyl cysteine) and compounds necessary for optimum metabolism and function of the nerve cells (Carnitine, DHA/EPA and Phosphotidylserine). It may also help to prevent free radical damage and improve electrical transmission between nerve cells.

Animal behaviourists have identified four distinct symptoms of cognitive dysfunction- Disorientation, Loss of house training, Irregular sleep patterns and reduced interaction. This can be due to the harmful free radicals that are naturally produced in the body. In a young and healthy animal, antioxidants are produced to neutralize the free radicals and maintain equilibrium. As your pet ages they produce less antioxidants and an imbalance occurs. This leads to an excess of free radicals, which damage the cells and cell contents especially DNA, lipid membranes and proteins. This in turn can lead to the development of disease and related problems.
As dogs grow older the brain can become damaged by free radicals which can cause biological and physical damage to the brain tissue. This can lead to behavioural changes such as disorientation, disturbed sleeping patterns, loss of interest in other group members, and loss of house training.
Combined with a programme of correct feeding and exercise Aktivait may:
Improve your pet's vitality and energy
Improve memory and mental alertness
Increase your pet's lifespan by 10-20%
Dosage
Dosage - 1 capsule daily up to 10kg
Customer reviews
Product reviews are filtered by language.
The following reviews are available in English.
Looked into the reviews from other people and thought would give this a go. We have a Jack Russell 16 years old, who has Dog Dementia he has been on these tablets just over a month and we can see the difference these are making to him so we have bought more. This is easy and quick to do and they are despatched from Pet Supermarket very quick and the prices are very reasonable. If you have a dog with Dementia give these a tablets a go.

Got these tablets for my 13 year old Yorkie and been giving her them for 2 half months. There is a great improvement in her and she's acting like a wee puppy again, running around playing with toys. she is also very alert and keen to go walks. I would highly recommend these to anyone who is a wee bit sceptical of trying anything like this, but I was recommended these from the vet and they have worked a treat. So don't just consider getting them, DO IT!!! If you love your wee pet then for their sake GET THEM

My 13 yr old border collie suffered a "vestibular episode" in January. She was falling about all over the place and her eyes were constantly flickering from side to side. It was very distressing to see. The vet gave her 2 weeks worth of tablets and she showed some improvement. My daughter told me about aktivait so I got some to hope it would help. What a transformation, she is so much more lively and up for a (slow) trot on the beach. She still falls over occasionally but she now enjoys life again.

My aging border-collie/flatcoat started displaying dementia behaviour: waking up in middle of night & whimpering for no reason, v distressed & v distressing for me. A change in diet helped (taken off standard BAD brand food) but within 2 days of starting this tablet the night sessions stopped. This really does the trick and has minimised the distress of both me and my dog. Can't recommend highly enough. I sprinkle it onto her chicken and rice at night and she always gets it.

my 10 year old collie x was very slow, snappy, waking us up every night 3 0r 4 times for up to half an hour .vet said she had adult dog behaviour problems, he recommented aktivait for dogs.we saved over £10 a month of this web site, 2 months on she is a "NEW" dog, running over park, not snappy, sleeping all night every night, happy my dog again great product.