Skip to content
Skip to navigation menu
Vet Aquadent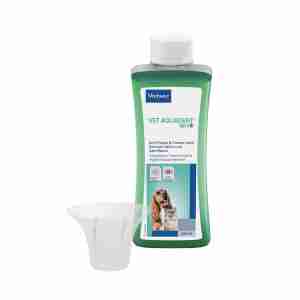 Rollover image to zoom
Vet Aquadent can be added to drinking water to freshen your pet's breath and limit the formation of plaque and tartar.
How it works
Aquadent was developed by vets to address bad breath and oral health issues in cats and dogs. The active ingredient, xylitol, stops calcium from fixing on teeth and, along with chlorhexidine, the formula can prevent the formation of plaque and tartar. This helps to keep your cat or dog's teeth healthy, as well as keeping their breath fresh.
To see the benefits of Vet Aquadent you simply add the formula to your pet's drinking water. The recommended dose is six millilitres of formula per 250 millilitres of water.
Key benefits
suitable for cats and dogs aged six months or older
refreshes breath
reduces plaque and tartar build-up
tastes good
easy to administer – just add to your pet's water.
When to use it
Oral health is as important for cats and dogs as it is for humans. Dental disease is very common in both dogs and cats; it's estimated that 80% of dogs and 70% of cats aged three and older suffer from it. If left untreated, plaque and tartar build-up can lead to infection, which can spread through the body and damage vital organs. It can also result in painful gum swelling and toothache.
Products like Aquadent can help to keep your pet's teeth healthy by making it difficult for plaque and tartar to get a foothold. As well as using a supplement like this, it's also important to brush your pet's teeth regularly with special toothbrushes like our Dual End Toothbrush for animal oral health.
Keep out of reach of children. Vet Aquadent is formulated for cats and dogs. Store at room temperature.
Click here for further information on dental hygiene for pets.
Click here for Virbac's guide on cleaning your pet's teeth.
Directions: for dogs and cats more than 6 months old: 1/2 cap (6ml) of Vet Aquadent to every 250ml of water. Replace drinking water every 24 hours, even if not finished, using fresh diluted solution, as directed above.
Customer reviews
Product reviews are filtered by language.
The following reviews are available in English.
Vet Recommended Product

I couldn't really see how this would work efficiently but my goodness it does, it is amazing and the fur babies are very happy to drink their water with this solution added.

This product works

I have used this product for several dogs over the years, they don't notice any difference in their drinking water. It is easy to administer, and effective, definitely contributes to their dental health.

Vet aquadent

Was recommended this by my vet as my dogs were getting tartar on their teeth. It has certainly helped and also they have no smelly breath. So impressed have told all my friends that have dogs and cats how good it is. So easy to use as well which is a definite plus.

Best value around

Used it for sometime as I have 4 male cats some of whom suffer with gingivitis, I use it along with dentisept and it seems to help.

Great product

Easy to use as my dogs wont take to teeth brushing they dont notice it in their drinking water and it works top product