Skip to content
Skip to navigation menu
Add to an existing repeat order
Add to an existing repeat order
Licensed item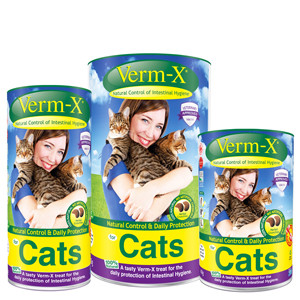 This is a licensed item so for regulatory reasons and to ensure we are providing the best product for the health of your pet, we need to ask you to confirm a few details.
Please confirm the type of animal you will be giving this licensed product to:
I am aware of the relevant safety precautions relating to the licensed products.
I will read the packaging and product literature before using any licensed products, and will use all licensed products according to the manufacturer's datasheet
I am not buying for resale and I am happy to be contacted if required
I confirm that the animal the licensed products will be given to is in general good health
I confirm that the animal the licensed products will be given to is NOT pregnant or lactating
Add to an existing repeat order
Licensed item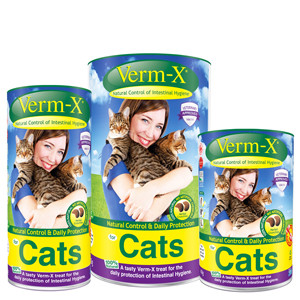 This is a licensed item so for regulatory reasons and to ensure we are providing the best product for the health of your pet, please read and confirm the details below:
By purchasing this product, you confirm your pet has been examined by a vet who has recommended the use of this food on the basis of examination and diagnosis.
You understand it is recommended while your pet is being fed this product, you seek veterinary advice at least every 12 months regarding the usage of this food and the on-going care of your pet.
Should your pet's condition deteriorate in any way while using this product, seek immediate veterinary advice.
Add to an existing repeat order
You are adding: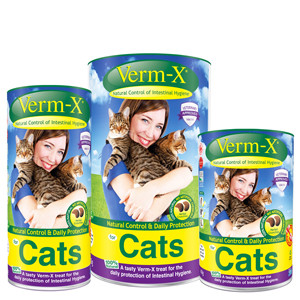 To the following repeat order:
Next order due on:


Delivered every
ending
Add to an existing repeat order
Thank you, we have updated your order. Your order is due on
You're setting up the following repeat order: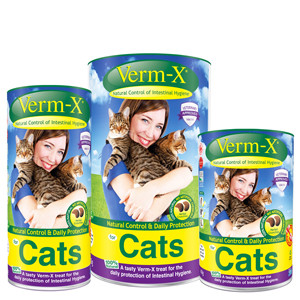 Product details
Verm-X Treats for Cats is a powerful blend of 11 herbs that has introduced the first real alternative for animal owners wanting to naturally control internal parasites.
Key Benefits
soft, semi-moist meat based treat with the added Verm-X for Cats formula. The palatable floret treats are fed on a daily basis throughout the year providing effective parasite control for your Cat.
made with only the best unadulterated ingredients. Included in the recipe are real pieces of chicken beef liver & catnip together with the Verm-X formula of medicinal herbs.
irresistibly tender and can be used for reward adding to meals or for use in activity play balls and are suitable for seniors adults and kittens.
contain 100% natural catnip which helps stimulate cats and kittens to play and exercise also making them ideal for older cats and those prone to weight gain with the treat being gentle on the digestive system.
They are gentle on the digestive system making it ideal for senior cats and kittens
The Verm-X formulation will expel internal parasites however the garlic ingredient will also render your cat less attractive to fleas, ticks, lice and other pests (we do not recommend you use Verm-X treats as a substitute for your flea treatment).
Ingredients
Brown Rice, Poultry Meal, Beet pulp, Refined Chicken Fat, Potato, Potato Starch, Brewers Yeast, Seaweed, Salmon Oil, Cinnamon, Garlic, Common Thyme, Peppermint, Fennel, Cleavers, Nettle, Slippery Elm, Quassia, Cayenne, Green Tea Extract, FOS, MOS, Minerals and Vitamins:A, D3, E, B1, B2, B6, B12, Biotin, Folic Acid, Omega 3 and Omega 6, Calcium:Phosphorous, Iron.
Additional Information
Dosage
Kittens: 1 Crunchy daily.Cats: 2 Crunchies daily.Verm-X for Cats: 60g will last one cat one month.
Customer reviews
Product reviews are filtered by language.
The following reviews are available in English.
Excellent product

We have struggled for years to give our cat worming tablets. Now we have found the perfect solution and our cat loves them. I give him a couple every day and I wish I had used them years ago

Verm-X for cats

Both cats love them. So much easier to treat the cats than adding liquid to their feed.

always enjoyed by my fluffy freind

cat loves them, worth the money for the added health benefits and no rubbish fillers

Great product!

Have been using Vermx for a few years now on our elderly cat. It was always impossible to get tablets down him, and these have made life SO much more pleasant for us and him! He has a lovely shiny, healthy coat too!

As is so often the case, my cats are very hostile to worming treatments. This product really works while having more than just worming benefits and, best of all, my cats are only too happy to take it. No more struggles and slashed skin!