Skip to content
Skip to navigation menu
Verm-X Liquid For Poultry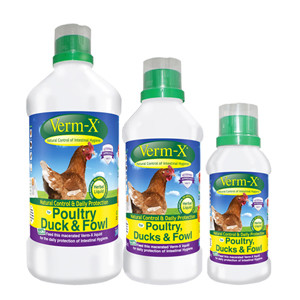 Product details
100% Herbal Tincture - The Solution for Repelling Internal Parasites in all Poultry and Fowl.
Verm-X Liquid for all Poultry and Fowl
We are delighted to announce our new and improved Verm-X Liquid for Poultry we have been asked by many valued clients to introduce sensible sizes of packaging to suit the domestic owner. With this in mind we offer a small 250ml Bottle for the trio owbner up to a 10 litre Drum for 500 birds or more.
Being 100% natural herbal formula there is no egg withdrawal period - Verm-X liquid is easy to use by adding to your bird's drinking water and disallowing any other drinking water for the 3 days per month you add Verm-X. A further advantage of Verm-X over chemical based products is that if you are growing your birds for your dinner table there is no withdrawal period after using Verm-X prior to eating.
Benefits
Verm-X may be used solely 3 consecutive days every month
Verm-X has the advantage that there is no egg or bird withdrawal period
Verm-X is ideal those who wish to explore the natural way of controlling parasites
Verm-X is ideal for poultry kept on organic farms
Verm-X is extremely palatable and has no known resistance
Feeding Instructions
Add 1.5 ml per bird to their drinking water (disallowing any other drinking water) for 3 consecutive days - repeat every 4 weeks.
Amounts quoted are for adult birds. If young birds drink the Verm-X this is fine. If specifically feeding young birds feed half the amount for birds between 2 and 4 months old.
Alternatively:
Soak small peices of bread (bought specifically for your birds) with the required amount of Verm-X and feed to your birds
Try to reduce the available drinking water to one days intake per bird to ensure the dose is taken within 24 hours – only where possible.
Every bottle is supplied with a dispensing pump calibrated to dispense 1.5ml.
Ingredients
Cinnamon, Garlic, Common Thyme, Peppermint, Fennel, Cleavers, Nettle, Slippery Elm, Quassia, Elecampane.
Warnings
A 250ml bottle of liquid will last 10 birds over 6 months and a 1 litre bottle will last 40 birds over 5 months.
Dosage
Add 1.5ml per bird to their daily drinking water ration or soak in bread. Repeat for three consecutive days each and every month.
Customer reviews
Product reviews are filtered by language.
The following reviews are available in English.
Great!

Really good product, my pets really enjoyed it.

frodo, rob, gail, luke, sam

very good, my pets enjoyed this, their names are listed above, the wormer worked well allowing them to not feel crusty like before.