Skip to content
Skip to navigation menu
Urine Off for Cats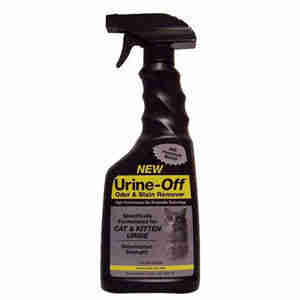 Product details
Urine Off Cat & kitten is a concentrated formulation that eliminates all urine odours, tackling high-protein cat diets that create pungent smelling urine.

Key Benefits:
Eliminate fresh and old urine stains and odours – even years old!
Works on previously soiled areas to eliminate markers that tend to attract cats back to the same spot.
Higher viscosity formula that better adheres to vertical surfaces where cats have sprayed on walls, furniture or upholstery.

Customer reviews
Product reviews are filtered by language.
The following reviews are available in English.
it helped

Although urine off did not completely prevent my cat returning to the same spot to wee again it is the best product i have found in terms of reducing the smell significantly

Urineoff

Does get rid of the smell but you need to use loads a bottle doesn't last long

urine off

i was doubtful at first i had tried every thing else and no luck so this was the last resort, and omg it worked i was so surprised but so glad to see it did exactly what it said, i was so glad i had finally found something that worked ,i would definitely recommend this product to anyone who has trouble with the smell of cat pee, my next step is to buy the uv light to see if missed any were, and the smell is lovely and its safe around humans and animals which is a must for me, if dont want to risk the big one they have small ones but believe me you will be going back for the big one after using it , i wouldn't go back now i found something that works and am sticking to it it is well worth the money and most important it gets rid of the smells which is most important for me ,so dont just take my word try it for yourself you wont be dissapointed.

urine off

Fantastic product! I've tried everything from bleach to orange and nothings ever worked. Except this!

Very impressed with how this product removes the horrid cat pee smell. I have one cat who continually returns to the same spot. It does state that it helps prevent remarking but I have not found this. Although no product has repelled her so maybe it's the cat!!