Skip to content
Skip to navigation menu
Ultima Mini Adult Dog Food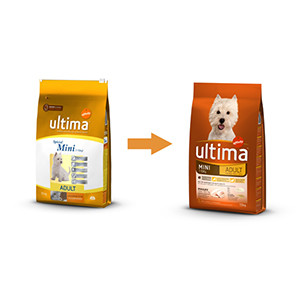 Product details
Ultima Mini Adult Dog Food has been specially designed to meet the needs of smaller dogs, especially their high metabolism, and with small kibble adapted to their jaw.
Very small dogs are often demanding. Also, Ultima selects meats with irresistible flavours and very nutritious. To strengthen your pet's immune system, the recipe combines this protein intake with antioxidants, prebiotic fibre, and essential fatty acids Omega 3. Minerals such as calcium, phosphorus and vitamin D help maintain healthy teeth and bones. Skin and coat can benefit from Omega 3 and 6 as well as zinc. Containing high quality proteins from selected meats, this formula help maintain your dog`s muscles mass. Enriched with green tea and crispy pyrophosphates croquettes, it improves oral hygiene preventing tartar build-up.
Key benefits:
Ideal diet for all dogs of small breeds
Ideal physical condition thanks to a level of proteins and calories adapted to their activity
With selected meats for good appetite
High quality proteins from carefully selected meats maintain healthy muscles
Reinforced teeth and bones thanks to the essential minerals
Enriched with Omega 3, 6 and zinc for healthy skin and coat
green tea and crispy pyrophosphate croquettes improve oral hygiene
Fibres from beet pulp and rice maintain optimal digestion
Ingredients
Composition:
Chicken (17%), dehydrated bird protein, whole wheat (12%), rice (10%), corn (9%), corn protein, animal fat, cornmeal, hydrolysed animal proteins, beet pulp, yeast , fish oil, potassium chloride, vegetable oil, tetrasodium diphosphate, salt.
Analytical constituents:
Protein 27%, fat content 17%, crude fibres 7.5%, inorganic material 6.5%.
Nutritional additives:
Vitamin A 27000 IU; Vitamin D3 1800 IU; Vitamin E 410 mg; Vitamin C (sodium and calcium ascorbyl monophosphate) 350 mg; Biotin 0.9 mg; Taurine 1200 mg; Vitamin B6 (pyridoxine hydrochloride) 11.3 mg; Ferrous sulfate monohydrate 237 mg (Fe: 78 mg); Potassium iodide 1.7 mg (I: 1.3 mg); Copper sulfate pentahydrate 30 mg (Cu: 8 mg); Manganous sulphate monohydrate 112 mg (Mn: 37 mg); Zinc sulfate monohydrate 521 mg (Zn: 190 mg); Sodium selenite 0.2 mg (Se: 0.1 mg). With antioxidants.
Feeding Guide
Recommended quantity/day:
Dog`s weight (kg)
Activity level (grams)
Moderate
Intense
1-3
25-55
30-65
3-5
55-80
65-100
5-10
80-135
100-165
Always make sure your dog has access to plenty of water.
Customer reviews
We're sorry but there are no reviews of this product in English.