Skip to content
Skip to navigation menu
Ultima Cat Sterilized Salmon Dry Food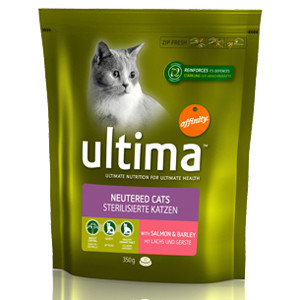 Product details
Ultima Cat Sterilised Salmon for Adult Cats is especially formulated for adult cats that are sterilised and can be prone to put on weight with normal foods. Ultima Cat for sterilised adult cats contains low glycaemic carbohydrates and enriched in L-Carnitine to help your cat keep a stable healthy weight.
Its pH and its balanced sodium content make it possible to promote the health of the fragile urinary system in sterilized cats.
Benefits:
Helps to control and breakdown the formation of hairballs
Better intestinal transit due to the presence of insoluble natural fibres
High quality proteins from carefully selected meats
Weight control thanks to a low fat content, reduced calorie intake and the presence of L-Carnitine
Support healthy teeth and bones
Healthy skin and coat due to the presence of Omega 3 and 6 as well as zinc

Ingredients:
Salmon (15%), corn, dehydrated poultry protein, wheat, dehydrated pork protein, corn gluten meal, barley (4%), hydrolysed animal proteins, beet pulp, vegetable fibre, animal fats, potassium chloride
Customer reviews
We're sorry but there are no reviews of this product in English.