Skip to content
Skip to navigation menu
You're setting up the following repeat order: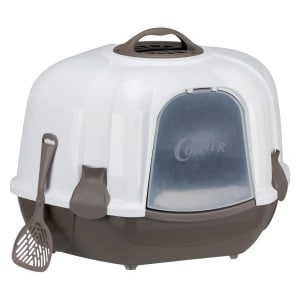 Trixie Maro Corner Litter Tray with Hood
Product details
The Trixie Maro Hooded Litter Tray is convenient for you and your cat. Designed to fit into the corner of the room, the tray offers privacy for your cat and has an activated carbon filter to neutralise any bad odours. The hood is there to stop your cat from scattering any litter and can be removed for cleaning. The hood is completely removable, allowing you to use the included scoop to remove any soiled litter. When the scoop is not in use, it can be put into the purpose built slot on the back of the tray.
Key features
Removable hood
Cat flap entrance
Carbon filter to neutralise odours
Included litter scoop and compartment to store it
Shaped to fit into corners.
Customer reviews
We're sorry but there are no reviews of this product in English.