Skip to content
Skip to navigation menu
Trixie Glove with 4 mice cat toy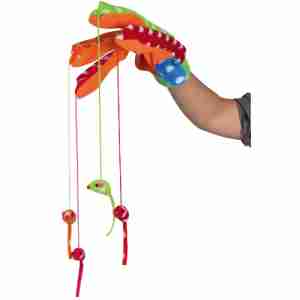 Rollover image to zoom
Product details
The Trixie toy glove with mice puts the fun into your cat's exercise session. Bond with them as they express their natural hunting instincts.
How it works
This colourful glove has four mice on elastic strings that dangle from the extra-long fingers. Slip it on over your hand and wiggle your fingers to get them bouncing. Once your cat catches a glimpse of them, their hunting instincts will kick into action. Drag the mice slowly along the floor and wait for your pet to pounce, or jostle them up and down and watch as your cat makes acrobatic leaps into the air. Play sessions like this help to stave off obesity and boredom, as your cat flexes their muscles and waits for the prime moment to make their move.
Key benefits
four toy mice on elastic bands to entice your cat
brightly coloured
made from canvas and fleece
reinforced fabric keeps hands safe from overexcited pets
extra-long fingers for extended reach
encourages your cat to exercise
helps indoor cats express their natural hunting instincts
When to use it
Hunting is a healthy part of every cat's lifestyle. The leaping and pouncing action keeps their limbs supple, while creeping and calculating keeps their mind on top form. A teaser toy like this allows your cat to act out their urges in a safe, indoor space. Although cats don't need to be walked every day like dogs, they do need some exercise and attention. Two 15-minute play sessions each day will do wonders for your cat's physical health, as well as their emotional wellbeing as they get the chance to bond with you.