Skip to content
Skip to navigation menu
Trixie Creamy Cat snack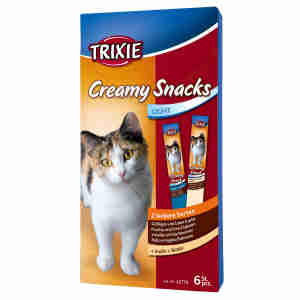 Rollover image to zoom
Trixie Creamy Cat snack is a tasty and creamy treat perfectly designed for your feline
How it works
If you want to treat your feline with a delicious snack, Trixie Creamy Cat snack is the ideal formula, because it contains everything she will adore. This formula contanins high-quality ingredients such as inulin, which can help to boost the digestion and strengthen the immune system and biotin which can improve the natural shiny coat.
Key benefits:
soft creamy snack for your cat
good way to refine dry food
contains two different flavours: salmon and poultry
inulin helps digestion and strengthens the natural immune system
biotin can improve the production of a beautiful shiny coat
When to use it
You can give your feline a little treat between meals or as a reward for specific behaviour. Cats have sensitive noses and they will love nibbling these special treats. Inside the box you will find two different flavoured soft creamy treats: poultry and liver salmon and each snack is individually wraped, making it easy to serve.