Skip to content
Skip to navigation menu
Trixie Christmas Gift Box For Dogs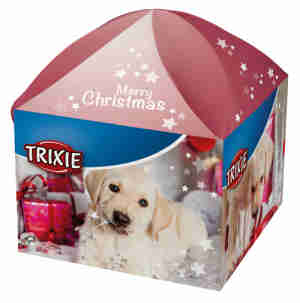 Rollover image to zoom
Everyone deserves a treat at Christmas, and the Trixie Xmas Gift Box for Dogs makes a great present for your four-legged best friend.
How it works
Give your furry friend a Christmas to remember. This cardboard presentation box has four fun Trixie gifts inside: two to play with and two to eat. The 20cm cotton playing rope is tough and durable, and is great for games of tug and fetch. There's also an 18cm latex bear for chewing. Everyone likes to eat their fair share of good food at Christmas and the 75g bag of dog-friendly chocolate and the two chicken chew rolls mean your dog can join in without suffering the effects of chocolate-poisoning or too much sodium from nibbling on human treats.
Key benefits
Christmas present especially for your dog
comes in a presentation box
contains four treats including two toys and two snacks
one 20cm cotton playing rope
one 75g bag of 'chocolate' drops
one 18cm latex bear
two 20g/12cm chewing rolls with chicken.
When to use it
Let your dog join in with the rest of the family in unwrapping their presents on Christmas morning, or give it to them as an early treat on Christmas Eve. They can play with the toys inside for the rest of the year. You can keep the treats aside for training and snacking later, or you can feed them to your pooch as a healthier alternative to Christmas leftovers and other tidbits. Avoid putting the Xmas Gift Box under the tree: your pet will be able to smell the treats inside and they might rip into their gift (and the rest of the presents) before Christmas morning.
Customer reviews
We're sorry but there are no reviews of this product in English.