Skip to content
Skip to navigation menu
Trixie Advent Calendar For Cats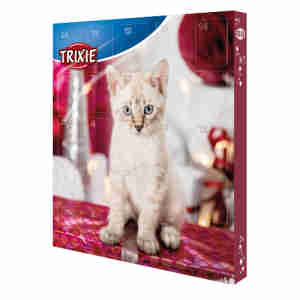 Rollover image to zoom
Your pet can count down to Christmas too, enjoying 24 days of tasty treats with this Trixie Advent Calendar for Cats.
How it works
The Trixie Advent Calendar for Cats works just like a human one. It's made from cardboard and filled with 24 tasty treats, each one concealed behind a window. It's the perfect way to get your furry friend involved in your festive celebrations and the countdown to Christmas. You won't get it confused with the rest of the family's advent calendars because of the Trixie logo on the front. It also has a cute picture of a cheeky ginger cat, lounging a rug in front of a fallen Christmas tree. Keep the calendar out of reach of children as these treats are designed for cats only.
Key benefits
get your cat involved with the Christmas countdown
the 24 windows each hide a tasty surprise treat
Trixie treat made from easy-to-open cardboard
features festive picture of a ginger cat next to a Christmas tree
specially designed for cats.
When to use it
We recommend ordering your Trixie Advent Calendar for Cats early so that you're able to open the first window for your pet on December 1st. There's one window to open (and a treat for your pet to enjoy) every day until December 24th. If you want to give them a bigger treat on Christmas day, Trixie also has a Gift Box for Cats with five special gifts inside. Keep this advent calendar somewhere that your cat can't get to it. The cardboard is easy for teeth and claws to tear through, and unlike a human, they probably won't respect the tradition of only opening one window a day.