Skip to content
Skip to navigation menu
Add to an existing Repeat Order
Add to an existing Repeat Order
Licensed item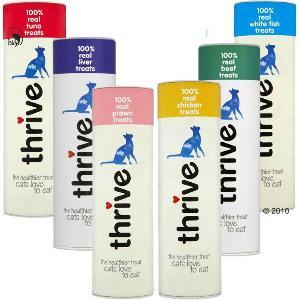 This is a licensed item so for regulatory reasons and to ensure we are providing the best product for the health of your pet, we need to ask you to confirm a few details.
Please confirm the type of animal you will be giving this licensed product to:
I am aware of the relevant safety precautions relating to the licensed products.
I will read the packaging and product literature before using any licensed products, and will use all licensed products according to the manufacturer's datasheet
I am not buying for resale and I am happy to be contacted if required
I confirm that the animal the licensed products will be given to is in general good health
I confirm that the animal the licensed products will be given to is NOT pregnant or lactating
Add to an existing Repeat Order
Licensed item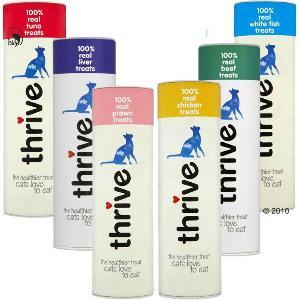 This is a licensed item so for regulatory reasons and to ensure we are providing the best product for the health of your pet, please read and confirm the details below:
By purchasing this product, you confirm your pet has been examined by a vet who has recommended the use of this food on the basis of examination and diagnosis.
You understand it is recommended while your pet is being fed this product, you seek veterinary advice at least every 12 months regarding the usage of this food and the on-going care of your pet.
Should your pet's condition deteriorate in any way while using this product, seek immediate veterinary advice.
Add to an existing Repeat Order
You are adding: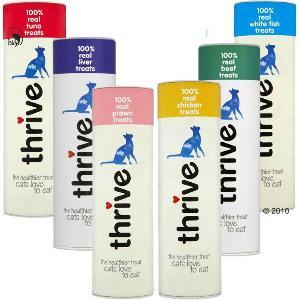 To the following repeat order:
Next order due on:


Delivered every
text.account.new.upcoming.orders.payment.brand.
Add to an existing Repeat Order
Thank you, we have updated your order. Your order is due on
You're setting up the following repeat order: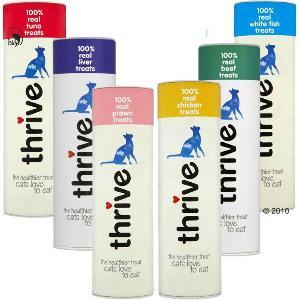 Product details
Give your pet a tasty reward with these natural and healthy freeze-dried Thrive cat treats.
How it works
These bite-size treats are not only super tasty, they're completely natural too. That's because they're made from chunks of real fish and poultry that have been safely freeze-dried. The process gently removes the water content from the meat, which preserves the quality and locks in the flavour. They contain no additives, preservatives or colourings, just the wholesome nutrients of the original fish or chicken pieces. The enticing scent and taste is sure to tempt your cat. Thrive cat treats come in a resealable tube, making it easy to serve up a snack at any time.
Key benefits
available in chicken, tuna and white fish flavours
100% natural freeze-dried meat and fish
delicious taste that cats find irresistible
stored in a resealable tube
suitable for all breeds of adult cat
no preservatives, colourings or additives
When to use it
When your pet displays good behaviour, like using the litter tray correctly, you can positively reinforce this with a wholesome treat. These freeze-dried pieces can also be used to distract your furry friend when they're being groomed or can be placed inside a travel carrier to entice them in. When you're training them to use a cat flap, showing a treat on the other side of the door might encourage them to push through the flap to reach it.
If you simply wish to bond with your cat or give them a delicious snack between means, these nuggets are 100% natural and will provide a burst of healthy nutrients. The intense flavours and scents of Thrive chunks are irresistible to even the fussiest of animals. Available in tuna, chicken and white fish varieties, there are plenty of options to offer your cat so they won't become bored with the selection.
Ingredients
Composition

Chicken: 100% chicken (freeze-dried)
Tuna: 100% tuna (freeze-dried)
White fish: 100% white fish (freeze-dried)
Analytical constituents
Chicken
Protein 84.7 %, fat 4.1 %, fibre 0.2 IU, ash 5.9 %, moisture 5.1 %
Tuna
Protein 90.0 IU, fat 1.3 IU, fibre 0.1 IU, ash 3.9 IU, moisture 7.8 IU
White fish
Protein 82.4 %, fat 7.6 %, fibre 0.1 IU, ash 6.1 %, moisture 4.9 %
Feeding Guide
Feeding guide:
Supplementary food for cats. Feed up to twice daily
Always ensure that there is an supply of fresh water.
Customer reviews
Product reviews are filtered by language.
The following reviews are available in English.
THE ONLY TREATS my cats would ever eat! The Tuna , they come running when tube is shaken. AMAZING!

Worth every penny, only problem is sometimes the tubes are only half full!

My cats and ferrets love them

It is natural, it is good and my cats and my ferrets love it.

Our cats love these treats and don't seem fussy about the flavour - prawn, tuna, chicken, fish, they love them all and would gladly empty the tube if given the chance!

Our two Siamese love these, anytime we want their attention we shake the tube & they are there waiting for their treats! they are quite fussy but they love these, they look like what it says on the tube to.

Our two Tonkinese cats go crazy for this! We call it Cat Cocaine because we think they're addicted to it...great for getting them in from the garden, shake the box, zoom, they're in like a flash! Natural, dried food...Great!