Skip to content
Skip to navigation menu
Tetra Tetrapond Wheatgerm Food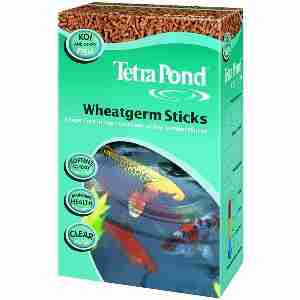 Complete food for feeding during autumn and winter.
Specially formulated for cold weather feeding
Contains all nutrients, vitamins, and trace elements for a balanced, healthy diet
Strengthens fish for the spring, for a healthy start to the season
Softens quickly for easy eating
Rich in highly digestible wheatgerm
Low waste formula for clean, clear water
Mains water is the best source of water for topping up the pond and for performing water changes. Unlike rainwater, it is rich in minerals that are important for a healthy pond. However, it also contains harmful chlorine and heavy metals, which are directly harmful to fish, causing them stress and physical damage. WaterSafe / AquaSafe neutralises these harmful elements, and protects fish whenever a top-up or water change is required. WaterSafe also protects fishes´ skin and gills with a therapeutic coating, and helps to speed up wound healing. In conjunction with MediFin, it will help to cure sick and injured fish, and improve their overall condition.
• neutralises chlorine
• immediately and effectively binds toxic heavy metals, such as copper and cadmium
• organic colloids protect the fish's delicate mucus membrane
• vitamin B1 reduces stress and protects the fish by promoting their natural resistance to disease
• ideal for making pond water safe after longer periods of rainfall, after each partial water change, and during the initial filling of the pond
How it Works
WaterSafe / AquaSafe contains special ingredients which neutralise chlorine and lock up heavy metals, so that they cannot harm fish. It also contains colloids, which coat the fish in a protective layer, helping to improve their resistance to infection.
Customer reviews
Product reviews are filtered by language.
The following reviews are available in English.
My pond full of fish will only eat tetra and some of them are over 20 years old!