Skip to content
Skip to navigation menu
Sureflap Mounting Adaptor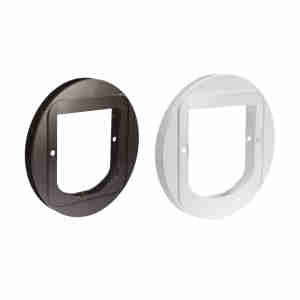 Rollover image to zoom
Product details
The SureFlap mounting adaptor is useful when installing the SureFlap Microchip Cat Flap into glass, walls and certain door types. This accessory allows mounting in holes ranging from 210mm to 260mm (8½" to 10¼") diameter. Each mounting adaptor includes two parts, one for the interior and one for the exterior of your home. The SureFlap microchip cat flap has been designed as a drop-in replacement for most existing cat flaps. However, in some instances you may find that the hole left by your previous cat flap is larger than the hole required for SureFlap. The SureFlap mounting adaptor provides a neat way to cover such a hole.
To view information on using the Mounting Adaptor click here
Customer reviews
We're sorry but there are no reviews of this product in English.