Skip to content
Skip to navigation menu
You have setup the following Repeat Order: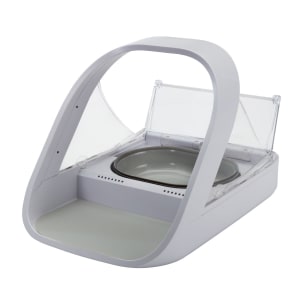 SureFlap SureFeed Microchip Pet Feeder
Product details
Keep track of your pet's feeding habits with the SureFeed Microchip Pet Feeder Connect. Ideal for multi pet households, pets on special diets, or overweight pets, the bowl has integrated scales to provide accurate portions every meal, as well as insights to your pet's behaviour.
The connect allows you to sync the SureFeed app to your phone and set the desired meal weight. When you fill your pet's bowl, the LED will flash green when the desired weight has been met (within 1g of accuracy). By using the app, you can keep track of how much your pet is eating, when and how often, and it allows you to notice changes in your pet's feeding habits over time, which could be an indication of illness. You can also monitor this remotely, whether you are out shopping or away on holiday.
Please note: Hub required
The Hub connects to your home router and sends information from the Microchip Pet Feeder Connect to the Sure Petcare app. The Hub is not included with the product and can be purchased separately here.
Key features:
Connects to the Sure Petcare app available for free from Apple App Store and Google Play (requires Hub, sold separately)
Monitor how much, how often and when your pet eats
Accurately weigh your pet's food using the integrated scales
Notice changes in your pet's feeding which could indicate illness
Microchip operated - stops pets stealing each other's food
Reads your pet's existing microchip or a RFID collar tag, only opening for them
Includes one grey mat, one grey single bowl and two grey half bowls to serve wet and dry food simultaneously
Give friends, family or pet sitters access to the app whilst you are on holiday
Typical battery life – six months (requires 4 x C cell batteries, not included)
Includes a 3-year warranty from Sure Petcare.
Click here to find out more about how we help to provide recycling facilities for electrical equipment.
Customer reviews
We're sorry but there are no reviews of this product in English.