Skip to content
Skip to navigation menu
SureFlap Microchip Pet Door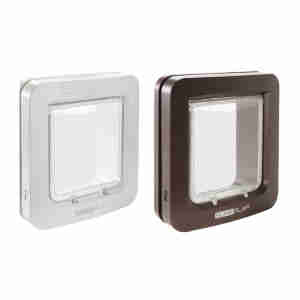 Rollover image to zoom
Product details
Designed for large cats and small dogs, the SureFlap Microchip Pet Door uses your pet's existing microchip like an electronic door key to keep unwanted animals out of your home. The unique number on your pet's microchip is permanently stored in the memory of the pet door, even when the batteries are removed. When your pet approaches the pet door from the outside, it reads your pet's microchip and the door unlocks. It remains locked for any other animals who try to gain entry. Featuring a curfew mode, the pet door can be set to automatically lock and unlock at specific times each day, which is ideal if you want to keep your pet in at night.
Key features
Suitable for large cats and small dogs
Makes pets feel more comfortable in their own homes
Curfew mode keeps pets in at night – no need to get up early to unlock the pet door
No more fights or spray marking in the house
Compatible with all microchips worldwide and the
Sure Petcare RFID collar tag (one tag included)
Battery powered – requires 4 x C cell batteries which last up to a year (not included)
Low battery indicator light gives you plenty of notice when the batteries need changing
Can be installed in doors, glass or walls Include a manual lock in addition to the curfew mode
Stores up to 32 pet identities
**Please note: the SureFlap Pet Door Mounting Adapter is required to install the Sureflap Microchip Pet Door into glass.**
Door Installation Guidelines
Glass Installation Guidelines
Wall Installation Guidelines
Click here
to find out more about how we help to provide recycling facilities for electrical equipment.
Size Guide
Dimensions
Flap opening size (the smallest area your pet will have to enter) – 178mm (W) x 170mm (H)
Door/wall mounting hole size – 207mm (W) x 234mm (H)
Glass mounting hole size (a circular hole is required) – The optimum hole size is 300mm in diameter, but it can be installed in holes up to 320mm in diameter
Exterior frame size – 262mm (W) x 281mm (H)
Customer reviews
Product reviews are filtered by language.
The following reviews are available in English.
Purrrfect

Perfect as long as it lasts, that is. I had one that stopped working after a few years, and in view of the cost of replacement kept it as an ordinary flap that admits all comers. Then, after the stray who made free of the facilities and ingratiated himself with She Who Must Be Obeyed my eldest cat made himself a permanent member of the household, and another cat began the same caper, I decided that enough was enough and bought a replacement. That has done the trick. It is also invaluable in keeping in the cat with a dickey ticker who needs pills twice a day.

Potentially an excellent product

we purchased this cat flat to keep out intruders which it does, but we also needed to keep a new kitten in the house whilst giving our other two cats freedom to come and go. The only product in this range offering this option was an exceptionally small cat flap which would be difficult for normal sized cats to use, let alone Maine Coons, so we have had to revert to our old, less high tech flap for now which can be manually set to stop the kitten going out until he is big enough to join the others in the garden. It is a good product but would be so much better if the the exit mode could be programmed by chip as well as entry. I don't understand the logic - if only cats with chips programmed into the system can enter, why should any cat, chipped or not, be able to exit? There isn't even a manual override where you can allow entry for all but no exit, which is what we've had to do with our old cat flap and manually monitor until we can let the kitten out.

Bets Cat flap on the market

I've had one of these for 8 years, never had any problems, batteries last a very long time. Great product!

works perfectly, took about a week to get my cat used to it, but shes sussed it now! nice to know the cat up the road cant nick her food now!

Really good cat flap

Cat has got used to using the cat flap really quickly. Great that it only lets our cat into the house, but we are really glad we went for the bigger size as I think he would have struggled to get through the smaller one even though he's not a fat cat. Overall really pleased.