Skip to content
Skip to navigation menu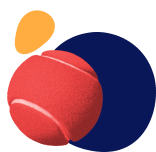 Search for food, toys, supplements, etc.
We've got everything you need for a healthy, enthusiastic cat or dog!
You have setup the following Repeat Order: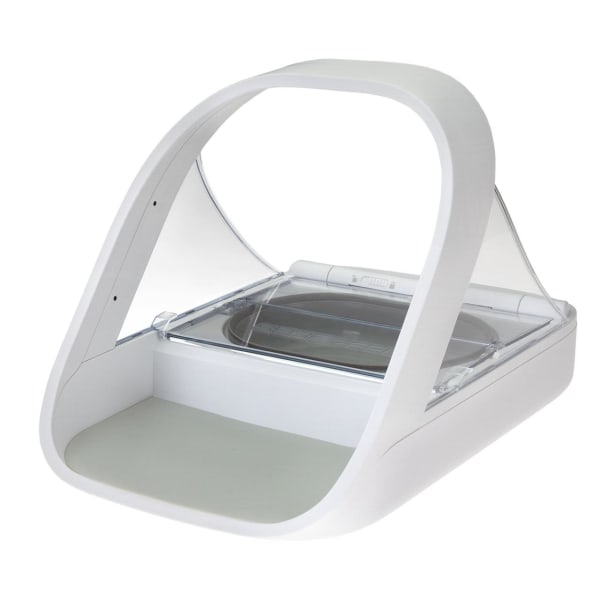 SureFeed Microchip Pet Feeder
SureFeed Microchip Pet Feeder
The SureFeed Microchip Pet Feeder is designed to make mealtimes easier in multi-pet homes. The feeder will only open for a registered pet's microchip to prevent cats stealing each other's...
Read more
SureFeed Microchip Pet Feeder
Back in stock notification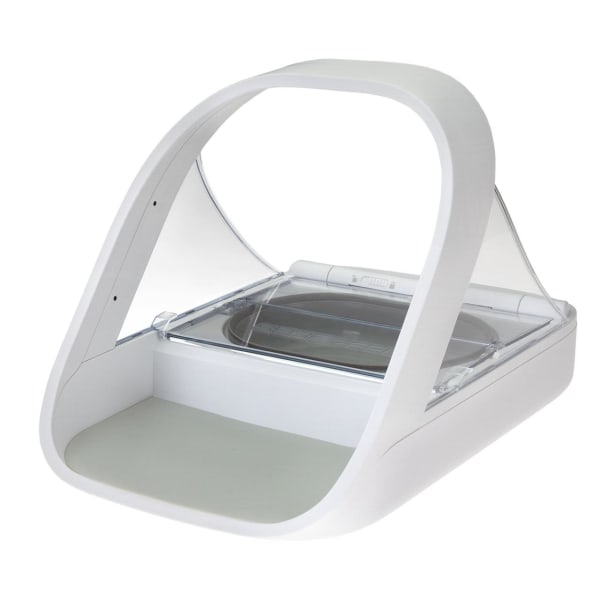 SureFeed Microchip Pet Feeder
SureFeed Microchip Pet Feeder
Enter your name and email address below then select which items you would like to be notified of when available.
Product details
The SureFeed Microchip Pet Feeder is designed to make mealtimes easier in multi-pet homes. The feeder will only open for a registered pet's microchip to prevent cats stealing each other's food, stop dogs pinching the cat's food and keep small children's fingers out of the food bowl. When the right pet approaches, the lid of the feeder opens. Once they have finished eating and they have walked away, the lid closes. It's the ideal solution for owners with greedy pets or a cat that needs exclusive access to prescription food.
Combine with a coloured bowl accessory pack to personalise your pet's feeder.
Key features
The perfect feeding solution for multi-pet homes
Prevents other pets and small children accessing a cat's food
Ideal for overweight cats or cats on prescription diets
Compatible with all microchips worldwide and the Sure Petcare RFID collar tag (one tag included)
Battery powered – requires 4 x C cell batteries which last approximately six months (batteries not included)
Low battery indicator light gives you plenty of notice when the batteries need changing
Stores up to 32 pet identities
The bowl features a seal to keep food fresher and detract flies
Training mode for timid pets
Includes one grey single bowl, one grey split bowl and one grey mat
Dimensions of the feeder
Size of the area your pet will eat from - 210mm (W) x 115mm (H)
Overall size of the Microchip Pet Feeder - 320mm (W) x 200mm (H)
Size of the inside of the bowl - 105m (W) x 160mm (H) x 30mm (D) (capacity 400 ml)
Size of the mat - 204mm (W) x 111mm (H)
To view all Sure Petcare products click here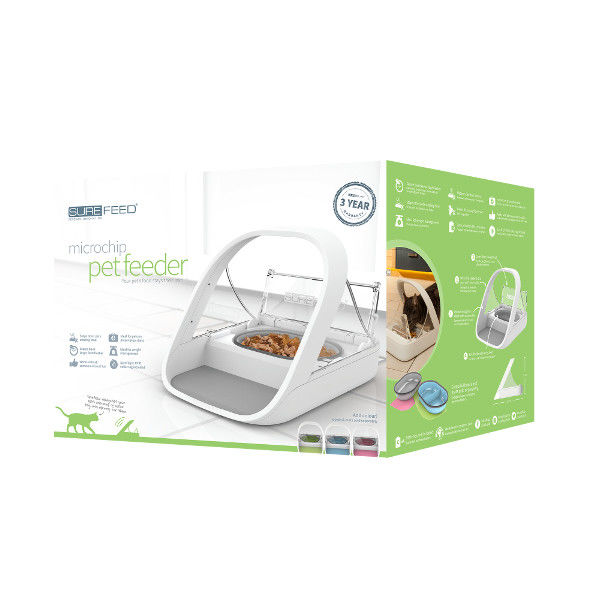 Customer reviews
Product reviews are filtered by language.
The following reviews are available in English.
This feeder has changed my life!!

I have one cat who grazes, the other will eat EVERYTHING and then vomit it all back up again. This microchip feeder has changed my life. NO more waking up in the middle of the night to the sounds of a cat vomiting because I forgot to pick up the bowl that had biscuits left in it. It has taken my grazer about 3 weeks to get used to it but this morning I was delighted that she approached the feeder (still cautiously) and let herself into it to get her biscuits without me having to encourage her or leave biscuits on the mat to get her to come close to the feeder. I didn't use the training mode. I left the flap up for about 10 days and then let her see the flap open as I put the biscuits into the feeder and closed it and then fussed her and encouraged her to get closer. We fell out about it a few times (aka I got scratched) and there was some growling and moaning and a few times I thought that she was never going to get it but patience is a virtue (especially for me). Yes the batteries are pretty expensive but I am 3 weeks in and they have not yet run out and even if they have to be replaced frequently its cheaper and less stressful than me stepping in vomit in the middle the night or having to clean it up off the carpet/sofa/bed.

Surefeed Microchip Feeders

I have three cats with different food needs. Misty who is seventeen and has a supplement for her arthritis and can eat as much as she likes. Daisy who is the greedy one and needs restricting as is a little plump. Duke is the easiest but with the feeders his sister Daisy cant steal his . The two girls took to their feeders quite quickly but Duke took a bit longer to get the hang of it. I am happy with the feeders as it allows me to feed each cat according to their needs and for them to eat even if I am out.

Great for houses with multiple cats

This has honestly been a life changer , I have 2 cats and a kitten, one cat that eats everyone's food all in one go, one cat that likes to graze but always has an empty bowl because my other cat gobbles up her food, and my kitten who never wants to eat from her bowl and has different dietary requirements, My cats eat 100% meat so the smell is unbearable especially when I'm putting out 3-4 meals a day, These bowls completely seal the smell and keep it fresher, But best of all keeps everyone to their own bowls, I didn't have time to train them gradually as feeding time was was always mayhem so had to just skip the training process and go straight to the end stage, Although this is not recommended my cats learnt almost immediately , All together 5*! Would abseloutley reccomend!

Perfect for dieting cats!

I bought two of these as one of my three cats was eating his own and the other cats food which inevitably lead to him increasing hugely in weight as the other two declined. I thought it would take much longer than it did for them to get used to the feeders and they work perfectly,

Expensive but effective

This is the 2nd microchip feeder in our 3 cat household. One of the cats is overweight and greedy, so he's the only one not registered to use this. Took the other two a couple of weeks to get used to it, but now the fat one only gets to eat his own food. Despite his best efforts to chew or scratch his way into the feeders, they are so far holding. No obvious weight loss yet, but I reckon he's probably eating elsewhere too. Expensive feeders, but hoping they will do the trick in our house.