Skip to content
Skip to navigation menu
Supreme Bathing Sand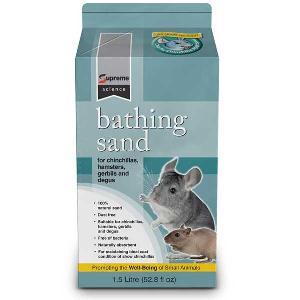 Product details
Help to clean and nourish your chinchilla, gerbil or degus' skin and coat with the bacteria and dust-free Supreme Bathing Sand.
How it works
This soft, fine grain sand is small enough to get through your small pet's coat and give their skin a good clean by absorbing excess oils. It's 100% natural, dust free and bacterially clean, perfect for their delicate skin.
Put this sand in a high sided box or tray that's big enough for your pet to roll around in and make sure that it's a couple of inches deep. Don't leave the tray in your pet's cage all the time; if you do, they may bathe too much and dry out their skin, or use the tray as a litter box.
Offer it to your pet a few times a week and do so more often in warmer weather when their skin may become oily more quickly. Once they're done, you can remove any waste matter from the sand and reuse it a few more times, topping it up as necessary.
Key benefits
100% natural bathing sand for small animals
gets through their fine fur to clean skin
removes excess oils and nourishes coat
bacterially clean and dust free for their safety
perfect for chinchillas, gerbils and degus
When to use it
Small furry pets like chinchillas and gerbils love a sand bath. Not only does it keep their coats clean, it's thought that all that rolling around is quite fun for them too.
Never try to give your chinchilla, gerbil or degu a water bath. This is likely to give them a chill, leading to a cold or even hypothermia. Chinchilla fur is dense and does not dry out easily. If they get wet, it's difficult for them to dry off, which can cause fungus to grow on their fur and skin. For further advice about keeping your pet clean, speak to your vet.
Customer reviews
Product reviews are filtered by language.
The following reviews are available in English.
Chinchilla Bathing Sand

Good product excellent our Chinnie loves his sand bath

Chinchilla bathing sand

Excellent and keeps our chinnie's coat lovely and clean

we buy this for our gerbils, they love it. they sit in the dish with it and roll in it. their fur seems much healthier once they've had their 'bath', it gets rid of excess oils. highly recommended.

After taking away my hamsters chinchilla dust, for amount of dust that comes of it when sieving thought would but some of this

I had heard it's good for hamsters and one of my hamsters is quite picky.