Skip to content
Skip to navigation menu
"Best of its kind"
Supa Dried Mealworms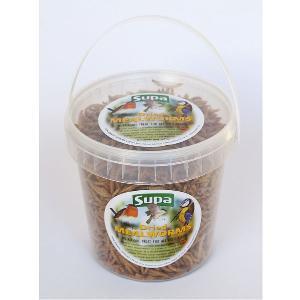 Product details
Supa Dried Mealworms are a great source of highly nutritious protein for birds and they can be fed as a treat or mixed in with other foods all year round. Since birds enjoy this food so much there is hardly any wastage.
Customer reviews
Product reviews are filtered by language.
The following reviews are available in English.
Our hedgehogs, Reggie, Ronnie and Violet, enjoy a mixture of mainly dried cat food (chicken or beef flavour), sultanas and a few meal worms. When they've eaten all they can they cover up their little bowls with dried leaves to keep the supply safe for later! We've had various strong healthy and very large hedgehogs for four years on this food...they just keep coming back for more. The robins, sparrows and blackbirds all enjoy these meal worms in winter too.

This is a great value, good quality product, and the birds absolutely adore them! Blackbirds, robins, tits, thrushes, wrens and wagtails are all queueing up in the trees every morning now, waiting for their mealworms. A good-quality, economical, year-round alternative to live mealworms. I'd give it 6 stars if I could...

Feeding these to the hedgehogs is like giving a donkey strawberries, they love them. I was giving them live ones but these are a more economical alternative, plus what the hogs leave the birds eat.

Ordered for my chickens who love this product. Delivered days earlier than predicted! Thank you. Will definitely order again in near future.