Skip to content
Skip to navigation menu
Specific Feline FKD & FKW Kidney Support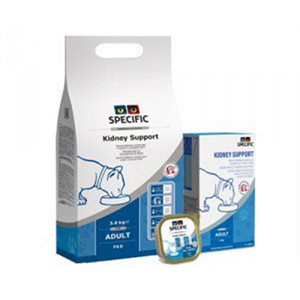 Product details
SPECIFIC Feline FKD & FKW Kidney Support has a restricted content of phosphorus is essential to prevent hyperphosphataemia and to slow down the progression of kidney insufficiency.

Key Benefits:
Kidney2 & heart support: EPA and DHA are both omega-3 fatty acids which help slow down the progression of kidney failure. In cats with cardiac disease EPA and DHA counteract cachexia and reduce hypertension and platelet aggregation. The content of fish oil, and thereby the level of EPA and DHA is exceptionally high in SPECIFIC FKD/FKW Kidney Support.

Liver & kidney support: The reduced content of protein in combination with protein of high biological value reduces azotemia in cats with renal failure. In cats with liver failure it reduces the likelihood of hyperammonemia and possible hepatic encephalopathy. The high biological value of the proteins supplies the cat with sufficient amounts of essential amino acids.

Heart & kidney support: In congestive heart failure, sodium excretion is reduced as part of the compensatory response to the reduced cardiac output and consequently sodium and water retention occurs. The reduced sodium level helps to break the vicious circle of water retention (hypertension and oedema). This is essential for both kidney, liver and heart patients.

Urinary crystal & stone protection: The restricted protein level reduces the urinary concentrations of oxalate, cystine and urate. Together with the alkaline urine pH, this prevents precipitation of urinary calcium oxalate, cystine and urate crystals. Also the content of potassium citrate reduces the risk of calcium oxalate precipitation.
Customer reviews
Product reviews are filtered by language.
The following reviews are available in English.
Great taste

This is the first renal food I have found for my cat where she licks the bowl clean, and at her last check up she had actually put on weight. The SPECIFIC food smells great and has more moisture than other pate style renal diets. A great find.

It helps!

My cat had to go onto the kidney support wet food as she has advanced kidney failure, Initially she loved it but she is a very picky eater and went off it after a while. At her last urine test there was no protein which was fantastic. She's just started going off her other food and being interested in this again. It is expensive and it annoys me that pet owners are taken advantage of, but I can say it is a very good product. Four stars, they lose one due to cost. Pet supermarket was the cheapest supplier and there is the loyalty scheme too. Delivery was fast. I highly recommend them as a supplier.

Excellent product

My vet recommended this food for my two cats who both have kidney problems. This food has definitely helped to improve their condition. They have stopped weeing in the house and they love the food.

Didn't go down well.

I took a chance on this product after reading another review by someone saying they were reluctant to buy it due to having to buy a large quantity but were glad they did as their cat loves it. My cat nibbled a little bit of the first tray but then completely turned his nose up at any more I put down. The whole lot will now be thrown away! My cat is a fussy eater so some cats may like it but beware.

The best Kidney Support food ever

We have one cat Frankie who needs this for his kidney's support he is a fussy eater but he actually loves this food and the texture. However the other two cats also try to have his food and in a test offering normal and SPECIFIC they choose SPECIFIC! Long may this last as Frankie does not want to suffer by having other types of food. Speedy delivery and efficient service