Skip to content
Skip to navigation menu
Specific Canine CCD Struvite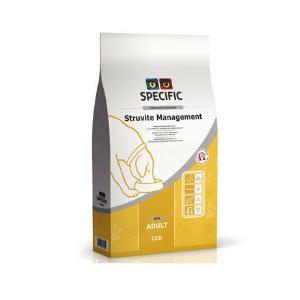 Product details
SPECIFIC Canine CCD Struvite Management has a reduced content of magnesium and phosphorus (components of struvite crystals) for prevention and dissolution of struvite crystals and stones.

Key Benefits:
A urine pH below 6.4 dissolves existing struvite crystals and prevents precipitation of new struvite crystals.
High quality and highly digestible ingredients ensure a maximum uptake of nutrients from the diet, whilst reducing faecal output.
EPA and DHA are both omega-3 fatty acids with a beneficial effect on the maintenance of healthy skin and coat and healthy joints.

Customer reviews
We're sorry but there are no reviews of this product in English.