Skip to content
Skip to navigation menu
Skinner's Field & Trial Muesli Mix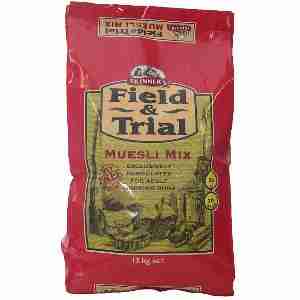 Skinners Field & Trial Muesli Mix is a complete dry food for working adult dogs, specially designed to support the fitness needs of field and trial animals.
How it works
If your dog puts in lots of hours in the field, they need extra energy to stay in competitive peak condition from nose to tail. Skinners have been developing dog food since the 1970s, so they know exactly what working dogs need to keep them at their best.
This muesli-style dog food helps to keep your partner on their paws, with protein-packed beef for strong muscles and healthy tissue. The premium-quality oils supply your dog with extra energy, while the cereal and vegetable content help to sustain their stamina through field days.
Key features
specially formulated complete food mix
boosted with extra nutrition for active working dogs
ideal for high-endurance, field and trial dogs
contains no artificial additives, flavourings or preservatives
packed with beef-based protein and cereal-based carbohydrates
made from a mix of real meat, cooked veg, cereals and crunchy biscuits
When to use it
Dogs who work in the field or compete in trials naturally use more energy than the average pet, so it's vital you support their active lifestyle with appropriate levels of nutrition. You can gradually replace your adult dog's current feed with this Skinners Field & Trial Muesli Mix over the course of a week while they get used to it. Feed 150 grams of food for every eight kilograms of your dog's weight, and feel free to moisten with gravy or water if they aren't used to dry food.
Do consult a vet who understands working animals if you have any queries about your field or trial dog's diet or portion sizes.
Customer reviews
Product reviews are filtered by language.
The following reviews are available in English.
Skinners muesli mix

Excellent dry food, we have a fussy eater and spent a long time finding food she would eat. We meet part of the Skinners team and this was their recommendation. The dog loves it, occasionally she has a bit of gravy mixed in, or sometimes crated carrot or cheese.

Great food

We have a 5 year old working Border Collie who gets Skinners Muesli Mix. Not only does she love the food, she is in really good condition, shiny fur, no scratching.

Skinners

My dog has enjoyed this for years people comment how young and fit he looks for his thirteen years.

SKINNERS MUESLI MIX

FANTASTIC ALL ROUND DRY FOOD BOTH MY DOGS LOVE IT TEAGUN IS A VIZSLAR AND JESS IS A 13 YEAR OLD THAT WE JUST GOT FROM THE LOCAL RESCUE SHE IS A STAFF/COLLIE AND LOVES HER FOOD

Devoured!

We have a very fussy eater who we always had to persuade to eat by adding egg, yogurt, cheese to his food With the muesli mix, he devoured his portions from the start. Decent ingredients and great price make the owners happy as well