Skip to content
Skip to navigation menu
Skinners Field & Trial Lamb & Rice Hypoallergenic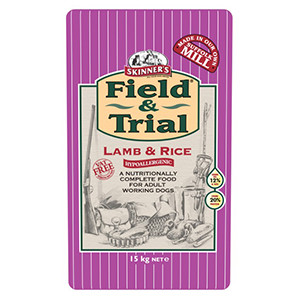 Product details
Skinners field and trial lamb and rice hypoallergenic is a nutritionally complete meal for dogs with sensitive stomachs.
How it works
The recipe's free from ingredients that commonly cause allergies, such as wheat, gluten, dairy, beef, egg and soya, making it a hypoallergenic option for pets with food sensitivities. Some dogs find it difficult to process poultry or fish, so this lamb- and rice-based recipe is a great alternative. The combination of culinary herbs and spices in each dish is designed to aid digestion. Peppermint, seaweed and fennel have soothing properties, meaning they're gentle on your pooch's stomach. Rice provides the main fibre content, making this meal much easier to process in the gut.
This food is designed especially for working pets such as sheep dogs or guide dogs. The combination of lamb protein and rice fibre gives them all the energy they need to round up livestock or help their owners. To help protect your pet's joints as they mature, this recipe contains enhanced levels of glucosamine and chondroitin.
Key benefits
all-in-one meal for working dogs
healthy proteins and fibre aid digestion
combination of herbs soothes an irritated gut
vitamins and minerals enhance overall health
glucosamine improves joints
hypoallergenic for pets with food sensitivities
suitable for all breeds and sizes.
When to use it
If your four-legged friend gets dry, itchy skin and dandruff, or if they become flatulent after eating and has toilet problems, they could be experiencing food-related allergies. Skinners field & trial lamb & rice hypoallergenic is designed to help reduce the chance of a reaction as it doesn't contain any of the common causes of food sensitivities.
Older dogs can experience stiffness in their legs and feet, meaning they become reluctant to exercise. This can lead to weight gain, making them feel more lethargic and adding more pressure to weak joints. This recipe can help to strengthen their joints, encouraging them to stay active.
This all-in-one meal is suitable for dogs of all breeds and sizes. Simply adjust the portion size to suit your pet's needs; smaller dogs like terriers will need less than larger ones like labradors.
Ingredients
Brown rice (40%), lamb meat meal (25%), barley, chicken fat, whole linseed, lucerne, vitamins, minerals and trace elements, culinary herb mix.
Additives: Nutritional additives per kg: Vitamin A 13,000 iu, Vitamin D3 2,000 iu, Vitamin E (as alpha-tocopherol acetate) 310 iu. Trace Elements per kg: Iron (as ferrous sulphate monohydrate) 40mg, Iodine (as calcium iodate anhydrous) 1.5mg, Copper (as cupric sulphate pentahydrate) 5mg, Manganese (as manganous oxide) 25mg, Zinc (as zinc oxide) 100mg (as zinc chelate of amino acids hydrate) 30mg, Selenium (as sodium selenite) 0.1mg. Contains tocopherol rich extracts of natural origin (Vitamin E) as EC permitted antioxidant.
No artificial additives, flavourings or preservatives