Skip to content
Skip to navigation menu
Seraquin for Cats & Small Dogs with Chondroitin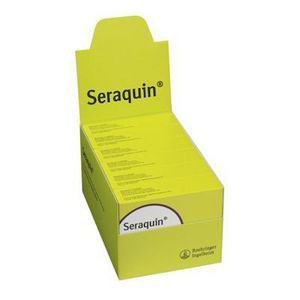 Product details
Seraquin for cats and small dogs is a supplement designed to boost and promote your pet's joint health, helping them to move more easily as they grow older.
How it works
Seraquin for cats and small dogs contains the building blocks of cartilage: glucosamine and chondroitin. These ingredients occur naturally in the body, and can be used to soothe and treat painful joints. Seraquin also contains curcuminoids, found naturally in turmeric. Not only are curcuminoids a natural anti-inflammatory, which can help to reduce joint pain, but they're also a powerful antioxidant. They help to fight the free radical molecules in the joint that can contribute to degeneration.
Seraquin can be taken alongside prescription medicine, and comes in a chewy tablet form (so your pet might even think it's a treat).
Key benefits
supplement designed to promote joint health in small dogs and cats
contains naturally occurring glucosamine and chondroitin to help repair cartilage
antioxidant curcumin fights free radicals and slows degeneration of cartilage
curcumin is also an anti-inflammatory and can reduce swelling around joints
can be taken alongside prescription medicine
can form part of your pet's diet for the rest of their life
comes as a chewy tablet, so can be used as a treat
When to use it
Running, jumping and playing are an essential part of your pet's exercise routine, but as they grow older it can take a toll on their joints. If you notice symptoms such as limping, stiffness, refusing to play, a change in grooming habits, difficulty jumping or a negative change in attitude, it could be a sign that your pet is suffering from joint pain.
Seraquin can take the edge off natural wear and tear by reducing inflammation and helping to repair damaged cartilage. It's still a good idea to pop into the vet for a check-up, just to make sure there's not a serious underlying issue (like osteoarthritis).
Customer reviews
Product reviews are filtered by language.
The following reviews are available in English.
Seraquin for cats

This product has made a difference to my almost 17 year oldcat. It has improved her mobility noiceably and she eats the tablet like a treat which really helps.

Good one!

Very good service, what I ordered delivered within 5 days

These definitely help

Our cat, Walter, is 16 now, he's been having these tablets since the beginning of 2016 when back legs were quite bad, some days he would "moon walk" as though they were vary painful and he'd started climbing rather than jumping, it took a couple of months to get the real effect of Seraquin but since then his legs have been much better and he has been able to run and jump normally, we never did get down to the lesser dose of one tablet a day, he likes them so much he crunches the first one and looks for the second and we haven't the heart to deny him, our vet just laughs, she's seen the benefit of them because he has diabetes so when he goes for his checks she always tests his leg muscles and is impressed at how good they are. I'd thoroughly recommend these tablets, they are worth every penny of the price, I don't like to think what a state he would be in by now if we hadn't tried them, he might not have still been here if he'd lost the use of them altogether.

Creaky old lady-cat gets new lease of life!

I recently adopted 11-year-old Muffin from a rescue centre and it has quickly become apparent that she has osteo-arthritis and this has been causing her some discomfort, limiting her movements and causing litter tray issues. After a recommendation from the vets, she has been taking Seraquin for six weeks now. She absolutely loves the tablets and wolfs them down like treats - they are huge so I use a cheap pill-cutter from my local pharmacy to cut them into quarters. In the last four weeks, she has not had a single flare up of arthritis and her general movement is much more fluid and she seems much more comfortable in herself. She is also in combination with one of the Kokoba high-sided litter trays managing to use her litter tray more effectively. Brilliant improvement in six weeks in total.

Seraquin

this is more of a question to certify what should be in the gap, please read on and do contact me .. If your vet has prescribed any treatments such as NSAIDs & non-steroidal anti-inflammatories,THIS IS THE GAP Seraquin supports joint health and repair whilst the prescribed NSAID treats signs of pain and inflammation. Seraquin chewable tablets are highly palatable with 98% of dogs eating the tablets either directly from the hand as a treat, or crumbled and mixed in their food. Cats also eat Seraquin readily, with 81% accepting Seraquin from the hand or in food. IN THE GAP I am asking you what other words should be there? Is it stop the Seraquin while taking the NSAID or continue to take them? I will be placing an order for these for my dog. Obviously not this packet but I take chondrotin myself and it works wonders v.g.