Skip to content
Skip to navigation menu
Seraquin for Cats & Small Dogs with Chondroitin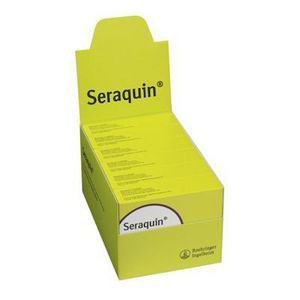 Product details
Seraquin for cats and small dogs is a supplement designed to boost and promote your pet's joint health, helping them to move more easily as they grow older.
How it works
Seraquin for cats and small dogs contains the building blocks of cartilage: glucosamine and chondroitin. These ingredients occur naturally in the body, and can be used to soothe and treat painful joints. Seraquin also contains curcuminoids, found naturally in turmeric. Not only are curcuminoids a natural anti-inflammatory, which can help to reduce joint pain, but they're also a powerful antioxidant. They help to fight the free radical molecules in the joint that can contribute to degeneration.
Seraquin can be taken alongside prescription medicine, and comes in a chewy tablet form (so your pet might even think it's a treat).
Key benefits
supplement designed to promote joint health in small dogs and cats
contains naturally occurring glucosamine and chondroitin to help repair cartilage
antioxidant curcumin fights free radicals and slows degeneration of cartilage
curcumin is also an anti-inflammatory and can reduce swelling around joints
can be taken alongside prescription medicine
can form part of your pet's diet for the rest of their life
comes as a chewy tablet, so can be used as a treat
When to use it
Running, jumping and playing are an essential part of your pet's exercise routine, but as they grow older it can take a toll on their joints. If you notice symptoms such as limping, stiffness, refusing to play, a change in grooming habits, difficulty jumping or a negative change in attitude, it could be a sign that your pet is suffering from joint pain.
Seraquin can take the edge off natural wear and tear by reducing inflammation and helping to repair damaged cartilage. It's still a good idea to pop into the vet for a check-up, just to make sure there's not a serious underlying issue (like osteoarthritis).
Customer reviews
Product reviews are filtered by language.
The following reviews are available in English.
Great product

My 10 years old longhair big boy is as lively as a kitten on Seraquin and made a remarkable recovery from an injured joint.

Effective

Seraquin really works for joints, and additionally helped work wonders on an injury that caused nerve damage to my big cat's leg which has now fully recovered, he is more lively now at 9 than he was 3 years ago.

Great improvement

My 13yr old cats back legs were very wobbly but after taking this supplement for several weeks there has been a great improvement in walking.

Seraquin

Our fourteen year old cat seems much livelier since taking these tablets.

Does what it says

I bought these tablets for one of my cats, who's is showing signs of her age regarding her mobility. She is 10 years old and hobbling a little bit! She is now into the second month of taking them and there has been a definite improvement. I am so pleased! I put them into her bowl with dry food and they are the first thing she eats.