Skip to content
Skip to navigation menu
You have setup the following Repeat Order: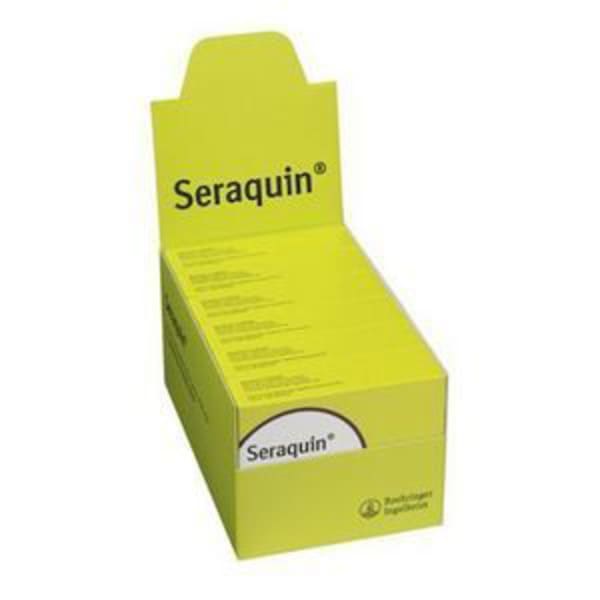 Seraquin Joint Supplement for Dog
Seraquin Joint Supplement for Dog
Seraquin Joint Supplement for Dog
Back in stock notification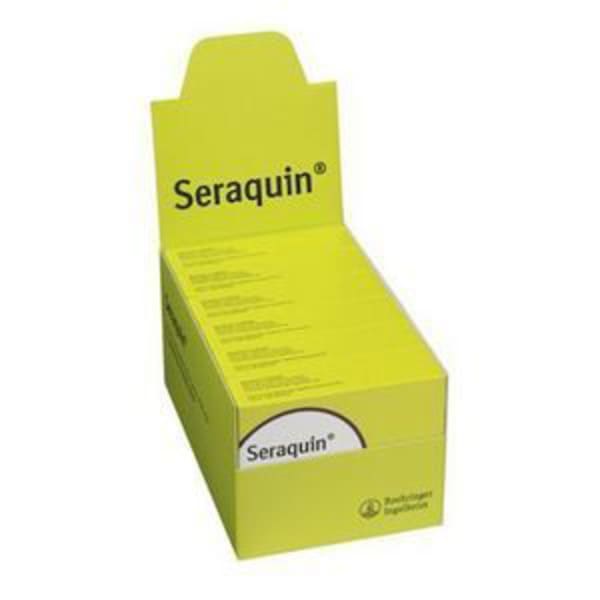 Seraquin Joint Supplement for Dog
Seraquin Joint Supplement for Dog
Enter your name and email address below then select which items you would like to be notified of when available.
Product details
Seraquin for Dogs helps promote normal joint function and reduces pain, giving your pet a new lease of life.
How it works
Given as a treat or crushed up into food, Seraquin eases the pain of stiff joints and ligaments. The active ingredients are glucosamine and chondroitin, which occur naturally in your dog's body and help to keep a balance between production and breakdown of cartilage. The recipe also includes curcumin, an anti-oxidant that may reduce the level of 'free radicals' in your dog's body. Free radicals can increase the speed at which cartilage breaks down, so reducing them keeps your dog's bones healthier for longer.
Key features
helps the natural function of joints
can be given alongside prescription medicine
takes four-six weeks to build up in your pet's system
it's tasty:98% of dogs are happy to take it as a treat
can be crushed up into food
can form part of your dog's diet for the rest of their life.
When to use it
Stiffness in the joints becomes more common as dogs grow older. Some breeds (such as Labradors and German Shepherds) are prone to arthritis and joint problems during their younger years, too. If your dog has been limping, moving stiffly, and experiencing issues getting up from the floor and climbing stairs, it's important to visit your vet for a diagnosis.
In the meantime, Seraquin can be used to ease pain and stiffness. The active ingredients build up over time to strengthen cartilage. Taken frequently, Seraquin can help your dog enjoy a normal life full of playtime and walks. The supplement can also be used alongside prescription medicines such as NSAIDs (non-steroidal anti-inflammatories).
Customer reviews
Product reviews are filtered by language.
The following reviews are available in English.
Brilliant stuff!

I have been using Seraquin for 10 years for my dog who had an injury. It works well for him and also worked for another dog I had. I wouldn't use anything else.

Joint supplement

My Max has been on this product 2years now it really helps him to keep agile and free from joint pain

happy retriever

Our nearly 11 year old Golden Retriever Tara has been on Seraquin for about 4 years and it certainly helps keep her fit and active. She does the same walks as her 7 year old daughters which is great. natural supplements better than medication is a big plus.

Seraquin for dogs 2g tablet

I have been using these seraquin tablets for my 13 year old Labrador for years, they keep her mobile and she is much better. I give her 2 tablets with food everyday in the morning. I have tried a lot of other brands, but these are the best for her as she suffers with a sensitive stomach. She loves to crunch them up with her food or on their own.

Seraquin for dogs

Our dog is almost 11 years and is a medium sized labrador/spaniel cross. She was a rescue dog who came to us at age 4. Jess was diagnosed with moderate arthritis in her front leg joints 5 years ago, when she was 6 years old and it might have been from an earlier injury. She was in some pain. The vet recommended Seraquin and she has taken it since then. She has moderate daily exercise and we control her diet so that she is not overweight. The combination of these 3 has so far kept her without pain and mobile. It is an excellent product.