Skip to content
Skip to navigation menu
You have setup the following Repeat Order: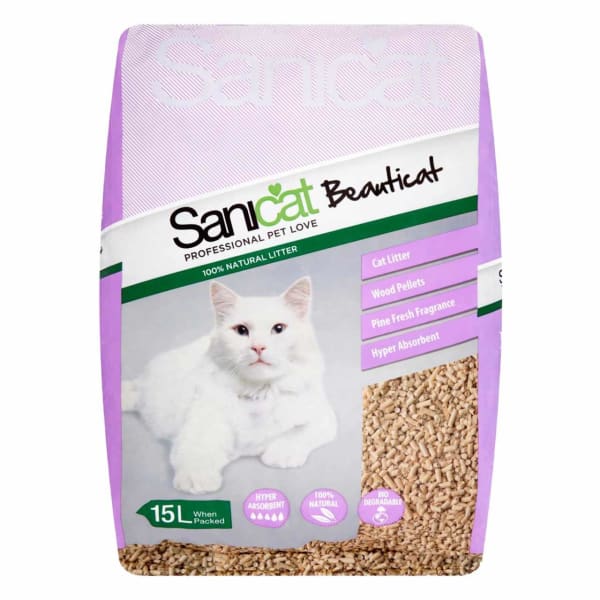 Sanicat Beauticat Natural Wood Pellets Non-Clumping Cat Litter
Sanicat Beauticat Natural Wood Pellets Non-Clumping Cat Litter
Sanicat Beauticat Natural Wood Pellets Non-Clumping Cat Litter
Back in stock notification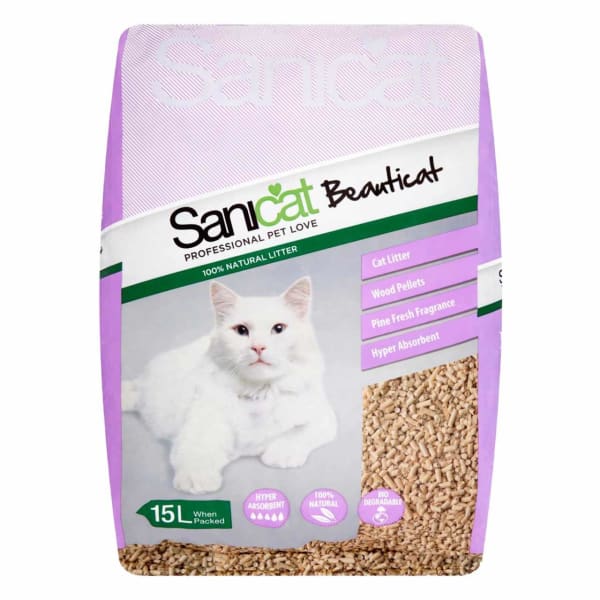 Sanicat Beauticat Natural Wood Pellets Non-Clumping Cat Litter
Sanicat Beauticat Natural Wood Pellets Non-Clumping Cat Litter
Enter your name and email address below then select which items you would like to be notified of when available.
Product details
Sanicat Beauticat wood pellets cat litter is a plant-based, non-clumping litter that naturally controls odours.
How it works
Made from recycled sawdust that's compressed into small wooden pellets, this hygienic cat litter is naturally absorbent – up to five times more so than other brands. It's been designed not to break down as it absorbs moisture, so your kitty won't pick it up in their paws and track it around the house.
As urine is soaked up, nasty odours are trapped in the wooden pellets, minimising the smell from your cat's tray. It's also infused with a natural pine fragrance, keeping your home smelling fresh throughout the day.
Key benefits
made from recycled sawdust
suitable for cats, rabbits, gerbils and caged birds
absorbs quickly and effectively
naturally controls odours
available in two different sizes
no granular breakdown
When to use it
Sanicat Beauticat wood pellets cat litter is designed to replace your moggy's everyday-use tray filler. Just be sure to introduce it gradually so that their toilet habits aren't interrupted. Cats are inherently private animals, so placing their tray in a quiet, familiar spot can help encourage them to use it properly. This litter is totally plant-based, free of dust and soft on your kitty's feet, so you can be sure that they won't tread through or breathe in nasty chemicals.
These sawdust pellets are highly absorbent, extending the litter's lifespan, though it's still essential that you wash out your cat's tray once a week to encourage them to carry on using it. Sanicat Beauticat is biodegradable, so it can be composted in the garden or disposed of along with your organic waste.
Customer reviews
Product reviews are filtered by language.
The following reviews are available in English.
Changed

This has been my preferred cat litter for several years, however the last two I have bought have been completely different. It used to be very pale in colour which made it easier for me to monitor my cats reactive gut. It was quite large pieces and seemed to absorb the smells. It's now very dark in colour with smaller pellets and quite a lot of sawdust in the bottom of the pack. It doesn't absorb the smell in the same way and I have to change it much more often. I will not buy this again.

Changed

I've used this kind of litter for several years now and always given it a 5 star rating but I've been disappointed in it recently. It's no longer the very pale pellets which are quite large but now quite small pieces and dark brown. As the pellets are generally smaller they break up much more quickly and don't seem to contain the smell as efficiently. One of my cats has regular gut problems and with the pale litter I could see immediately if there was a problem starting. However with this dark colour the evidence is hidden. Please bring back the old style!

Excellent Value for Money

Our Two Girls Love the Wooden Pellets soft on there foot and great to Clean

SaniCat Wooden Pellets is Fantastic

Before we Found SaniCat we used Crystals and the Wooden Pellets do exactly the same as Crystals but are not as Hard or Sharp on Kittens and Cats paws The Pellets brake down with the Wee and With the Stool they cling to it was makes it much Easyer to Clean x

Sophisticat Wood Pellets Cat Litter

My wife has 2 Ragdoll Cat's we have used Sophisticat Wood Pellets Cat Litter from day one its a great product & the breeders used it to a fantastic price to.