Skip to content
Skip to navigation menu
You have setup the following Repeat Order: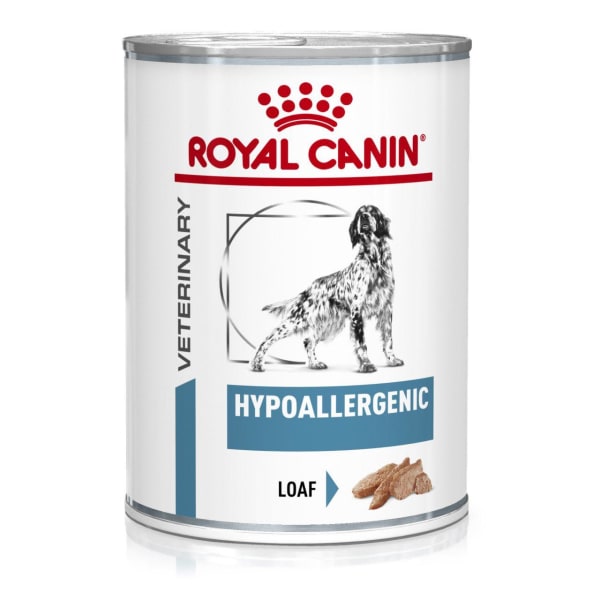 Royal Canin Hypoallergenic Adult Wet Dog Food
Royal Canin Hypoallergenic Adult Wet Dog Food
Royal Canin Hypoallergenic Adult Wet Dog Food
Back in stock notification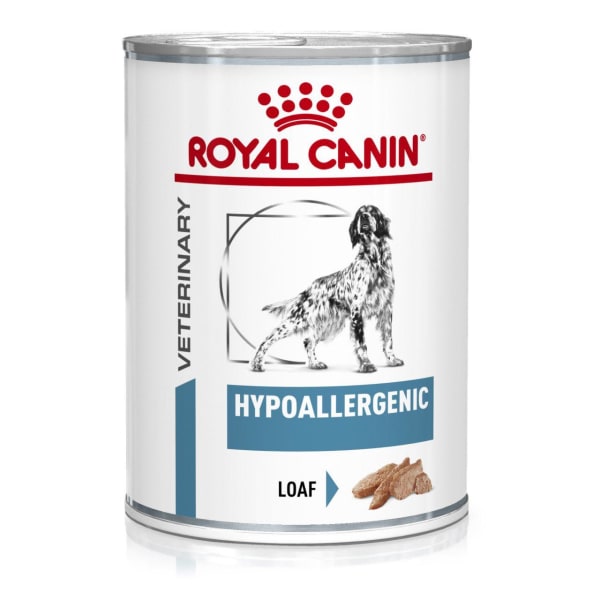 Royal Canin Hypoallergenic Adult Wet Dog Food
Royal Canin Hypoallergenic Adult Wet Dog Food
Enter your name and email address below then select which items you would like to be notified of when available.
Product details
Royal Canin Canine Veterinary Diet Hypoallergenic is a complete food for dogs with ingredient and nutrient intolerances. Its reduced calorie formula is perfect for pets prone to putting on weight.
How it works
An intolerance occurs when your dog's digestive system is unable to digest a specific ingredient. Hypoallergenic DR 21 uses a balance of proteins and nutrients to limit your pet's contact with allergenic ingredients. This complete food is made with soy protein hydrolysate, which is hypoallergenic and easily digestible.
When your dog suffers an allergic reaction, their stomach can become sore, their skin irritated and their immune system impaired. Hypoallergenic DR 21 contains high amounts of biotin, niacin and fatty acids to help support their digestive system and repair their skin. This low calorie formula contains moderate fat and high protein ingredients, making it perfect for dogs who tend to overeat.
Key benefits
made with soy protein to replace allergenic ingredients
highly digestible formula helps your dog absorb essential nutrients
packed full of nutrients and fatty acids to improve the digestive system and repair irritated skin
reduced calorie formula with high protein ingredients to encourage a balanced diet in dogs prone to putting on weight.
When to use it
An intolerance to nutrients or ingredients in food can make your pet extremely ill. As a result of their allergy, your dog's coat could become duller, their skin dry and irritated and their stomach sore. Switching your pet's food to a hypoallergenic alternative will see them bounce back to their usual selves.
There are a few symptoms you can look out for if you think your dog has an allergy: a rash on their skin, itching, vomiting and obsessive licking are all common symptoms. If you think that your dog has an allergy you should seek veterinary advice immediately. To help minimise the effects of the allergy your pet's regular food should be swapped for a hypoallergenic formula as soon as possible.
Because veterinary diets are formulated for the nutritional support of pets with specific clinical conditions, we recommend that you only use them under professional advice. For more information on feeding Royal Canin Canine Hypoallergenic DR 21 to your dog, please consult your veterinary surgeon.
Ingredients
COMPOSITION: rice, hydrolysed soya protein isolate, animal fats, minerals,hydrolysed poultry liver, beet pulp, soya oil, fructo-oligo-saccharides, fishoil, borage oil, marigold extract (source of lutein).
ADDITIVES (per kg):Nutritional additives: Vitamin A: 24800 IU, Vitamin D3: 800 IU, E1 (Iron): 40mg, E2 (Iodine): 3 mg, E4 (Copper): 11 mg, E5 (Manganese): 53 mg, E6 (Zinc):202 mg - Preservatives - Antioxidants.
ANALYTICAL CONSTITUENTS: Protein: 21% -Fat content: 19% - Crude ash: 8.4% - Crude fibres: 1% - Per kg: EPA/DHA: 3.4 g- Essential fatty acids: 47 g.
Feeding Guide
Feeding guide:
Weight (kg)
Lean
Normal
Overweight
(g / day)
Cup / day
(g / day)
Cup / day
(g / day)
Cup / day
2 kg
53 g
5/8 cup
46 g
4/8 cup
40 g
4/8 cup
4 kg
88 g
1 cup
78 g
7/8 cup
67 g
6/8 cup
5 kg
104 g
1+2/8 cup
92 g
1+1/8 cup
79 g
7/8 cup
6 kg
120 g
1+3/8 cup
105 g
1+2/8 cup
91 g
1 cup
8 kg
149 g
1+6/8 cup
131 g
1+4/8 cup
113 g
1+2/8 cup
10 kg
176 g
2 cup
155 g
1+6/8 cup
133 g
1+4/8 cup
15 kg
238 g
2+6/8 cup
210 g
2+3/8 cup
181 g
2+1/8 cup
20 kg
295 g
3+3/8 cup
260 g
3 cup
225 g
2+5/8 cup
25 kg
349 g
4 cup
307 g
3+4/8 cup
265 g
3+1/8 cup
30 kg
400 g
4+5/8 cup
352 g
4+1/8 cup
304 g
3+4/8 cup
35 kg
449 g
5+2/8 cup
396 g
4+5/8 cup
342 g
4 cup
40 kg
497 g
5+5/8 cup
437 g
5 cup
378 g
4+3/8 cup
45 kg
543 g
6+2/8 cup
478 g
5+4/8 cup
412 g
4+6/8 cup
50 kg
587 g
6+6/8 cup
517 g
6 cup
446 g
5+1/8 cup
55 kg
631 g
7+2/8 cup
555 g
6+3/8 cup
479 g
5+4/8 cup
60 kg
673 g
7+6/8 cup
593 g
6+7/8 cup
512 g
5+7/8 cup
65 kg
715 g
8+2/8 cup
629 g
7+2/8 cup
543 g
6+2/8 cup
70 kg
756 g
8+6/8 cup
665 g
7+6/8 cup
574 g
6+5/8 cup
75 kg
796 g
9+2/8 cup
701 g
8+1/8 cup
605 g
7 cup
80 kg
836 g
9+5/8 cup
735 g
8+4/8 cup
635 g
7+3/8 cup