Skip to content
Skip to navigation menu
Royal Canin Veterinary Diet Feline Sensitivity Control Wet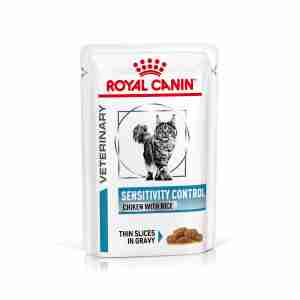 Rollover image to zoom
Product details
Royal Canin Veterinary Diet Feline Sensitivity Control is designed to give your sensitive cat all his or her nutritional needs while excluding common allergens.
How it works
Lactose and gluten are two of the most common allergies experienced by our pets. With this in mind, the food is free from both, greatly decreasing the chance of your pet suffering a reaction. Carefully selected protein and carbohydrate sources, including chicken and rice, also make this recipe easy to digest for cats with sensitive stomachs. This allows your cat to get all the nutrition he or she needs while reducing the risk of triggering an allergic reaction. By removing most allergens, it also lets you test specific food groups to discover what it is that's making your cat unwell.
The food also works to keep the digestive system in the best possible condition. The ingredients are fortified with zinc and extra vitamins to support the skin's barrier effect, reducing water loss. Along with omega-3 fatty acids, these also help to protect both the skin and intestine. A high amount of fermentable fibre and minerals, such as beet pulp and zeolite, makes sure your cat's gut contains plenty of healthy bacteria.
Key benefits
principal ingredients of chicken and rice are easily digested sources of protein
omega-3 fatty acids help maintain healthy skin
gluten and lactose-free contains fibre and vitamins to promote a healthy gut.
When to use it
Just like us, some cats are either born with or develop sensitivities and intolerances to certain types of food, which can cause them a range of issues. You might notice that your cat is suffering from vomiting or diarrhoea on a regular basis, or that he or she is scratching and even losing fur despite regular flea treatments. Some of the likely causes of these symptoms could be irritable bowel syndrome (IBS), food intolerance or inflammation in the gut or bowel. As with any new symptoms, it's important to visit the vet as soon as possible in case your cat needs medication or other treatment.
Luckily, many conditions which cause digestive symptoms can be treated effectively through a simple change to your cat's diet, turning them back into their contented and healthy self in only a short space of time.
Because veterinary diets are formulated for the nutritional support of pets with specific clinical conditions, we recommend that you only use them under professional advice. For more information on feeding Royal Canin Veterinary Diet Feline Sensitivity Control to your cat, please consult your veterinary surgeon.
Ingredients
Ingredients composition: meat and animal derivatives (chicken 34%), cereals (rice 6%), oils and fats, minerals, derivatives of vegetable origin, various sugars.
Additives (per kg): nutritional additives: vitamin d3: 370 iu, e1 (iron): 7 mg, e2 (iodine): 0.5 mg, e4 (copper): 3 mg, e5 (manganese): 2 mg, e6 (zinc): 21 mg - technological additives: pentasodium triphosphate: 3 g, calcium sulphate: 2.8 g, cassia gum: 3 g.
Analytical constituents: protein: 8% - fat content: 5.5% - crude ash: 2.2% - crude fibres: 0.5% - moisture: 78% - essential fatty acids: 1.3% - epa/dha: 0.25%.
Feeding Guide
Weight (kg)
Lean
Normal
Overweight
(g / day)
Pouch / day
(g / day)
Pouch / day
(g / day)
Pouch / day
2
145
1 1/2
110
1
-
-
3
215
2 1/4
170
1 3/4
-
-
4
285
2 3/4
225
2 1/4
185
1 3/4
5
355
3 1/2
280
2 3/4
230
2 1/4
6
430
4 1/4
335
3 1/4
275
2 3/4
7
-
-
395
4
320
3 1/4
8
-
-
450
4 1/2
365
3 3/4
9
-
-
505
5
415
4 1/4
10
-
-
560
5 1/2
460
4 1/2
Customer reviews
Product reviews are filtered by language.
The following reviews are available in English.
Bertie loves it!

Since being diagnosed with IBS my cat, Bertie, has had a very delicate digestion but the Sensitive food goes down very well and seems to suit him. Despite having it twice a day he is still excited when I get his plate ready! A bit disappointed that the new packaging also involved a drop from 100g to 85g contents with no mention of this that I could see.

Great product and service

From being a kitten, my cat vomited every couple of days. This Royal Canin sensitivity food sorted it. She can only eat this food now. Even one small cat treat causes her to vomit so we dont risk anything else. She is now 5 years old and has a shiny coat, is full of energy and rarely vomits. Result! . Thank you.

Good for the elderly!

My vet introduced me to this as I have an elderly cat with thyroid problems and is sometimes sickly. Doesn't always want it but when he eats and it stays down he'll go back for more. A good stand by to have

Kokoba medium cat scratching tree

Easy to put together our Cat loves it, truly recommend it

Very happy with product and service

Our 5 year old rescued Persian was suffering from regular bouts of sickness. These have stopped since we started feeding her with this product. She likes it very much.